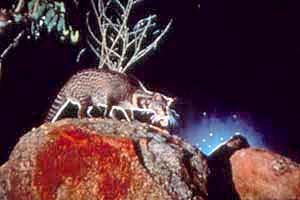 Image ©
Courtesy of Night Safari Singapore
Gleaming skyscrapers with spotless pavements and the world popular Changi airport is probably the first things that comes to mind when travelers think of Singapore. Yet, did you know that the Lion City used to be a thriving tropical jungle, complete with tigers and snakes as its not-so-friendly residents? When Sir Thomas Stamford Raffles landed on its shores in January 1819, Singapore, then called "Singapura", was no more than a little fishing village, with its population consisting mainly of Malay folks.
Today, Singapore might be more famous for its architectural wonders, but travelers who enjoy nature can still enjoy a "green" Singapore in the many parks and natural reserves located all over the island. Here are some of the highlights:
Bukit Timah Nature Reserve
Don't be daunted by the steep path that greets you upon your entrance at the Bukit Timah Nature Reserve. Apart from the challenging climb up the hill, everything after that is lush scenery and beaten, winding paths.
During you walks, you may spot the occasional pangolin (or Ant-eater). There will also be some mischievous long-tailed Macaques strolling around, waiting for a feed. Other animals that can be found here include the common Tree shrew and the Flying Lemur, which gets around not by flying, but swinging from branch to branch.
Apart from being home to a myriad collection of animal species, the Reserve also boosts of a large number of plants. The more common types of plants here are the Bird's Nest Fern and lianas that emerged from the ground to join the canopy.
The Bukit Timah Nature Reserve is a perfect sanctuary for anybody who needs to rejuvenate, and continue the challenges of modern society.


Sungei Buloh Nature Park
Siberian birds find tropical Singapore an ideal place to migrate to come winter. At least, according to the folks at Sungei Buloh. The park, located near the border with Malaysia, is famed for its humongous variety of bird species. Herons, kingfishers, doves, and woodpeckers -- the list goes on. Once a mangrove swamp, it has been redeveloped into a nature center. It retains some wetland sites for birds to stopover during the migratory season between December and March every year. There are also other areas within the nature park that have been transformed into prawn and fish farms.
Besides having a visitor center, which includes an outdoor classroom with bird observation hides and screens, there is also the recently built Bliss Café for those who want to dine beside the koi fishpond.
Display panels and exhibits are located all around the park to guide travelers. The bridges and paths are constructed to be wheelchair-friendly, too. However, pets and bicycles are not allowed in the park. Radios are also forbidden here.
A tip for those who prefer to keep their cheeks lily-white: Wear a dark or neutral-colored hat, if you do not relish the prospect of giving away your hat to the birds! Some birds are captivated by colorful hats and have been known to fly away with whatever that catches their fancy.
It would be wise to bring your binoculars, and wear comfortable shoes to ensure that you get the most out of your trip. You may also want to grab some paper and pen to record unexpected findings.


Pulau Ubin
This island, located off the northeastern coast of Singapore can be best described as the Singapore of the past. A popular haunt for camping enthusiasts, it is most crowded during the holiday seasons, as most parents would bring their children for a well-deserved holiday at the chalets in Pulau Ubin.
At first sight, Pulau Ubin may appear like a tiny, uncultivated area, totally unlike concrete-based Singapore. However, you'll soon realize that it possess a quaint, rural appeal. Most visitors are regulars who enjoy spending their weekends fishing, hiking in the forest, kite flying or canoeing, among other activities.
Once considered a primitive location for the true adventurer, it has open up to embrace more visitors, with the upgrading of several nature trails, improving amenities like restrooms, refreshment kiosks and an information center, whereby maps of the island are provided. The Outward Bound School (OBS) has also set up a training site on the island. Do grab this opportunity to indulge in this village-like atmosphere soon, before it becomes another commercial destination.


The Singapore Botanical Garden
The entrance suggests a plant-ridden county, surrounded by weed after weed. This initial perception of the 139-year-old botanical garden in Singapore is only partly true. A must-see for most visitors to Singapore, the Garden is a combination of modern facilities complementing nature. Besides hosting some 60,000 species of vegetation within its sub gardens, artworks from sculptor Sydney Harpley, Ueli Faush and the late Mr David Marshall have been added to enhance the natural environment.
The Botanical Garden is also the place where HN Ridley first introduced rubber trees in the Malay Peninsula. Eventually, rubber became an important economic contributor to Malaysia and Thailand, and has remained so till today.
Other interesting features include the design concept behind the National Orchid Garden, which neatly separates the garden into four sections, according to their seasonal colors: Spring, Summer, Autumn, Winter. Regular musical performances are held at the Shaw Foundation Symphony Stage, at the Symphony Lake, where fishes and water lilies gather.
To satisfy your naturalist streak, you can check out the Economic Garden, devoted to a mass array of plants producing fruits and nuts and herbal spices, besides those that generate rubber, dyes, rattan and oil.
Do take your time to finish the walk. A field of orchids around the corner, or a splash of colorful water lilies will make your trip one filled with pleasant surprises.


Mount Faber Park
The bridge linking Sentosa and Singapore's World Trade Center, Mount Faber Park is commonly regarded as a resting area before proceeding to Sentosa via the cable car. The park has been upgraded recently, with new lookout points situated at intervals along the ridge.
At Upper Faber Point, the highest point of the park, a mural wall was built, with paintings about local history painted on it. A number of shrubs are grown along the slope, including the Agrenga Palms, Bougainvilleas, and Alstonia trees.
Couples enjoy coming to Mount Faber, as it provides much privacy amidst the dense shrubs.


Singapore Zoological Gardens
Stepping into the Zoological Gardens is like walking into an African safari park! At the hippopotamus enclosure for instance, you can almost touch that hippopotamus if you reach out far enough.
Rest be assured that you are safe from animal attacks. Although the zoo is based on a safari-styled open concept, the animals are separated from visitors by dry or wet moats. The agile, and very aggressive leopards and jaguars are blocked by a thick glass wall -- but giving the illusion that they are right beside you.
One of the favored hangouts among Singaporeans, the Zoo has several food outlets stationed within the zoo, such as KFC and other restaurants serving different varieties of dishes.
This is one of the few zoos that have kept up with the people and continue to attract local and foreign visitors to its grounds.


The Night Safari
A wild sister of the Zoological Gardens, the Night Safari houses wild, nocturnal animals. Due to its unique theme, as the first walk-in night safari zoo in the world, the safari has attracted many curious visitors, and received many awards.
It was awarded the Best New Event (Within an Existing Festival) Gold Award from the International Festivals and Events Association (IFEA) for its Gourmet Safari Express, a dining experience onboard a moving tram, as well as its creativity, being the world's first nocturnal wildlife park.
Within the Night Safari, there are three walking trails about 0.5 kilometers long each, and are interconnected. It is rather fun to explore the night safari on foot, as you can proceed at your own pace.
The more interesting aspect of the safari is the 45-minute tram ride that takes you around the park. Seated in the coolness of the night air, with the guide explaining the ride through hidden speakers, it is at once thrilling yet enriching, as you learn about the peculiar living and feeding habits of these animals.


East Coast Park
A popular picnic spot for families, it is also a hotspot among teenagers. With the sun, sand and sea, the East Coast Park is the perfect getaway for barbeques, camping, canoeing and cycling trips.
Located at Marine Parade, it is part entertainment center, part nature wonderland. As you cycle through the 12-kilometer cycling track, you'll get not only a great workout but also explore the bird sanctuaries.
The chalets and restaurants are tempting for those who prefer more finesse; yet some may prefer the rough terrain, and the charms of the stars and salty sea breeze. It is an experience you wouldn't want to miss, lying among the balmy trees, enveloped in the sounds of waves splashing gently, chatting the night away with your loved ones.

Some other places you may want to check out are the Pasir Ris Park, West Coast Park, Bukit Batok Nature Park, Fort Canning Park, Jurong Crocodile & Reptile Paradise, Jurong Bird Park and the Chinese & Japanese Gardens.
* * * * *
Getting There:
Singapore has one of the best public transport systems in the world. In fact, at most times, having a car in Singapore is more of a liability than a comfort. Here is a public transport guide to the parks and nature reserves mentioned above.
Bukit Timah Nature Reserve: SBS buses number 170, 173 or TIBS buses number 67, 75, 171, 184 Alight at Upper Bukit Road, right outside the Bukit Timah Natural Reserve.

The Botanic Gardens: SBS buses number 7, 106 and 174 from Orchard Road brings you right to the Garden. Opening hours: 5am - 12 midnight daily

East Coast Park: SBS buses number 16, 155, 196, 31, 55, 76, 135, 196, 197, 853.

Mount Faber Park: Alight at Outram MRT station. Hop onto SBS buses number 123 or 195 outside the MRT station.

Night Safari: Alight at the Ang Mo Kio or Chua Chu Kang MRT Station and take SBS bus number 138 or 927. Admission fee is SG 15.45/adult, SG 10.30/child.

Pulau Ubin: Take SBS number 2 or 29 to Changi point bus interchange. The boat trip from Changi point jetty to Pulau Ubin is priced at SG 2/person, additional SG 0.50 per bicycle. Boat charter is available at SG 18

Singapore Zoological Gardens: refer to Night Safari

Sungei Buloh Nature Park: Take TIBS bus number 925 from the Woodlands Bus/MRT interchange or from the Kranji MRT station. Opens from 7.30am - 7pm (weekdays) 7am - 7pm (Sun/Public Holidays) Admission fee is $1/adult, $0.50/child.

* * * * *
---