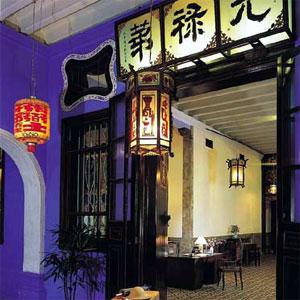 Image ©
Cheong Fatt Tze Mansion
This was a chance meeting that touched me beyond words. The impressions were etched deep in my mind and the wonderment that such a beautiful piece of architecture could actually exist in my backyard truly gave way to a very humbling session - that I did not know of its existence until today.
Located in George Town, Penang, the Cheong Fatt Tze Mansion is the proud winner of the UNESCO's Asia-Pacific Heritage 2000 Award for Conservation and it is by no means an easy feat. Standing majestically in the inner city of George Town, the mansion is as original as it was since the days of its first owner. Dazzling in indigo-blue, the Cheong Fatt Tze Mansion is one of Orient's best preserved example of a Chinese courtyard house. Made up of 38 rooms, 5 granite-paved courtyards, 7 staircases and 220 windows, this mansion was built by master craftsmen from China during the 1880s. Similar craftsmen did the restoration in the 1990s. The beautiful Chinese Courtyard House were made more beautiful with Chinese timber carvings and porcelain cut and paste decorative shard works. There are also Gothic louvred windows, art nouveau stained glass panels, Stoke-on-Trent floor tiles and Scottish cast iron works. Much thoughts have been placed in the construction and rebuilding stages of this mansion and each stroke was delicately put into place. Its feng shui is totally amazing, subtle and extraordinary; a grand tribute to the handiwork of craftsmen of the past.
The man himself, Cheong Fatt Tze, is an outstanding person complete with a rags-to-riches story. Having left China when he was only 16 in the year 1856, the man came to this land with nothing in his pocket, but a will to succeed. From nothing, he grew to become the founder of a multinational conglomerate single-handedly. Well-known as "China's last Mandarin and first capitalist", Cheong was honored with the title of "Rockefeller of the East" by the New York Times. During his prime, Cheong was Consult General for China, Mandarin of the Highest Order, director of China's railway and first modern bank, and he was greatly honored when he passed away in the year 1916. With many homes scattered throughout the East, Penang was his main base for operations and it was here that he built this wonderful late 19th Century architectural legacy that reflects his personality, stature, and outlook in life...
The Cheong Fatt Tze Mansion is currently owned by a small group of Heritage preservationists. The group headed by architect Laurence Loh acquired the mansion in 1990 in an effort to preserve the place and to bring it back to its actual glory. Not wanting to see the place turned into a deplorable and forgotten place, the team worked hard to find the right craftsmen to restore it. When they first discovered the mansion, it was in an extremely dilapidated state and its uniqueness was almost hidden beneath the wear and tear of the harsh years. With a love for history and heritage, the team strives to ensure that the mansion is restored as closely back to its original state as possible... or risk losing this irreplaceable cultural asset.
And so began the painstaking task of restoration, which took place some years back. A Grade One restoration was carried out and it resulted in a win at the UNESCO Heritage 2000 Awards. All in all, everything was kept in as close an original condition as possible, except for certain modern sanitary and ventilation amenities in the rooms. Much love and patience was adopted into the restoration project, where a team of local and foreign artists worked hard to recreate and interpret the ambience of days gone by within the interior and exterior of the mansion. Imagine the days of many wives, concubines and handmaidens, of gilded Chinese lattice screens and light-as-wind silk curtains floating in the breeze...!
Best of all, we can now visit this newly restored mansion for a low RM10.00 (USD2.60) per person. There are two fully conducted tours on weekdays. One starts at 11 am and the other at 3 pm. On weekends, the tour starts are 11 am. If you are traveling in groups such as part of a school, college, or company activity, there will be a special rate for you and the tour may be privately arranged.
The mansion is also open for home-stays where a visitor can enjoy an ambience and furnishings from a bygone era, and have breakfast in an open courtyard. There is also valet service that gives you the extra pampering session. The mansion is also available for those who wish to hold a small meeting, cocktail reception, private dinner or even a wedding.
For further information about room rates or special packages, please contact:

Tel: +604-262 5289
E-mail: cftm@tm.net.my
Mailing address: 14, Leith Street, 10200 Penang, Malaysia
Website: http://www.cheongfatttzemansion.com/
Note: Many thanks to the people behind Cheong Fatt Tze Mansion for the use of photos and materials.
---