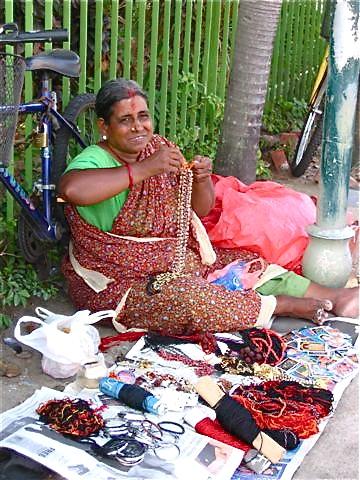 Image ©
2009 MaryLou Driedger
Bells tinkle. Colorful saris swirl around me. The scent of spicy curry is in the air. My mouth waters as I watch a smiling, dark-faced baker mix the dough for delicious naan bread. Gentle, brown hands carefully place a jeweled bindi in the middle of my forehead. I'm spending an afternoon in Singapore's Little India.
             Ethnically Singapore is 80% Chinese but there is also a thriving Indian community. Many migrant workers from India came to Singapore in the 1800's to build roads, clear swamps, serve in the military, and work on plantations and cattle ranches. They stayed to live and raise families and became the founders of a religious and cultural group that now makes up about 8% of Singapore's population. Little India is a lively neighborhood where visitors as well as Singapore residents love to shop and eat and just soak up the ambience of India.
            We went to a marketplace where one open air stall after another sold saris and Punjabi suits. Lovely silks and cottons in hundreds of hues and dozens of designs were arranged in eye catching tiers from floor to ceiling in each store. It was difficult to choose just one. I was gently helped in my selection by the shop keepers. I learned from the example of other shoppers to refer to the clerks as 'aunt' or 'uncle'. This seemed to be the respectful way of addressing people in Little India, especially men and women who are your senior.  Of course an Indian outfit is not complete without some jewelry and in Little India you can buy bangles galore. I purchased large dangly earrings, some jeweled hairpins and rows of bracelets. Old women in cotton saris were sitting on the street in front of an ornate Hindu temple. They had their wares spread on blankets in front of them. One convinced me to buy a silver belled anklet to add to my India ensemble.
           I was introduced to bindis.  Traditionally bindis were little round red dots painted between the eyebrows of married Hindu women. Bindis were said to help retain the body's energy, improve concentration, provide protection and symbolize good fortune. In Little India I learned about the more modern version, the sticker bindi. They are self adhesive and come in every kind of shape, color, and design. Bindis are more of a fashion statement now than a religious symbol and everyone wears them on their foreheads, often coordinating the color, or jewel stone with whatever outfit they have on.
        After all that shopping we were ready for food and a busy restaurant provided a delicious supper. We all ordered different kinds of breads with a variety of fillings and spreads. We sampled bhaturra, paper dosai, poori, rawai and marsella. All that was washed down with mango lassi, an interesting fruity drink that was neither sweet or sour. We finished off our meal with gulab jamins. These are round little deep fried sweet balls swimming in sticky syrup.
           Walking back to our hotel after supper we saw shops selling the latest Bollywood DVD's. We heard Indian pop music blaring from karaoke machines. We smelled incense burning in the Hindu temples we passed and inhaled the perfume from stalls marketing flowered garlands. You may never get to visit the country of India, but steeping yourself in the sounds and sights and smells of Singapore's Little India will certainly give you a taste of what it might be like.
---