Across Central Java with Courage
---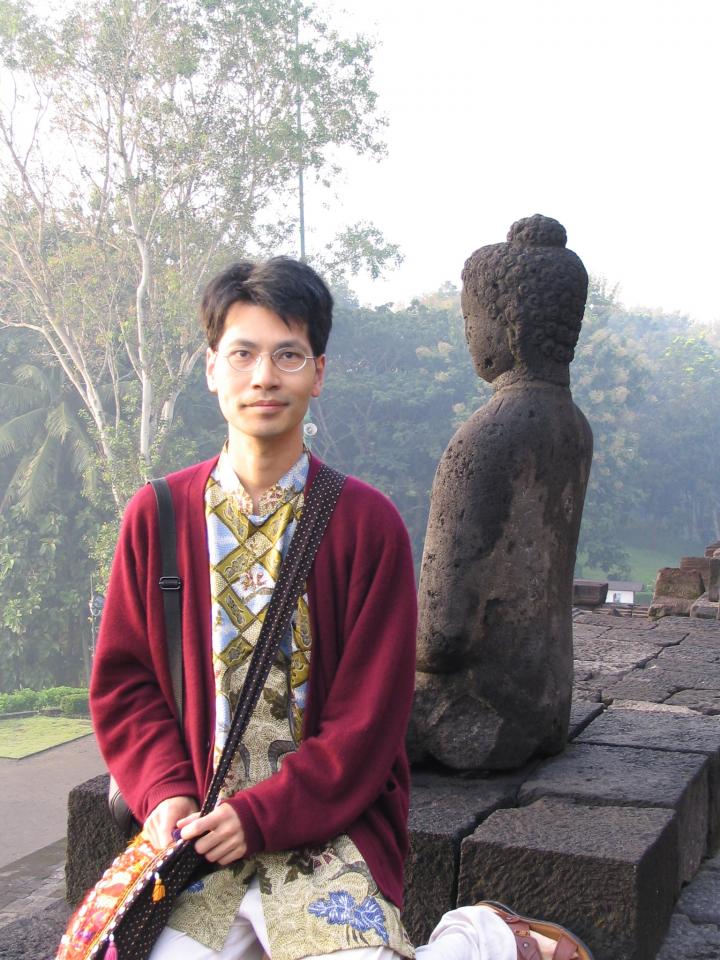 In 2008 I planned my solo overland Java trip.  Although I browsed at several package tours on the internet, I was not happy with the price most of the travel agents quoted me.  So I simply booked an open-jawed ticket (Vancouver to Jakarta, Bali back to Vancouver) with Japan Airlines and then tentatively booked some of the hotels I found on the internet. 
On March 27, 2008, I landed in Jakarta after an 8 hour flight from Tokyo.  I looked for the silver bird taxi stand recommended by Hotel Salak of Bogor.  There were about 6 taxi stands with unfamiliar names with attendants haggling the price with customers.  Although it was 6 PM, it was hot and humid with lots of people at the airport.  Out of the confusion, someone grabbed my hand and luggage and asked whether I need taxi.  I was quickly led to a car with 3 menacing looking guys.  I voiced my destination "Bogor" and the driver looked up from a chart to let me know it was around 400,000 Rp / US$ 40.  I did not trust them.  I walked back to the arrival hall of the airport with them screaming after me.  This time I found the bluebird group taxi stand and went straight to it and ordered a limousine. 
        I dosed off on the way to Bogor as the evening saw another one of the troublesome traffic jams on the already polluted streets of Jakarta.  After 2 hours, I arrived at Hotel Salak, a colonial 4-star establishment since the Dutch settlement in Batavia.  (around US$ 70 per night) (Read my article about Kebun Raya Bogor if you like Bogor Botanic Garden.)
After 4 days in Bogor, it rained every day at 2 PM, I arranged to go to Cibodas via Puncak Pass with Bela of Bee Paradise Tour inside Hotel Salak.  She booked a cheap Garuda ticket for me (Yogyakarta to Bali) and found me a driver, Aris, to take me through to Bandung.  (Read my article titled Cibodas Botanic Garden Kebun Raya Cibodas.)
        On April 5, I boarded the train Lodaya at 8 AM and spent the next 8 hours on the scenic but uncomfortable ride.  A plate of Chicken with rice was served as lunch (included in the ticket price $16, from Bandung to Yogyakarta) but everyone ate at the seat without a table!  I observed what other passengers did and imitated.  When finished, everyone put the plate in the middle of the aisle.  I felt a bit uneasy, but did the same.  Soon the plates were all cleared and lemon tea was served.
Before 4 PM, the trained stopped at Yogyakarta.  I followed others out to the platform.  I was confused and disoriented.  A young man approached me and asked me whether I need taxi.  With my guards up, I burred out "how much?"  He laughed heartedly and asked "to where?"  I realized how ridiculous I must have sounded, apologized and let him know of my hotel, Grand Mercure.  He led me to a nice vehicle with another driver.  The taxi ride was effortless and took 3 minutes for US$ 2.  The guide tried to sell me a 1 day tour to see sunrise at Mount Merapi and then the Hindu ruins of Prambanan for US$ 36.  Not knowing the prices for any local tour, I said I would think about it and gave him a reply after checking into the hotel.  I planned to visit Mirota Batik on Jalan Malioboro after check-in.  I asked the guide and driver to wait for me at the lobby.
Grand Mercure Yogyakarta was a renovated colonial architecture with French apartment-style rooms completed with beautiful balconies either facing the inner garden and swimming pool or having a bird-eye view of the busy streets of the city.  (My superior bedroom with balcony is 550,000 Rp / US$ 55.)  What was amazing about Grand Mercure was the service and French management.  The concierge handled my check-in and gave me tea towels to refresh.  Tea was served and I offered my guide a cup.  Then the concierge led me through the French doors across the marbled hallways decorated with antiques to a lift to reach the 3rd floor to my room.  En route, I was introduced to the tour desk and I quickly scanned the price for Prambanan and Merapi Sunrise tour (US$ 76).  After quick refreshment, I went in the taxi and quickly agreed on the guide's reasonable tour offer.  He held out his last finger and we made a pledge for the next morning at 4 AM for the sunrise tour.  A promise was a promise.  (To read about my finds at Mirota Batik, please go to my article titled "Silk Buying in Asia".)
  Getting up at 3:30 AM was not easy, but I met my driver and another university student who was serving as my tour guide shape at 4 in the morning in the lobby.  It was completely dark outside.  We drove with the headlights on for a little more than an hour up the mountain to Merapi.  On the way, several local people walked down the slope without any torch.  My guide explained that they were going to the village market or to pray in the temple.  It was cold and windy at the crater of the volcano, but in a distance, I could already see light.  At 5:50 AM, it started to have the first ray piercing through the air from behind Mount Merapi.  It was tranquil and beautiful.  Soon we could see the outline of the crater and observed the damage of lava from eruption only a week ago.  Local people mined the nutrients rich lava ash for selling.  My guide related his story of the day Yogyakarta went into chaos when in 2006 Mount Merapi suddenly erupted and the earthquake happened in the nearby village killed enormous amount of villages and created extensive damages.  Everyone in the city panicked, some fleeted to the mountains (but turned back as further eruptions were expected) while others fleeted to the coast (but turned back also when there were rumours of a tsunami). 
Next we drove to a deserted Prambanan complex.  The temple complex was best seen shortly after dawn when the sunlight picked out details of the amazing architecture.  Completed at about 900 AD, it was deserted within a hundred years.  It collapsed around 1600 but with restoration completed in 1953.  Since then the complex continued to battle the weather and earthquake damages with on-going projects of restoration.  It was quite relaxed to walk around the ruins before the harsh sun at 10 AM.
I asked to be dropped off at Taman Sari, the "Water Castle".  This huge and once magnificent pleasure park was begun in 1758 during the reign of Sultan Hamengku Buwono I (1755-1792) and was completed by Sultan Hamengku Buwono II.  The Sultan wanted a pleasure garden for relaxation as well as a retreat and he appointed Raden Thumenggung Mangundipura to lead the construction project, who made trips to Batavia (now Jakarta) to learn about European architecture.  The original complex included a Sultan's bed and tunnels leading to keratin (also known as phantom cave), the gates and walls, the towers and pools.  By shutting the Watergates, the complex would be completely immersed in water, leaving tall structures standing out, and Jogya's enemies would be drown and washout out by the strong currents of water released from underwater passageways.
The ravage of time and climate, helped along by an earthquake in 1865, have reduced much of Taman Sari to an intriguing collection of roofless halls, eerie underground passageways and shattered arches.  Birds-and-flowers stucco ornamentation, weathered gargoyles, and giant flower urns among lush growth of Bananas and bamboo proved the influence of European architecture.  Among the labyrinth of tropical foliage, small batik workshops and kampong houses had sprung up along once-royal pathways.  Taman Sari was restored in 2004 with the egg-shell–colour walls and beautiful pools regained their former glory.  Don't miss the whimsical sea dragon under the watch tower.  I especially like the underground mosque with the beautiful staircase leading to the second floor of this architectural labyrinth.
If you come to Jogykarta without viewing Borobudur, you have not come to Jogya at all.  I read from fellow travelers that the hawkers were annoying at Borobudur village and will follow tourists ceaselessly along the way to the monument.  I wanted a really quiet viewing experience, so the only way to do it was to stay in Hotel Manohara with Borobudur Park. (I stayed overnight for 400,000 Rp / US$ 40.)  A taxi ride should cost about US$25 arranged from the hotel.  After about 11/2 hours, I arrived at noon to Hotel Manohara.  After a relaxing welcome tea, I walked around the garden planted with Thunbergia grandiflora (sky-blue bird vine) and Crescentia cujele (a tree with pomelo-like decorative fruits).  I found the hot weather unbearable, so I retired to my A/C room for a siesta.  At 4 PM, I ventured out again. 
I slowly approached Borobudur, and out of magic, it was situated in the back garden of Hotel Manohara.  A couple of hawkers still hanged around with their trade here but I shake their off.  I walked up this world's greatest monument built between 778 and 842 AD, then being abandoned after 1100 AD and subsequently buried in the jungle.  After being rediscovered in 1815, the following century saw international help pouring in for restoration.  With UNESCO helping to raise money, almost US$23 million, and the gigantic task of rescuing Borobudur was launched in August 1973.  Work was completed in 10 years and re-opened in 1983.  Borobudur is a three-dimensional Mandala with bas-reliefs depicting the delights and damnations of the physical world; the outer processional path and four square terraces show the life of Prince Siddharta on his way to becoming Buddha.  The three circular terraces on top support 72 latticed miniature stupas, some emptied but others contain the statue of Buddha.  At the very top, a giant stupa symbolizes the sphere of formlessness and the ascension to the realm of Sublime Reality.  Although it was almost closing time (at 6 PM), I remembered the crowd, the heat and the steps.  Thankfully, I was to join the Sunrise Tour the next morning for a more tranquil experience.
I was with a dozen of other hotel guests being transferred by vans to the locked gate in front of the monument before 5 AM.  Huge spotlights illuminated Borobudur.  Heavy among mist, Borobudur was eerie at this hour.
I sat quietly on top of the terrace to wait for the first ray of light coming behind Mt. Merapi illuminating the dark silhouette of Borobudur and bring life to the green valley below.  I was lost in words.  Borobudur in the sea of mist was simply magical.  I truly wished that I could be here every morning.
* * *
Fact File:
Hotel Salak The Heritage
Jl. Ir. H. Juanda No. 8, Bogor 16121, Indonesia
Phone : +62 251 8373 111, Fax : +62 251 - 8374 111, E-mail : marketing@hotelsalak.co.id
http://www.hotelsalak.co.id
*
The Phoenix Hotel Yogyakarta
Jl Jenderal Sudirman 9, 55233 Yogyakarta, Indonesia
Phone : +62 274 566617, Fax : +62 274 566856, E-mail : info@thephoenixyogya.com
http://www.mercure.com/gb/hotel-5451-the-phoenix-hotel-yogyakarta/index....
*
Manohara Resort Hotel
Jalan Badrawati, Borobudur,Magelang 56553, Indonesia, 40 km from Yogyakarta International Airport
Phone : +62 293 788680/131, Fax : +62 293 788679, Email : manohara@borobudurpark.co.id
http://www.borobudurpark.co.id
* * * * *
---