Vientiane on bended knees
---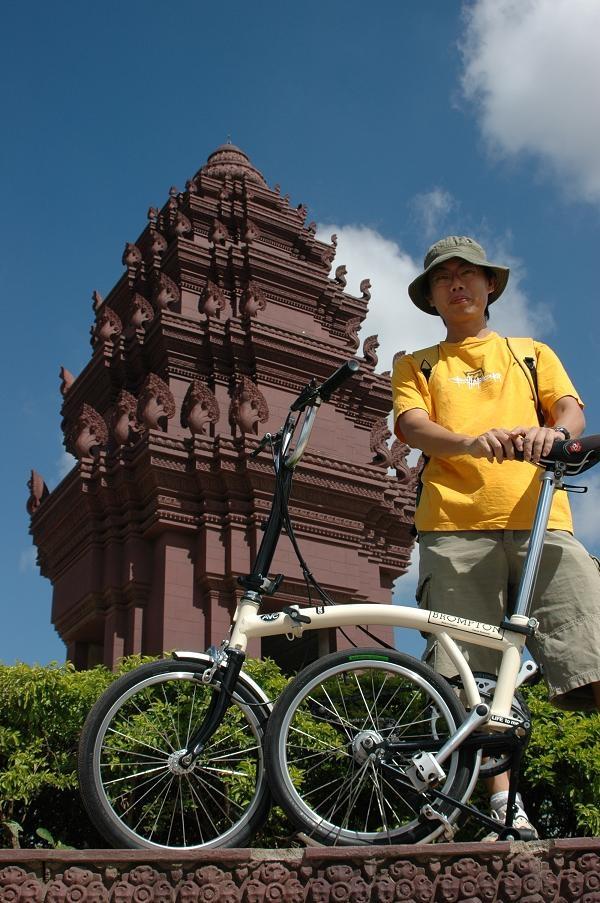 "There's more than meets the eye" and for Laos, this rings so true. The World Bank rated Lao PDR the poorest and least developed among all the Indochinese countries. Laotians even earn 20% less than the struggling Cambodians! Geographically, Lao is landlocked save for the Mekong River. Yet, many travelers have voted Laos the best country to visit in Asia. Compared to its rich and busy neighbours Vietnam and Thailand, Laos is still unscathed from the tsunami of globalisation and the dark side of capitalism. Called "The Land in Slow Motion" by Asiaweek, the "PDR" could very well stand for  "Please Don't Rush". 
Vientiane, the capital, was spared from destruction by US bombs during the Vietnam War. Many of its old French colonial buildings still remain intact. Scrape away the fading communist varnish - it is an undiscovered city steeped in cultural heritage and elegance, with warm and friendly people. Thus, the urge to experience the romance of one of the world's few remaining Leninist countries was a compelling one. This was made a reality with the advent of Tiger Airways' new route to Udon Thani from Singapore, in northeastern Thailand.
Always ready for an adventure in the saddle, I looked at flying into Udon, and cycling north to Vientiane. A night at the border town of Nong Khai, then crossing the Friendship Bridge that spans across the mighty Mekong River and into Laos was the game plan. The 90-plus km seemed manageable enough and this would also provide the perfect occasion to test my new Dahon Speed 8 folding bicycle.
Paul, my sprightly Australian cycling buddy, was eager as always, and we soon saw ourselves at the Udon International Airport (Tiger's 3 times a week flight from Singapore is the only international flight at time of writing!) clearing immigration with one large 20" framed Trek Hybrid with a missing mirror, and another bicycle, stealthily packed in a suitcase to avoid the US$33 "sports equipment" charge as it was technically "bicycle parts".
Finding our way out of Udon was simple enough and the road leading to Nong Khai was surprisingly wide and quite new. There is a generous shoulder for mopeds and bicycles but our hopes for an easy ride were soon dashed. Mopeds flew full speed against traffic towards us like missiles that were launched to destroy our mission. Such traffic hazards, with headwinds plus a hot and hazy 36c drained us mercilessly as we struggled towards Nong Khai. The 56km felt like 100km and took us 4 long hours. Fortunately, there were plenty of drink stalls that offered fresh coconuts and we were grateful for such small mercies.
The charm of the lazy riverside town of Nong Khai certainly soothe our nerves and we were ever so delighted to check into the 7 month new Khing Khong Guesthouse. Its 400 Baht rate (US$12) for the best beds in Issan (firm), cool air-conditioning, TV, ensuite toilets and warm showers plus a beautiful view of the river impressed us no end. Our bikes too were also spoilt with a safe and private parking area! The owner, Mr Mun lives there with his wife and 4 year old daughter, Pear and we enjoyed their warm hospitality and service.
A good feed and a few beers with a foot massage for dessert saw us refreshed, and ready to rock and roll. After a spicy Thai dinner in a Danish Pub, we took a wander through the fascinating and lively night market. On offer were all sorts of food including fried insects and scorpions  - supposed to be a healthy source of protein!
Nong Khai has been voted 7th best out of 14 cities to retire to by an American publisher. This was evidenced by the significant hordes of lonely "Farang" male seniors. They seemed to gravitate to the usual watering holes, drink in hand. We had a chance to chat with some of them and learnt that the common thread seemed to be their quest for that illusive perfect, carefree and romantic life. Many a local farmers' daughters would consider it their good fortune to be hitched to one of these gentlemen with fat pensions.
The Friendship Bridge was a gift from Australia to the Thais and Laos in 1994. Critics would say that it was a $35 million project for the benefit of smugglers but for me, it stands as a symbol of goodwill and generosity without the politics. The immigration clearance was a breeze and we rode across this marvelous structure over the grand Mekong with positive vibes. This 5000km river starts in the Tibetan plateau in China, and flows through China, Burma, Thailand, Laos, Cambodia and finally ending at the Mekong Delta, Vietnam.
Arriving on the Lao side required us to switch to the "wrong" side of the road, more the French than the American influence I would imagine. Immediately, it seemed like we left behind the noisy tuks-tuks and loud tour buses of Thailand and entered into a time warp of quiet countryside traffic. Strangely, there was also not one single road sign that pointed us to Vientiane and we cycled the wrong direction until Paul shouted, "Blimey, it's the other way mate!"  The wide roads were impressively good for about 6 km and then it seemed that government funds ran out and we said hello to dusty and rough roads. We passed by several beer factories and lush green rice fields, almost a hint of the diet that awaited us.
Traffic thickened as we neared the Lao capitol but it was no busier than Nong Khai. The 25km ride from the Bridge into the city soon saw us covered in fine orange dust, mirroring that of Cambodia. This was apparent when I washed my  cycling jersey - which became a giant tea bag with the wash-basin as the tea cup. It was a good thing the plumbing still worked!
We chose to stay at Mali Nampu, a quaint courtyard style guesthouse near the famous Nampu Fountain. The fountain seemed to be in eternal slumber during our stay. This area was the center of Vientiane's universe with shops abounding and the river just 3 minutes walk away. There is a deep sense of the French influence here with wide boulevards, old colonial-styled buildings with their signature louver windows, restaurants with side-walk seating and even a Lao version of the Arc de Triomphe - The Patuxai. It was supposedly built with US concrete designated for runway construction and remains uncompleted due to "the country's turbulent history", according to the signage.
What fascinates about Vientiane is that its European-ness seems to weave naturally into its Asian roots. Along the wide Avenue Lane Xang lies an out of the ordinary temple gateway of 7 golden snakes providing shelter for Buddha. Further down the wide Avenue is the vibrant morning market, Talat Sao, where bargains for clothes, local food, precious stones, electronic goods, baskets and Lao handicrafts abound for the astute shopper. I picked up a beautiful silver bracelet for my wife packaged in a bright red velvet bag for a song! Paul enjoyed engaging the gem stone dealers in a battle of wits and had a challenging time spotting the fakes from the real McCoys.
While Vientiane will not win any prizes for culinary delights, there are enough restaurants to keep the visitor entertained. Its biggest secret lies in its value-for- money French restaurants. A set dinner can be had for US$7 for a set 3-course meal (excluding wine) - which must be the cheapest French food on the planet.
We sampled two delightful bakeries, Scandinavian Café and Joma Bakery. Their quality and ambience equal those found in the West easily. Joma is arguably the better one with its designer décor and fresh food. Our friend Michael brought us to an authentic Chinese restaurant called the "Liao Ning Dumpling Restaurant". We were bowled over by its quality. It was the best Chinese meal we had this year - period! The bill for the five of us came up to US$11. This won a serious nomination in my C&G (cheap & good) award for 2007!
The riverside is also a thriving hang out in Vientiane where people come to enjoy the sunset and cool off with Lao Beer. The view of Thailand across the river was breath-taking but the water was low when we were there. PVO Vietnamese restaurant, reputedly serving the best spring rolls was closed when we came a-knocking twice, much to our disappointment. However, it can only mean a return visit real soon.
If Vientiane were a lady, I would imagine her to be sophisticated inside but simple and even mysterious in appearance. She would be conservative but curious, shy but friendly and would exude warmth and posses a most special charm. No wonder many like me, who has had the privilege of experiencing her enchantment, end up on bended knee. 
--------------------------------------------------------------------------------------
The Dahon Speed 8 folding bike  -  A great way to travel
As the owner of several folding bicycles, I had a very hard time deciding which one to use for the trip. It had to pack neatly into a suitcase with a total weight not exceeding 15kg - to avoid excess baggage charges. Also, it must be able to lug all my gear, keep up with a regular size hybrid on highways ridden by a strong Australian and tackle poor roads - a tall order indeed!
The Speed 8 proved itself to be an excellent choice over the 200km ride we rode in total. It is remarkable that something taken out from a suitcase can transport me all that distance! Its Chromoly Steel frame and Big Apple balloon suspension tires provided a most comfortable ride. Furthermore, control over gravel and muddy roads was excellent thanks to its wide thread.
The Dahon carried my bulging panniers easily with enough heel clearance. Its 8-speed gearing provided enough range to deal with whatever challenges the road throws up and I unintentionally outran the Trek Hybrid at one stage when I got carried away with the rhythm!
Being hotel friendly, the security of keeping the bike in the room at nights provided great peace of mind and if too tired on the road, folding the bike to catch a taxi was always an option. But best of all, the savings of US$33 meant I had 4 nights accommodation or 30 bowls of beef noodles or 8 foot massages for free.
The downside of a foldie though, is that some ability is required to disassemble the bike into the suitcase and to put it together when needed. However, this skill is not rocket science and can be learnt quite easily.
Touring with a folding bike opens a new and exciting experience altogether. A sense of freedom and adventure beckons. You never know where the road may take you... May I invite you to join the fold?
---