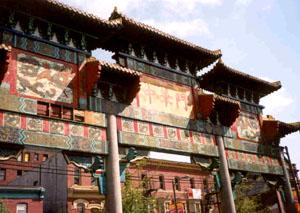 Image ©
2001 Robert Tompkins / Travel, Ink.
New and old Chinatowns in Greater Vancouver
"Let me tell you about a remedy you can use at the first symptoms of a cold or the flu."
Doris and I were enjoying a selection of delicious fruit-flavored Taiwanese tea in the tearoom of the Fo Kuang Shan Buddhist Temple in its unlikely location on the sixth floor of The President Plaza, an Asian mall in Richmond, near the Vancouver International Airport. Christine, one of several volunteer guides at this Humanistic Buddhism temple, seemed to sense that we were conjuring visions of an ancient Chinese concoction of herbs, barks, ground horns and dried insects, since there was a smile in her eyes as she shared the cure.
"Add some fresh ginger slices and the juice from a lemon to a pot of Coca-cola. Bring it just to the boiling point, pour into a cup and drink while it's hot. You must use Classic Coke, not Diet Coke," she cautioned. "It really works!"
A remedy that blends traditional ginger with contemporary Classic Coke could be seen as a metaphor for the dichotomy of modern and historic communities that defines the Chinese mosaic in British Columbia's Greater Vancouver Area.
The President Plaza is one of six Asian malls clustered together in "Asia West", the sobriquet applied to an area of Richmond about a twenty-minute drive from downtown Vancouver. It has had a steady influx of Chinese, predominantly from Hong Kong, since the late 1980s. Undoubtedly the name Richmond was a factor in choosing this location; Chinese are not only superstitious, but also prosperity obsessed.
The growing, affluent Chinese population prompted the "mall Chinatown" phenomenon of Asia West; it has surpassed Vancouver's historical downtown neighborhood as the largest Chinese community in Canada.
With their boutiques of designer fashions as well as knock offs, herbalists and traditional apothecaries, teashops and tailors, a cinema showing first run Chinese movies with English subtitles, high tech electronics and art galleries, acupuncture clinics, oriental supermarkets, antiques both old and new, fortune tellers, kitsch and pricey jade, the malls buzz with the same exotic electricity as their counterparts in Hong Kong and Taipei.
Gourmets and gourmands will find dim sum as well as fine dining restaurants. Reminiscent of the food hawker stalls in Southeast Asian cities, the food courts found in the malls of Asia West abound with fresh, delicious, diverse, and reasonably priced fare; dishes in the style of almost every Asian country are available here. In the off chance that one's tastes need even more teasing, Asia West's Alexander Road, known locally as Food Street, has a profusion of Asian restaurants.
Tucked into the malls of Asia West are many bubble tea emporia; long popular in Taiwan, the bubble tea fad has rapidly become very trendy here. Although there are scores of variations, the basic recipe consists of chilled green or black tea mixed with an equal amount of milk, sweetened with honey or sugar, and shaken with crushed ice until frothy. Then the concoction is poured over a few dozen black tapioca balls and served in a clear plastic container. An oversized straw is provided to slurp up the chewy, gelatinous pearls of tapioca that sit at the bottom. By adding one of many exotic fruit flavored powders, a variety of tastes can be attained.
The emergence of Richmond's Asia West is only a decade or so old; on the other hand, Vancouver's Chinatown has a history with roots in the nineteenth century. The discovery of gold in the Fraser River in 1858, a desire to leave the hardships of life in China, and the opportunity to work as laborers building the Canadian Pacific Railway in 1881, all combined to attract the first Chinese to Vancouver.
The immigrants' willingness to work long hours at a fraction of the pay given to white workers, combined with their racial and cultural differences, led to resentment and discrimination. Vancouver's early Chinese settlement formed as a response to this early prejudice and animosity. In 1907, the enmity towards the Chinese culminated in the worst race riot in Vancouver's history.
While the younger generations flock to Asia West, older Chinese are still drawn to the historical and cultural heart of Vancouver's Chinese community, to eat and socialize as they have done all their lives.
We were fortunate to meet Stephen Wong who agreed to take us on a walking tour. Stephen is Hong Kong born and has lived in Vancouver since 1978; he is active in numerous culinary fields: chef, journalist, consultant, lecturer, and has authored four cookbooks. (Stephen kindly agreed to share one of his favorite recipes: Pan-fried Salmon Slices with Orange and Champagne.)
One of our first stops, the T and T supermarket on Keefer Place at the fringe of Chinatown, immediately revealed Stephen's passion for food and its preparation. The T and T chain of Asian supermarkets also has two locations in the malls of Asia West; their claim to stock 10,000 items in each store does not seem to be hyperbole. Live fish crammed almost perpendicularly in aquarium tanks sit next to a plethora of shellfish and wiggling crustaceans on beds of ice.
"Chinese insist on freshness," Stephen explained as we looked at a writhing mass of prawns. The most bizarre creatures found at the lengthy seafood counter were bivalves that had long since grown out of their shells. The sign identified these twelve-inch long, three or four pound, obscenely elongated, decidedly phallic monsters as geoducks.
"It's pronounced 'gwee duck'", Stephen explained. "It's considered an aphrodisiac," he paused before adding, "for obvious reasons. They're actually quite bland, but have an interesting texture," he said, well aware that we would be taking his word for it.
We went up and down the aisles, while Stephen, with a gourmet's delight, provided a running commentary on the variety of items. Pausing in front of scores of different types of soy sauces, he outlined the qualities of each; "The differences are subtle, but very important," he emphasized, again revealing his gastronomic passion.
The early pages of Chinese culture in Vancouver were written in the area around Pender and Carrall Streets, along what were known at the time as Shanghai Alley and Canton Alley. In the last decade of the nineteenth century, it is documented that this area was a thriving, crowded scene of rooming houses, public baths, shops, brothels, and dens for gambling and opium smoking. Today, Canton Alley has been demolished; all that is left of the once busy Shanghai Alley is a short, desolate, garbage-strewn lane.
On the northwest corner of Pender and Carrall is The Chinese Freemasons Building, built in 1907. The Chinese Freemasons were active in revolutionary support against the oppressive government in China; Dr. Sun Yat-sen, "the father of modern China", used this location as a base for his revolutionary efforts that culminated in the overthrow of the Ching Dynasty in 1910. Today, the building stands empty.
Across Carroll Street is The Chinese Times Building which was built in 1902, and like the Freemasons Building, is deserted, a "for rent" sign in the window. Like other early buildings in Chinatown, the building was constructed to include a "cheater floor", a devious method to avoid taxes, which were levied on the number of floors visible from the street.
Next to what remains of Shanghai Alley is the Sam Kee Building, perhaps the most famous structure in Chinatown. With a depth of only six feet, it is reputed to be the world's narrowest commercial building. The local story goes that most of the original lot owned by Chang Toy was expropriated in 1912 for the widening of Pender Street. Out of spite, protest, and anger, as well as to frustrate a neighbor who hoped to purchase the narrow strip of land cheaply, Toy built on the small lot. In the basement, which extends four feet out under the sidewalk, there used to be public baths; glass blocks that are still in place in the sidewalk provided sunlight. Located at 8 Pender Street, the building is now occupied by the Jack Chow Insurance Company.
The short tunnel under the Sam Kee Building lends credibility to local legends of secret underground tunnels used for smuggling, which are purported to lead from basements in Chinatown to the inlet at False Creek. Such stories should never be disproved; they are a part of the mystique and exotic aura of the community.
The four-columned colorful gate in front of The Chinese Cultural Center at 50 Pender Street, moved to this location after Expo 86, has become an icon for this historic neighborhood. As we walked through the passageway leading to the Dr. Sun Yat-sen Park, we saw two bas-relief murals commemorating Chinese who died fighting for Canada during the Second World War and the Chinese laborers who lost their lives while constructing the Canadian Pacific Railway. Two stone lions stand as guardians for the Cultural Center's purpose of protecting and preserving Chinese traditions and culture, ensuring that voices from the past still speak to the present. During our visit, a grandfather was giving a tai chi lesson to his grand daughter; each intricate transitional move was repeated until the child had it mastered.
The liveliest sections of this community are the market streets where the hustle bustle, the sounds, the color, and the smells are constant until about six every night. Side walks in front of vegetable and fruit sellers are narrowed by crates of produce displayed on wooden slat frames. Bok choy, lotus roots, mounds of bean sprouts, water chestnuts, white radishes, each identified by pieces of cardboard with Chinese characters, are examined critically by shoppers before selected. Lychees and red hairy-skinned rambutans hang in bunches beside mangosteens and football sized durians, one of which had been cut in half to reveal the creamy nuggets that are reputed to taste like heaven. When I related my one and only experience with this fruit, a single sip of a durian milkshake that had a taste resembling garlic, Stephen laughed and said, "It's definitely an acquired taste."
Like phrases from an elocution lesson, the names of such enterprises as Tung Fong Hung Foods flow trippingly off the tongue. Butcher windows display red barbequed ducks while inside, the walls hang with pressed duck and links of sausage; the rhythmic thwack of a cleaver hitting the chopping block punctuates the sing-song chatter of haggling customers.
Traditional medicine shops display burlap bags overflowing with ginseng; barrels of dried mushrooms are crowded against boxes of flattened frogs or toads, dried sea horses, pieces of antler, and what looked like insect larvae. Jars on shelves contain snakes floating in darkened liquids used, Stephen explained, as restoratives and curatives whose efficacy has been proven by time.
"Where would you like to eat?" Stephen asked. We considered both Floata Seafood Restaurant with its seating for one thousand and the always busy Hon's Wun-Tun House famous for its noodles and pot stickers. Both are on Keefer Street in the heart of Chinatown, although they both have restaurants in Asia West as well. "Or we could try a little Cambodian restaurant I rather like." When a culinary expert makes a suggestion, the choice becomes easy.
Before heading to the restaurant on East Georgia Street, we stopped to purchase the live prawns that would soon be lunch. Reacting to our surprise at bringing our own ingredients to a restaurant, Stephen assured us that no offense would be taken. "Their prawns are fresh, but these are fresher." On the walk to the restaurant, the prawns danced in the plastic bag. "Feel this," Stephen said handing Doris the soon to be lunch. The bag was in constant movement as the prawns writhed and jiggled.
The sandwich board sign in front of The Phnom Penh Restaurant advertises "Cambodian and Vietnamese Exotic Food." Owned by Helen and Solonge Huynh, and an East Georgia Street establishment since 1987, Phnom Penh is comfortable, very friendly, and busy; over a hundred choices on the menu make selections difficult.
Our jitterbug prawns were transformed into Tom Rang Muoi, prepared according to grandmother's recipe with spicy garlic sauce. A delicious hot and sour soup combined prawns, tomatoes, pineapple, mint, chilies, and coriander. Fresh oysters were chopped into a thin pan-fried omelet cake. A large, plump vegetable dumpling was steamed and then fried before cut into wedge-shaped sections. Two kinds of noodles containing pork and shrimps were tossed with different sauces at the table and served with snappy bean sprouts on the side. After a few tastes, there was no doubt why this restaurant was so popular.
Stephen expressed dismay when Doris and I began shelling the prawns, pointing out that we were missing the flavorful sauce by doing so. He suggested we follow his example by removing a few stray feelers, the head and tail, wrapping the prawn in lettuce, and eating it with the shell. "This way, you get the texture as well as the flavor of the sauce. We made the attempt, but it quickly became clear that our texture education needed further cultivation. "Then I guess you aren't fans of chicken knees either." We pretended he was joking but knew he wasn't.
After eating far too much lunch, we visited The Dr. Sun Yat-sen Classical Chinese Garden, an authentic reproduction of the cultural gardens in Suzhou during the Ming dynasty. Craftsmen and artisans using carved woodwork, roof tiles, and eerily weathered limestone rocks, all brought with them from China, created the garden using tools and techniques employed five centuries ago. The Garden's dual purposes are to foster an understanding of Chinese culture as well as to provide a sanctuary of serenity and contemplation, a refuge for the spirit.
We first became aware that the garden reflected levels of symbolism when it was explained that the green hue of the pond was not a result of neglect, but rather deliberately maintained. "The jade colored water protects against evil forces," explained one of the Garden's volunteer guides. The focus of the garden, she continued, was on the balancing of opposites; the basis of Taoist belief is the attainment of harmony, health, and prosperity by creating an equilibrium between yin and yang.
Our guide gave a brief overview of the principles of yin and yang, the mutually dependent and complementary polarities that exist in all phenomena. "Western thinking tends to view opposites with an either/or mind set; Eastern thought accepts the necessary coexistence of yin and yang. Without roughness, how can we truly understand smoothness? Without cold, can we really understand hot? Without sadness, can we truly know happiness?" Her explanation had the smooth flow of an oft-repeated lecture. "The opposites are mutually dependent. Yin and yang, not yin or yang. Look around. There are balanced opposites everywhere."
She was right. The pagoda style Ting with up-sweeping roof corners contained a balance of curved and linear; circular gates were counter pointed with rectangular ones; smooth, round pebbles were balanced with those that were jagged and rough; the flowing waterfall found its counterpart in the solid rock of the mountain. Light was completed by shadow, permanence with change. The discovery of balanced opposites became contagious. Two turtles broke through the pond's surface and lumbered up a rock to sun themselves; undoubtedly, they were male and female.
At the completion of our tour, there were refreshments in the main hall while on the patio; a young student from a local music college played an "erhu", a Chinese violin, with absorbed intensity. The haunting music mingled with the ignoring, chattering guests. Melody and small talk. Passion and indifference. Creativity and apathy. The perception of opposites continued.
There is a temptation to see the ascent of Richmond's Asia West against the decline of Vancouver's historical Chinatown, but that view is a product of either/or thinking. The brief lecture on the principles of yin and yang provided the insight that new and old can supplement and complete each other. Both communities coexist in a balance, forming distinct yet complementary tiles in the Chinese mosaic.
---