Bui Mai Hien and Dao Anh Khanh
---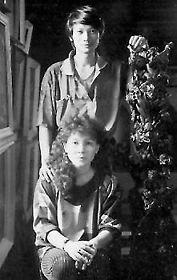 Image ©
2000 Global Directions, Inc.
Anh Khanh, born 1959, Vietnam
Graduated from the Industrial Arts College, Hanoi, Vietnam.
Member of Vietnam Fine Arts Association.
Anh Khanh, a surrealist, is becoming an internationally recognized leader among the young Asian artists who are breaking with all traditional stylistic and political constraints. His mind knows no limits, escaping to the outer reaches of the universe in search of tranquility, and there also finding explosions of renewed personal energy. He is the consummate romanticist, finding musical instruments and hearing enchanting strains even in the most violent interplanetary windstorms or disturbances at sea. While he paints predominantly in oils, his real elements are the music of the universe, coupled with unbridled forces of nature -- wind, sea, fire and desolate space.
Mai Hien, born 1957, Vietnam
Graduated from Vietnam Arts College, Hanoi, Vietnam.
Member of Vietnam Fine Arts Association
Mai Hien has ironically chosen to express her abstract art through the use of lacquer, one of Asia's most traditional media. Using techniques that are thousands of years old, Hien painstakingly applies seven or eight layers of elegant lacquers to a wooden board, along with eggshells and lustrous gold leaf. Rather than shock the viewer, this unlikely medium richly showcases her abstract depictions. They fall into various series -- human relationships, urban dwellings and structures, the special yearnings of woman. Hien's "Earth Riches" series includes stunning displays of precious metals, iron-like reds, and coppery greens that can be appreciated for their spatial forms as well as the uncanny richness of color and texture.
Exhibitions:
1998 "K24" exhibition at the Fine Art University, Hanoi

USA Tour, "The Winding River" touring the US for three years (Meridian International Center, Washington, D.C.)

Exhibition at Griffis Art Center, New London, CT

1997 "Contemporary Art from Vietnam" at La Galerie, SOHO, New York City

Exhibition at Lilliam Imming Gallery, Boston, MA

Exhibition at ArtTeach Center, Palm Springs, CA

1996 Showcasing Contemporary Vietnamese Artists, Kuala Lumpur

1995 Centre Culturel Franco-Vietnamien, Paris

"Vietnam Arts Contemporary," Beijing

"Art is World Speak" at Bistango Gallery, Irvine, CA

Exhibition at Hang-Bai House of Arts, Hanoi

1994 Exhibition at Indochina Gallery, Hanoi

1993 Exhibition at the Fine Arts Association, Ho Chi Minh City

1992 Exhibition at Ngo-Quyen Gallery, Hanoi

Exhibition at Hang-Bai House of Arts, Hanoi
Art Work:
"You and I" Anh Khanh
"Yellow Symphony" Anh Khanh
"Celestial Rain" Anh Khanh
"Release" Anh Khanh
"Concert Hall for the Universe" Anh Khanh
"Jam Session" from the Festival Series, Mai Hien
"My Space" from the Woman Series, Mai Hien
"River of Life" from the Woman Series, Mai Hien
"Fire Storm" from the Earth Riches Series, Mai Hien
"The Untamed Melody" Anh Khanh
"The Energy of Emptiness" Anh Khanh
Interpretative comments by Steve Potash
---