Salvation and Redemption: Key Themes of Asian Films at Cinequest 2014
---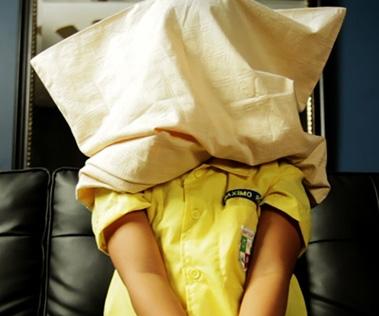 Image ©
2014 Celeste Heiter
Now in its 24th year, the Cinequest Film Festival, held annually in San Jose, Calif., once again presents an impressive and eclectic array of independent films from all over the world. Each year, ThingsAsian posts my reviews of Cinequest's Asian and Asia-related entries. This year, only six of the Asian films were available for pre-festival review: The Desert Fish; A Thief, a Kid, and A Killer; Funny Money; The Circle Within; Papilio Buddha; and Life is Love. And whether real or fictional, all feature characters in need of salvation, with their own unique ways of finding redemption.
The Desert Fish
Country: Iran/Canada
Language: Farsi
Director: Mohammad Ghorbankarimi
Producer: Mohammad Ghorbankarimi
Screenwriter: Mohammad Ghorbankarimi
All happiness was extinguished from the lives of young Ahmad and his father, Captain Toufan, when the Captain's beloved wife Mahi Khatoon was lost at sea, in the same waters that had brought her to him aboard the shipwrecked boat where they first met. Once a renowned fisherman whose greed got the better of him, Captain Toufan blames himself not only for his wife's disappearance, but for the once bountiful waters left barren by a sailor who fell from grace with the sea.
Having searched in vain for Mahi Khatoon, in grief and desperation the Captain retreated to the inland desert to work as a well-digger and raise his young son. The Captain keeps the memory of his wife alive with recollections of their courtship and marriage. Lately however, Mahi Khatoon has been visiting Ahmad in his dreams, and her apparition appears as an ethereal mermaid in the waters of the cistern where he bathes each morning.
Growing more restless with each passing day, Ahmad begs his father to return with him to the coastal village where Mahi Khatoon was lost. But when his father takes ill from grief and exhaustion, with the help of his Uncle Abbas, Ahmad embarks on his own quest to the sea, seeking the salvation that will reunite him with his mother, and deliver his father from the depths of despair.
Written, produced, directed, and filmed by Mohammad Ghorbankarimi, The Desert Fish is a rare cinematic jewel. Set against a backdrop of great scenic beauty, with subtle allusions to Mother Ocean and Father Earth, this luminous fable is a metaphor of profound meaning and relevance. The futility of life in the parched desert, juxtaposed with the sea green, aquamarine, and azure blue of the welcoming yet lifeless waters, creates a paradox that both dazzles the senses and disturbs the soul with a deep sense of foreboding. With The Desert Fish, Mohammad Ghorbankarimi has crafted a masterpiece that transcends religion, culture, and politics to deliver a dire message to all of humanity.
A Thief, a Kid, and a Killer
Country: Philippines
Language: Tagalog/English
Director: Nathan Adolfson
Producer: Nathan Adolfson
Screenwriter: Nathan Adolfson
Lives collide in this unexpected pairing of characters: Maximo Rooney, a bullied ten-year-old latch-key kid whose mother is still at work, and Nico, a serial ne'er-do-well whose latest scheme, a dead-simple black-market diamond heist, has gone horribly wrong. Their relationship is tense from the get-go when Maximo returns home alone to find Nico holed up in his high-rise apartment, on the lam from Oscar and Rommel, two of his erstwhile accomplices. But in the process of assessing their predicament, Nico and Maximo manage to forge an oddly affectionate bond. That is, until cousin Lloyd, Nico's partner in crime, wakes from his nap with a far more menacing agenda. And when Oscar, a ruthless police detective with a vendetta, and Rommel, a local gangster, begin to zero in on their whereabouts, it looks as if there may be no way out for young Maximo and his hapless new friend.
Written, produced, and directed by Nathan Adolfson, A Thief, a Kid, and a Killer is a darkly delightful tragicomedy that plays upon Maximo's naïve candor to add a spark of humor and pathos to a desperately sinister plot. Jeffrey Quizon as Lloyd, Jack Falcis as Oscar, and Lance Raymundo as Rommel, create three deliciously despicable villains, while empathic performances by Arvy Cesar Viduya as Maximo, and Felix Roco as Nico, bring an element of warmth and depth to an otherwise brutal scenario. A Thief, a Kid, and a Killer...a heist film with a heart.
Funny Money
Country: Vietnam
Language: Vietnamese
Director: Thien Do
Producers: Phil Tran/Thien Do/Jenni Trang Le
Screenwriter: Thien Do
Lucky Loc is a successful entrepreneur who cashes in on the religious tradition of burning paper replicas of luxury items and faux money as offerings to the dearly departed so that they may enjoy such finery and wealth in the afterlife. In fact, Loc has elevated his manufacturing process to such an art that his combustible merchandise is seemingly identical to the real thing, right down to the way it smells. But Lucky Loc's life takes an unforeseen turn when he wins a round of golf, and one of his golfing buddies ponies up his wager using a 100,000 dong bill with its lower right corner missing. When Loc tries to pay the tab for their round of beers with the torn bill, the waitress refuses to accept it.
Throughout the remainder of the day, Loc tries to rid himself of the unwanted bill, but even the street peddlers won't accept it, and he's too superstitious to use it as an offering at the Buddhist temple. In one last attempt, he manages to pawn it off on Quyen, a pretty salesgirl in a florist shop. Within a matter of minutes, both their lives go from bad to worse, until Loc convinces himself that spending the torn bill is the key to his misfortune. But to what extremes must he go to retrieve the bill and restore his luck?
Written and directed by Thien Do, Funny Money is a fast-paced satire that reveals both sides of the materialistic coin: the greedy, shallow vanity that worships it, and the dark underbelly that feeds it. With its cheeky cast of characters, and nary a dull moment, this comedic romp sweeps the audience along for the ride, with the promise of a pay-off that's more than just funny money.
The Circle Within
Country: Turkey
Language: Turkish
Director: Deniz Çinar
Producer: Deniz Çinar/Firat Çinar
Screenwriter: Deniz Çinar
The religious beliefs and traditions of an esoteric group of Kurdish Yazidi in Eastern Turkey set the stage for two men to test the limits of their faith within The Circle of Truth. When Çerçi Halil, a devout Yazidi trinket salesman comes to the village to peddle his wares, Hasan, an ex-military officer suffering from PTSD seizes the opportunity to bring closure to the traumatic incident that left him mentally ill. With a blow to the head, he knocks out the old man and drags him into a circle inscribed in the sod of a stony meadow. The following morning, when Çerçi comes to with the realization that he has been imprisoned by his religious beliefs at the hands of a madman, he must choose between his faith and his freedom.
Written, co-produced, and directed by Deniz Çinar, The Circle Within is a profound yet disturbing study in Truth, its power, its scope, and its limitations. With a theme and premise reminiscent of passages from Gurdjieff's Meetings With Remarkable Men, The Circle Within personifies not only the Yazidi ideology, but also the quest for Truth that inspires and compels us all.
Papilio Buddha
Country: India/United States
Language: Malayalam
Director: Jayan K. Cherian
Producer: Prakash Bare/Antony Thekkek
Screenwriter: Jayan K. Cherian
India's Dalit caste, regarded as "untouchable" and unworthy of social advancement, is front and center in this socio-political docu-drama that has stirred controversy not only in its native India, but across international borders as well. The film focuses on the lives of Kandal Kariyan, an elder leader in the movement to gain civil rights for the Dalit, his son Shankaran, an aspiring scholar involved in a homosexual relationship with an American lepidopterist, and their friend Manjusree, a schoolteacher by day and after-hours rickshaw driver resented by her co-workers as an intruder in a man's world. The story is rife with social injustice, from the prohibition of the Dalit to own land, to the right of every citizen to earn a livable wage with pride and dignity. Moreover, it calls into question the deification of Mahatma Ghandi, and the effectiveness of hunger strikes as a means of protest.
Written and directed by Jayan K. Cherian, the travesties inflicted on the Dalit portrayed in Papilio Buddha are as painful to imagine as they are to witness. But difficult though it may be, theirs is a story that needs to be told, and the plight of the Dalit is an issue that must be brought to bear.
Life is Love
Country: United States/Cambodia
Language: English/Khmer
Director: Halfdan Hussey/Kathleen J. Powell
Producer: Halfdan Hussey/Kathleen J. Powell
This heart-rending documentary chronicles the unflagging mission of Somaly Mam in her efforts to deliver a growing number of young women from the clutches of human trafficking in Southeast Asia. A survivor herself of this unspeakably cruel fate, Somaly Mam has made it her life's purpose to provide a safe, nurturing environment that inspires hope and provides alternatives to young women who have fallen victim to this dark underworld.
In a series of painfully unvarnished narratives, several of the women she has rescued recount the horrors of their sexual slavery, as well as their paths toward healing with the encouragement and loving guidance of Somaly Mam. The documentary even includes interview sessions with a group of young men who unabashedly and unapologetically describe their encounters with prostitutes, and whose lives are often as destitute and depraved as the lives of their victims.
Thankfully the film concludes on an uplifting note when the focus shifts to Somaly Mam as she recounts how her own harrowing experience inspired the philanthropic imperative that is her raison d'être.
A Cinequest labor of love, produced and directed by its co-founders Halfdan Hussey and Kathleen J. Powell, Life is Love is among the best that documentary filmmaking has to offer, and embodies the true Maverick Spirit of "artistic impact, social responsibility, leadership, and innovation."
* * * * *
---