Chilling out in Vientiane
---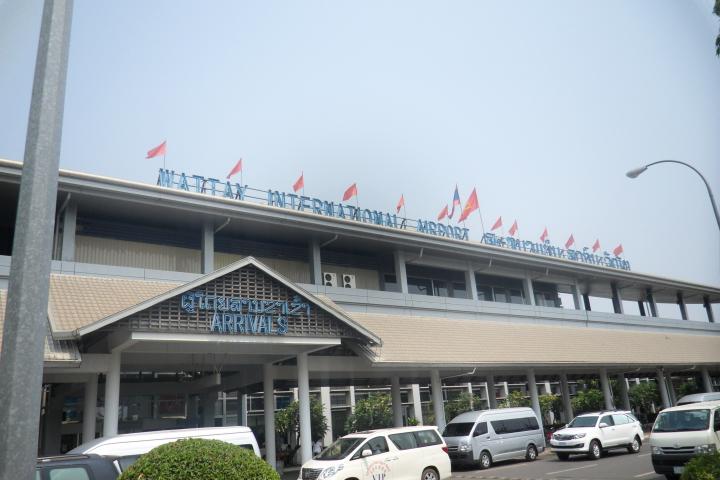 Image ©
2013 Malcolm Teasdale
Laos is a landlocked country of about six and a half million people. It is one of the poorest nations in Southeast Asia; however there are signs of development in an effort bring it to a level of neighboring Vietnam and Cambodia. There are two main destinations a typical tourist will visit, one of which is Vientiane, the capital city in the south and Luang Prabang in the north. There is a French influence, likely as a result of its ruling of the country during the late nineteenth century. It became independent in 1953 with a monarchy, but a lengthy civil war destroyed that until it became a communist society in 1975 and today it is a single-party socialist republic.
Vientiane has a population of less than one million people, although as the country continues to develop and create more jobs for its citizens, this is bound to increase substantially in the next few years.
Traveling to Laos isn't the easiest of destinations to get to without connecting through one of the other major Asian hubs. Lao Airlines has no direct flights from North America, only from major cities in neighboring countries.
I booked a flight to Vientiane from Bangkok on Thai Airways, which is about one hour in length. On a packed Boeing 777, the efficient Thai Airways cabin staff managed to feed all of the passengers and even managed to offer a second round of drinks.
There was only two other planes on the ground parked at their gates when we touched down, a little unusual for an international airport. It wasn't a bad thing, as it just meant that the line-up for visas on arrival and immigration would be short, providing they had enough staff. I had completed my visa on arrival form a week or two before my travel date and printed out four passport photos. Other passengers who disembarked before me scrambled to locate visa application forms and a pen to complete them, allowing me to be the first to approach the immigration officer. I only needed two photos, but the visa application form specified that the size of them needed to be two centimeters by three. This seemed a little small in my reckoning, so I printed an extra two that were twice the documented size. I handed over the form and the two smaller photos, which immediately failed the size test.
"Too small" said the immigration agent.
I handed over the two large ones and she was happy enough until she asked for the standard thirty five dollar immigration charge in US currency. I handed over a twenty, ten and a five dollar bill. The twenty and the ten had slight tears in them, maybe an eighth of an inch at most. She rejected them.
"It's worth the same amount of money" I explained, which I am pretty sure questioned her authority and integrity.
She was adamant, but fortunately I had some Thai Baht in my wallet which saved the day. I handed over nine hundred and fifty of them and the final blank page in my passport was filled with the visa stamp.
The airport was functional, but in need of modernization as the baggage claim and arrivals hall was a little tatty. Unlike most international airports, this one was sparsely occupied with people so it was very easy to locate my hotel limo driver.
The first piece of quirkiness I saw as we crossed the road to the parking lot was a black Hackney Cab, the type of taxi that is used all over England. It may have been a bit of an anomaly as it was the only one I saw during my stay.
After a fifteen minute drive we arrived at the boutique Salana Hotel, my home for next forty eight hours. The staff was well dressed and pleasant, although their command of the English language was limited, but adequate enough to hold a short conversation about anything hotel related. My room was spacious, clean, modern and comfortable enough for a pleasant stay and a good night's rest.
I picked up a map from the concierge and started walking. It was unbelievably hot and humid. I had no sunscreen or a hat with me so had to be cognizant of the powerful sun in a cloudless sky.
Here I was in the center of the capital city of Laos, very close to the Mekong River, markets, restaurants and bars, but there was something missing, not quite right. It was traffic and people. After walking around for a couple of miles, which was about as much as the heat would allow me to, I came to the conclusion that Vientiane was just a sleepy little laid back town.
I walked along the road adjacent to the mighty Mekong River, but at that current time it wasn't so mighty. Much of the river bed was dried up and by the looks of it had been arid for some time, as plant life had been growing. Between the footpath alongside the river wall and the water's edge was a distance of at least half a mile of dry, virtually barren landscape. I saw a few people taking the trek across river bed, but it did not seem appealing to me, mainly because of the heat, but also the possibility of encountering soft sand or mud. I couldn't imagine sinking to my death with no-one around to fish me out.
That evening, I visited the Bor Pen Nyang bar, roughly translated into "No worries". Its name seemed to fit in with the laid back attitude I had noticed during my short time in Vientiane.  Located on the main road facing the Mekong River, I had to navigate through several parked scooters and climb three flights of steep stairs before stepping into a partially covered rooftop bar. The TV screens were showing English soccer, so I immediately found a strategically placed stool at the bar within comfortable viewing distance of two TVs that were televising two different live games. BeerLao was available on draft and in one and a quarter pint bottles. At two dollars US, the bottles were the best bet. I estimated that well over fifty percent of the clients were enjoying the same, which considering the variety of cocktails in a bar, it was obviously the drink of choice.
As much as some bars in Asia could be classed as meeting places of the opposite sex, the law in Laos states that it is forbidden for foreign citizens to be involved in sexual relations with Lao nationals unless they are legally married. Breaking this law means a hefty fine and at a minimum, deportation and possibly imprisonment.
The staff and customers at Bor Pen Nyang were sociable and on more than one occasion I was approached and asked by a couple of the local girls if I would like to join their party of friends. There is bar curfew in Laos in that they are required to close by eleven at night, although a couple of them for some unknown reason have permission to stay open a little longer. I was invited to go with a group of locals to another bar that had extended drinking hours, but I respectfully declined because I was extremely tired. Twenty years ago, I would have made a different decision.
Laos is a backpacker's destination and there are plenty of them walking around Vientiane. I came across the Funky Monkey Hostel, the most popular destination for those intrepid travelers. It was much busier than my hotel and at about ten to fifteen dollars maximum per night, it seemed like a steal of a deal.
I walked past the Presidential Palace, a beautiful expansive piece of architecture close to the Mekong River that was void of security and tourists. Although the walls were high and the gates were closed, there was no action either inside the grounds or around the perimeter. Probably the President, Lt. General Choummaly Sayasone and his family were not at home or maybe he lives elsewhere, some place unknown to the general public. It is closed to the public, so the only thing one can do is take a photo or two of the front and rear of the building and move on.
Across the street from the palace is a park, where a few families were walking around. It had a large sign displaying its name and underneath was written, "No Smoking". I had also walked past a few temples and "No Smoking" signs were posted at their entrances as well. I am not sure if it is the smoke or the used cigarette butts that is offensive to the authorities and the public. There was a group of six or seven Indian males having some reflexology treatment and manicures, which in my opinion looked rather uncomfortable, especially since they all were wearing trousers at the hottest time of the day. The temperature was close to one hundred degrees.
As I walked toward the park's exit there were a group of six local men sitting in a circle and sharing a large bowl of something, likely a stir fried meat and vegetable concoction made from a wok close by. As I walked past, they signaled me over and prompted me to join them. I smiled and declined, but that wasn't the first time I was approached as a stranger and invited to join a group of the locals.
I came across Champs Spa, a reasonable looking place that had a decent reputation from the reports on TripAdvisor. Apart from booking a Lao massage, it was a chance to cool off and escape the early afternoon sun. The Lao massage technique revolves around making the body relaxed and invigorated. It worked for me and cost me only eight dollars. 
On the way back to my hotel, I stopped for a BeerLao at a beer garden down one of the side streets. As I sat there, I started to collect my thoughts and the realization of where I was, became apparent. I have never met anyone who has been to Laos before and likely never will. I understand that it is a developing nation, but there is something genuine about the place. It is laid back, peaceful, unassuming, with a feeling of isolation from the daily troubles of the World outside. I felt very relaxed and contented.
Adjacent to the dried up river bed was a night market with hundreds of stalls, selling such items as souvenirs, tee shirts, silk items, clothing, shoes, paintings, music and household utensils.
I picked up two tee shirts for about five dollars, but when I returned to the hotel I found them to be too small. In fact, on closer inspection, an "L" label had been sewn on and I found a printed "M" on the shirt's material, which I didn't notice when I bought them. Basically it looked like they tried to adapt a medium sized shirt to a large for the general smaller than average local population.
Later that evening I walked to the Chill-out Lounge and ate a sizable bowl of Pad Thai noodles and drank three more BeerLao's for the grand total of six dollars and eighty cents. That's what I call a bargain.
On the way back to my hotel, a scooter girl pulled up beside me and made some suggestive comments as she was on the prowl for a paying customer. I said to her, "Don't you know that it's illegal?"
Unperturbed, she put the scooter into gear and rode off into the night.
Laos is a developing nation under a one-party socialist government, under-crowded, peaceful, laid back, sleepy, with an element of mischievousness that makes it a quite desirable place to experience.
* * * * *
---