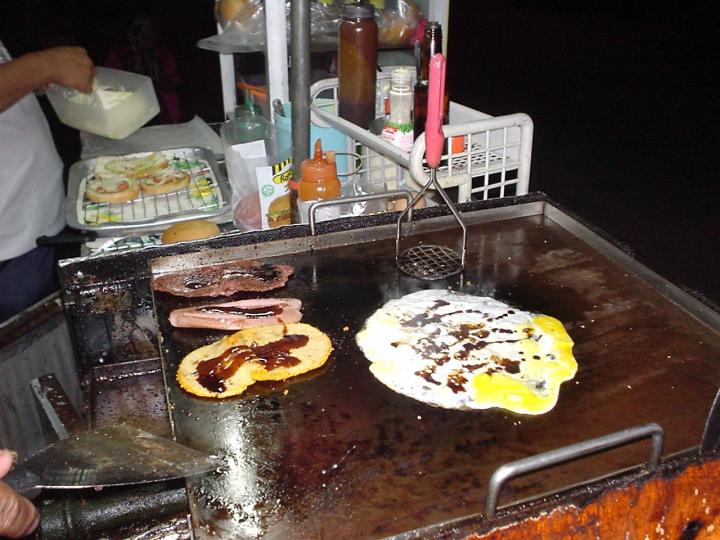 Instead of McDonald's each time, why not give the Malaysian burger a chance? The Ramly Burger stalls are a common feature in the Malaysian scene, although many women stay away from it because of the grease and guilt. With many fast food joints to choose from these days, it is not surprising that many people have not tried the burgers by the roadside.
With that aside, you have got to make your way to Mizi Burger stall where the proprietor, with 10 years of experience under his belt, promises to convert you from a non-burger eater to one that will patiently queue up for his burgers at midnight. Having tried various Ramly burger stalls before, we realized that Mizi burgers are different from the rest. Already Ramly burgers on their own are delicious, yet with a special sauce that Mizi puts in to the meat and egg, he had created a niche for himself. With a variety of meat and specials to choose from, the end results is always a gastronomical delight. The generous amount of butter, pepper, mayonnaise, chili and the special sauce that goes into the meat makes the burger or hotdog tastier and far more juicier. The queue at his stall each day is a testament to that!
Note: Try the Venison Burger. If you are late, it will be sold out. That's really something.
Stall details:
Address:
Jalan SS2/2,
47300 Petaling Jaya 
(in front of the SS2 Fire Station)
Business Hours: 8pm - 1am daily (Closed on Sundays)
Cuisine: Malay
Price Factor: Cheap
Cleanliness Factor: 2/5
Service: 4/5
---