Heaven on Earth - East and West Malaysia
---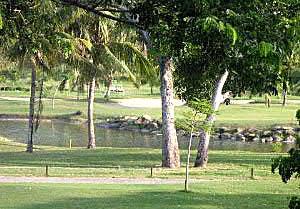 Nexus Resort Karambunai, Sabah
Some say it's heaven on earth. Seduced by a friend's strong recommendation and what I read on their website I decided that "die-die" (pardon the Singlish) I must make a trip there. The timing was right. There was a long weekend in early August and I was starting a new job in mid-August. Besides, I was out of Singapore for a month in July. So my excuse was that I needed to reconnect with my family and to ease off before I start work again.
Nexus Resort Karambunai did not fail to impress. After a half hour ride from the airport, I checked into a spacious two-bedroom adjoining family suite in the Borneo Wing. The building was tucked away near to the edge of the golf course. I could see golfers from my balcony. The rooms were big and the bathroom superb. I am a stickler for clean and big bathrooms and this was impressive.
Outside, the 6km beach boasts of a long stretch of white sand. Outdoor activities are plentiful and there is no reason why one should stay indoors. I went cycling around the property. The cycle took me to the edge of the magnificently landscaped (and challenging, I heard) 18-hole championship golf course.
Sports enthusiasts might favor Lagoon Park. Here one could get a go at water and jet skiing, kayaking and wind surfing. Be alert to the presence of sandflies though. My children returned from the Lagoon Park badly bitten by them and itching all over. Daily shuttles are provided by the resort to Lagoon Park.
For someone like me who adores spa treatment, the Borneo Spa is the place to go. I stepped inside for a rub-down and stayed for hours. I welcomed the tranquility and spaciousness of that place. Service was good and free coffee and tea were available on the house while I relaxed. This is the epitome of graceful living and I loved every moment of it. What erked me was the not-value-for-money "health" lunch that I ordered which did not fill me one bit.
Food-wise, one is spoilt for choices at Karambunai. My family and I favoured the Chinese Restaurant called Noble House. For breakfast we had a choice of two restaurants from where we could get our buffet from. Our daily choice is The Kingfisher for its non-airconditioned and laid-back ambience. It also has a view of the sea and of the landscaped ground and chalets. Beyond these, there are other eateries where the stomach could be filled and tastebuds probably satisfied. The quality of food is not exceptionally wow-wow but the variety does help to make eating a more pleasant experience. Prices, however, are steep but remember that Karambunai is "heaven on earth".
Shopping at Kota Kinabalu
For die-hard shoppers, the resort itself has nothing to offer but it provides bus transport to bring guests to town. Be warned that the roads in town are terribly jammed. The shopping center that we were brought to, no doubt the shopping venue at Kota Kinabalu town, was a shame. Compared to the shopping haven of Singapore, there's really not much shopping to do Kota Kinabalu. In my view you would be better off enjoying the resort facilities and the pristine beach.
I strongly recommend Karambunai if you want a place for fun and sun and do not mind paying a price to enjoy star facilities.
For a stay at Karambunai, fly in by air to Kota Kinabalu International Airport.
* * *
Avillion Village Resort, Port Dickson
Another beautiful resort, this time located at Port Dickson in West Malaysia. The resort is styled ala traditional Malay fishing village. It exudes a quaint charm of old yet it provides for the comfort of discerning modern travellers.
The chalets, spread over seven finger piers, reach out into the Straits of Malacca. What I love about the chalet is the terribly comfortable king-size poster bed with mosquito net and the fantastic bathroom. It was my first experience of having a bathroom that offers tub bathing and a shower that is uniquely located at an open spot, aka spa-style. Overlooking the shower is the sea. Bathing at Avillion is really an experience of a kind. The bathroom is spacious, as big as the room itself. For my family of five, the 'Pangkin' (day bed) provided the additional space for two to sleep in.
Masseuse ply the resort and you can have massages in the privacy of your room or at the spa.
In a place like this, advisable wear would be comfy tops and shorts and slippers. It is also a place for you to flaunt lovely and colourful ponchos. Other must-have in your luggage would be hats, sunglasses, sun block and moisturizers to shield from the tropical sun. Think Hawaii in this instance. Go easy, relax and just enjoy the laid-backness of the place.
I enjoyed the adult pool tremendously, not that it is anything more exciting than any other normal pool. However, since I am not one to soak at edges of the pool, this adult pool at Avillion offered me the inspiration to swim laps up and down the length of the pool.
Food wise, it is disappointing at the resort but if you would take a drive down the road, there are some roadside stalls where you could have a varieties and choices. In "kampong" towns such as Port Dickson and elsewhere in West Malaysia, one really cannot expect international chef-standard kind of dining.
Shopping should not be the agenda when you are at Avillion. The nearest shopping havens are at least an hour or more drive by car to Malacca and Kuala Lumpur. So at Avillion, expect to while your time by the three pools and the beach. For sun and sea lovers, this would be an ideal vacation because there is no dearth of water and land activities. For harried workers who just want a quick get-away from fast-paced Singapore, Avillion provides a different experience from the golf clubs in Johore, the hill resorts in Cameron Highlands and the gambling casino in Genting Highlands.
Port Dickson is easily accessible by road from Singapore or within West Malaysia itself. For overseas visitors, hire a taxi or rent a car and enjoy the sights and cacophony of culture that is Malaysia.
Two resorts located in different parts of the world - East and West Malaysia - five-star in their own right. Both are pricey by the standards of Malaysia, both cater to modern fancies - spa, massage, space, activities, leisure yet exuding charms of their own. Thumbs up for heavenly places such as these so earthlings can enjoy and live life at its finest.
* * * * *
---