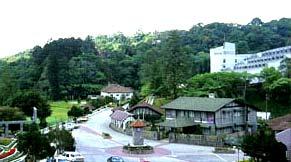 Image ©
2000 WWF Malaysia
Also a favorite vacation spot for many Malaysians and tourists, Fraser's Hill is far enough from the noise of city life yet near enough for a two-day retreat. If you are looking to getaway for a quick holiday or at short notice, you might want to consider a peaceful holiday at Fraser's Hill.
Fraser's Hill got its name from James Louis Fraser. Back during the colonial days, James L.F. is an adventurer and fortune hunter. There were many colorful stories about his life; including rumors of him managing an opium and gambling den, which is a favorite haunt of local miners. There were also stories of him living in a shack built on the hills. He runs a primitive mule train and was involved in the money-spinning tin ore trade. One day, sometime around the first decade of the 20th century, he vanished? A search for him went out in the year 1910 by Bishop Ferguson-Davie of Singapore. His efforts, although fruitless, was rewarded by the discovery of a perfect retreat that is now one of Malaysia's foremost hill resorts.
Stories aside, Fraser's Hill is however not blemished by its past stories or origins. The hill is at 1,525 meters above sea level and is built on seven hills. The place has a quiet rustic atmosphere; you could almost feel the air of the "English countryside".
As the rest of Malaysia is hot and humid most of the days, it is no wonder that Fraser's Hill is such a popular tourist spot. The hillside is cool throughout the year at an average of 18 - 20 degree Celsius. The cooling air is absolutely refreshing and invigorating. Over the years, it has become a hot spot for company retreats and weekend trips.
Besides idling your time away at Fraser's Hill with a book in a park, the fanatic golfer will also be able to tee off at this picturesque location. Non-golfers can go for horseback riding. The paddocks at Fraser's Hill have ponies for novices while proficient riders can ride on the available horses. Horseback riding also offers one of the better ways to explore the hill, as there are quite a number of trails that spirals around the hillside. The cooling breeze caressing your face while riding on a horse is an uplifting experience.
Fraser's Hill is also fast becoming a favorite spot for bird watching enthusiasts. The unspoiled landscape is home to over 270 species of local and migratory birds, making this place a haven for bird watchers. This wonderful phenomenon caused Fraser's Hill Development Corporation (FHDC) and Malaysian Nature Society to collaborate and form the Annual International Bird Race. This world renown event sees participants from around the globe gathering together for some fun to determine which team can sight, identify and record the most number of birds found on the official checklist. The event is to promote Fraser's Hill as a bird sanctuary. It is also to educate the public on the healthy aspect of bird watching and outdoor life.
Aside from that, the FHDC is also working with WWF Malaysia (World Wide Fund for Nature Malaysia) on the Fraser's Hill Nature Education Center (FHNEC) project. This project was established in the year 1997 and is aimed at raising the public's awareness towards the magnificent highland forests, which is a big part of the country's heritage. The center is located 1,300 meters above sea level and is built amongst rich and unspoiled highland forests. If you would like to know more about the unique ecosystem, then head on over to the center where you'll get to experience and understand the importance of highlands forests and the need to conserve them. Alternatively, get more information about the FHNEC via this link.
If you are interested in visiting Fraser's Hill, you can find the hill located at about 104 kilometers from Kuala Lumpur. To reach there, you can take one of the two optional routes. The first one is via the Kuala Lumpur-Karak Highway where you turn off towards Raub and off again before Raub. You will then arrive at Gap*. Alternatively, the other route is through the scenic old road that heads towards north. You will need to branch off at Kuala Kubu Baru (KKB) before going to Gap.
* * * * *
* What is Gap?
Gap is a section of the road on Fraser's Hill that is accessible in one direction at a time. The road will be opened for one hour to traffic heading uphill and vice versa throughout the day.
* * * * *
---