Impressive trek in a sunny Sapa day
---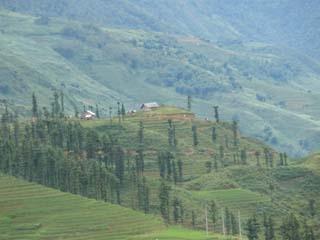 Well, another amazing day. Today may well have been one of the highlights of the trip...which is a presumptuous statement to make after only 5 days on the road, I know, but still. I don't really expect to see scenery and people like this everywhere we go.
To start off: yesterday was great. We arrived in Sapa at 7:30 in the morning, got our hotel (and shower), and did some looking into treks/tours. Decided on renting motorbikes (complete with driver!) to see Silver Falls and Tram Ton Pass. Great decision, it turns out. Foggy as Sapa was, once we got out of the town, the sun came out! A bit strange getting that up close and personal with a stranger (sitting on the back of his bike!), but what a great feeling with the fresh air rushing past your face. Up to Silver Falls, some stairs to climb for the best view, well worth it.
Then we continued on to Tram Ton Pass, the highest pass over the mountains in the area, and the only one for the road here. Hence, there was all kinds of traffic!(including some rather large trucks). To the top, where our driver told us there was a beautiful view, when the clouds went away! All we saw was a wall of fog. We waited a few minutes, and like magic, the fog cleared and we were left with an amazing view down into the valley.(apparently we are lucky, with good timing, said our driver) We sat up there for close to an hour, soaking in the view(and sun--oops, sunburn!). Back down to the town, a nap, supper, a movie (rented a DVD player) and VERY early to bed.
Today dawned SUNNY! What was a wall of fog from our hotel room turned into one of the most stunning views I've ever had from a hotel room. Amazing! Hard to believe what was there all along, but we just hadn't been able to see. We had decided on a trek for today, so we headed out at 9am on a 15km walk, with 4 others. Started in the sun, and then started walking downhill into the fog. Really neat! We walked and walked, saw amazing terrain, and a couple villages inhabited by the hill tribes of northern Vietnam, the (and I'm going to butcher these names) Black Hmong, Red Dzao and Zay people. Each tribe had unique dress and different handicrafts they are known for. We walked through their villages, saw some of their daily life from the outside looking in and just soaked in our surroundings. Pictures won't do this place justice, truly.
The valley was terraced unbelievably, for the rice they will plant next month. It was just an unbelievable place. These people live so simply, off the land and with what they can make from tourists. We saw a school sponsored by UNICEF, very simple houses, and people working on the land as they have for generations. Quite an experience! I've run out of words to describe it. An amazing day!
Further information, you can visit:
Trek Fansipan or
Active Travel Vietnam
---