'Magnifico' Philippine Recipes and Photos
---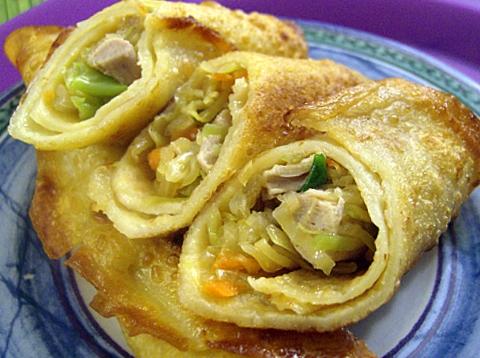 Image ©
2008 Celeste Heiter
This menu of Philippine classics includes Salmon Kinnilaw with mango and avocado, Deep-Fried Lumpia, Pancit noodles with shrimp and spicy linguica, a piquant Shrimp Escabeche, a rich and hearty Pork Adobo, and a silky Crème Caramel.

Salmon Kinilaw
1 pound fresh sushi-grade salmon, cut into 1/2" cubes
1/3 cup fresh lime juice
1/4 cup rice wine vinegar
1/2 cup canned unsweetened coconut milk (do not shake)
1 tablespoon ginger root, finely grated
2 ripe mangos, peeled and coarsely diced
1 jalapeno pepper, seeds & veins removed, finely minced
1 head of butter lettuce, separated into individual leaves
In a glass bowl, mix together fish cubes, lime juice and vinegar. Allow to marinate in the refrigerator for 4  hours. Without shaking the can, open the coconut milk and spoon the thick coconut cream off the top and save the remaining juice for another purpose. Remove the fish from the refrigerator. Stir in ginger, jalapeno and mangos. Arrange lettuce leaves on a salad plate. Spoon fish cubes into the center of the plate, drizzle with coconut cream. and garnish with lime wedges.  
Deep-Fried Lumpia
Lumpia Wrappers:
2 eggs
1 cup water
1/3 cup cornstarch
1/2 cup flour
Pinch of salt
3 tablespoons cooking oil
Lightly beat the eggs in a large bowl. Add water and whisk until blended. Add the dry ingredients and stir until until thoroughly blended, making sure there are no lumps in the batter.
Lightly coat the bottom of a small, non-stick skillet with oil and place over medium heat. When the skillet is hot, pour a small puddle of batter into the pan. Holding the pan in one hand, gently rotate your wrist, tilting the pan to thinly and evenly distribute the batter over the surface. Return the skillet to the burner and cook for 1 minute or less, until the batter appears dry and the underside is lightly browned. Using a small spatula, separate the edges of the wrapper from the surface of the pan and carefully turn the wrapper over to lightly brown on the other side.  Remove the wrapper from the pan and set aside. Repeat the process with the remaining batter, making sure to recoat the surface of the pan with oil before cooking the next wrapper. Makes about 12 wrappers.
Stir-Fry Lumpia Filling
1 tablespoon sesame oil
1/2 onion, finely chopped
2 cloves garlic, finely minced
1 boneless, skinless chicken breast, cooked and coarsely chopped
1 small carrot, julienned into fine matchsticks
4 scallions, finely sliced
3 cups cabbage, finely shredded
1 small green pepper, finely chopped
1 tablespoon oyster sauce
1 tablespoon patis (Asian fish sauce)
Vegetable oil for frying.
Heat the sesame oil in a wok and saute onion and garlic until tender. Add carrots, cabbage, and scallions until just tender. Add chicken, oyster sauce and patis and stir to thoroughly blend. Allow the mixture to cool.
To assemble the lumpia, top each wrapper with a generous portion of the filling mixture. Fold the bottom edge of the wrapper toward the center and snugly roll the wrapper into tight cylinder. Secure with a toothpick. Fill a frying pan with about 1/2" of cooking oil and place over medium-high heat. Quickly fry lumpia rolls in small batches, turning once to brown on both sides. Drain on layers of paper towels. Serve with dipping sauce.
Dipping Sauce
1/4 cup rice wine vinegar
1/4 cup soy sauce
1 lime (juice only)
1 tsp sesame oil
4 cloves garlic, finely minced
1 tsp sugar
Mix all ingredients in a small jar with a tight fitting lid. Shake vigorously and allow to stand for one hour to marry flavors.
Pancit Bijon Guisado
2 tablespoons sesame oil
2 cloves garlic, finely minced
1 small onion, finely chopped
1 cup cooked chicken
24 medium shrimp
1 hard chorizo sausage, thinly-sliced
4 cups cabbage, finely shredded
1 carrot, coarsely grated
2 tablespoons soy sauce
1 tablespoon Asian fish sauce
2 cups chicken stock
4 portions long noodles, cooked
2 scallions, thinly sliced (for garnish)
Heat the oil in a large wok. Saute garlic and onion. Add chicken, shrimp, and chorizo and stir-fry until shrimp is pink and tender. Add cabbage, carrot, soy sauce, fish sauce and chicken stock, and simmer until cabbage is tender. Add noodles and simmer briefly. Do not overcook. Transfer Pancit to serving plates and garnish with scallions. Serves 4.
Shrimp Escabeche
1 pound shrimp
1 tablespoon sesame oil
1 cup water
1/4 cup rice wine vinegar
1/4 cup sugar
1 tablespoon soy sauce
1 tablespoon patis (Asian fish sauce)
1/2 teaspoon chili paste
1/4 cup ketchup
1 large lime, juice only
4 cloves garlic, finely minced
1 small knob ginger root, peeled and finely grated
1/2 small onion, finely sliced
1 small carrot, coarsely grated
1/2 green bell pepper, seeded & finely chopped
1 tablespoon cornstarch dissolved in 2 tablespoons water
Mix together water, vinegar, sugar, soy sauce, chili paste, and ketchup. Blend thoroughly and set aside. Heat sesame oil in a wok and stir fry onioin ginger and garlic until tender. Add carrot and bell pepper. Stir-fry until tender, add sauce mixture and simmer for about 3 minutes. Add cornstarch mixture and simmer over low heat, stirring until sauce thickens. Remove from heat and set aside.
Grill or fry shrimp until just pink and tender. Arrange on a serving plate and drizzle with Escabeche Sauce.
Pork Adobo
2 tablespoons vegetable oil
2 pounds pork (short ribs, chops, roast, etc.)cut into large chunks
3/4 cup rice wine vinegar
1/4 cup soy sauce
4 cloves garlic, finely minced
1 teaspoon sugar
1/2 teaspoon black pepper
1 1/2 cup water
2 bay leaf
2 teaspoons cornstarch dissolved in 1 tablespoon water
Heat oil in a large skillet. Add pork and cook over medium heat until browned. In a large kettle, combine vinegar, soy sauce, garlic, sugar, bay leaf, salt and pepper. Bring to a boil, add browned pork, cover and reduce heat to a simmer. Continue simmering for about 1 1/2 hours, until meat is tender. Transfer meat to a serving dish. Add cornstarch mixture and stir over medium heat until sauce thickens. Drizzle over pork and serve with steamed rice.  
Creme Caramel
Custard:
3 eggs
1/4 cup sugar
1 can evaporated milk
1 tablespoon vanilla
1 tablespoon brandy
Whisk together eggs and sugar. Add evaporated milk and whisk until smooth. Stir in vanilla and brandy. Set aside until time to assemble custard cups.
Sugar Glaze:
3/4 cup sugar
1/4 cup water
Combine sugar and water in a small saucepan. Warm over a medium heat, swirling the pan gently every few minutes until the mixture becomes a clear, bubbly syrup. DO NOT STIR. Cover pan with a tight-fitting lid and boil the syrup for two minutes. Remove the lid and continuing boiling,  swirling the mixture every few minutes until it becomes golden brown. Sugar can go from boiling to burning very quickly, so be careful not to overcook the syrup.
When the syrup is the desired color, pour a little into each custard cup, swirling immediately to fully coat the bottom of the cup before it hardens. Fill each cup to just below the rim with the custard mixture. Custard needs to bake in a water bath to keep it from overcooking or setting too quickly, so the custard cups should be placed in a large baking dish with about 1" of water. Bake at 275 degrees for 45 minutes, or until custard is lightly set.
Remove from the oven and allow to cool in the water bath. Cover and refrigerate overnight. When ready to serve, fill a shallow bowl with about an inch of hot water and soak each custard cup for one minute to help release the sugar glaze from the bottom. Carefully run a sharp knife around the edges to loosen the custard and carefully turn the custard onto a serving dish. Serves 4.
---