The Many Faces of a Durian
---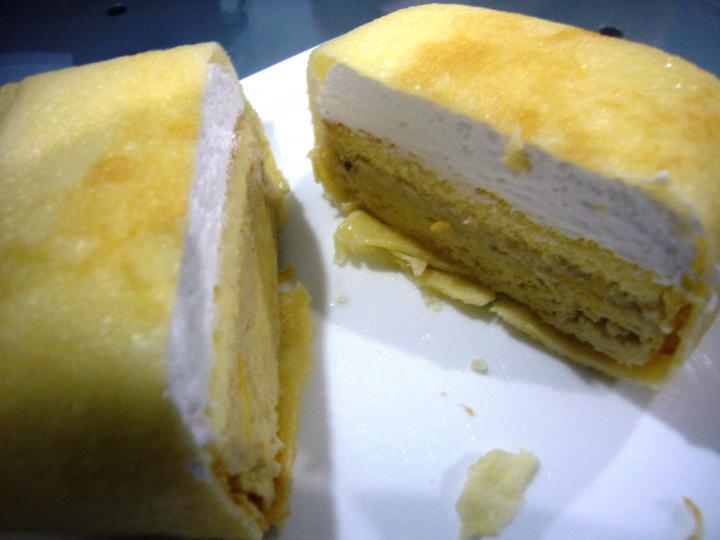 Much has been talked about regarding the King of Fruits! The durian is a much loved as well as a much hated fruit. You either hate it, or love it. Some people gets turn off by the smell even before trying a bite, while some simply gravitate towards the pungent smell and seemed to have gone to heaven at their first bite of the luscious durian flesh.
Depending on the varieties, the durian can be ovate in shape or rounded. The flesh can be a pale yellow with a firm texture, or it can be whitish and soft. Regardless of its shape or size, you cannot mistake this fruit by its green hard and spiky shell! While I prefer to eat the durian as it is, the king of fruits has been made into many varieties and forms. There are ice kacang (a dessert with shaven ice on a bowl with a variety of goodies) topped with durian, ice blended durian drinks, puddings, pancakes, tarts, cakes, ice cream, and so much more!
Over the weekend, I brought my family (all three of us) to Genting Highlands for a short trip. We like to dine at a particular restaurant at Goh Tong Jaya. After our meal that day, we decided to take a little stroll along the single row of shops... and came across a cute shop with a large decorative ice-cream cone on the façade. Yik Kee Restaurant, the board says. We peered in and saw that durian is their specialty. There is also an ice-cream making machine right up front, so we decided to give it a try. A durian ice-cream cone costs RM2 (there are other flavors as well such as chocolate). It was the soft serve ice-cream type and therefore it is fluffy, very tasty, and not too sweet. The taste of the durian is just nice, a light tinge without being overpowering. We enjoyed it immensely; even my 1-year old son loved it.
Just next to the ice-cream making machine is a freezer. Through the slightly frosty freezer lid, we saw packets of square items individually packed. Durian pancake, it says. If you decide to take away a durian pancake, it can be stored in the freezer for up to a week or so. Going for about RM5 a pack, the durian pancake is actually a layer of durian, cake, and then cream wrapped in dough just like the type used in making crepe. It is very nice too, although my preference is something a tad bit sweeter!
We ventured further into the shop, and on the right, there are some items covered in a cabinet of sorts. The sign says durian tarts and bombs. I know what durian tarts are, but durian bombs? Fascinated, we ordered half dozen durian tarts and another half dozen durian bombs. The tarts are just like your regular egg tart, except that it is made with durian. Pretty good too if I may say, but by then, I was getting slightly durian-out! Just when I was about to stop eating, my better half thrust a durian bomb at me and asked me to try it. In his exact words, "This is DA bomb!"
And he is right. Encrusted within a layer of fried dough is a blob of durian flesh. The mixture of crunchiness on the outside coupled with the soft sweet flesh of the durian on the inside, the durian bomb was instantly my favorite. We quickly munched down four bombs between us and ordered another half dozen for takeaway. We were so full but very happy! The journey home was filled with the wondrous smell of durian pancakes, tarts, and bombs that we have ordered for takeaway. Not to mention, each burp was a reminder of how good the experience was. If you are a durian lover, you know where to go next time. Why not kill three birds with one stone the next time you plan a trip to somewhere? Come to Genting Highlands for its theme-park fun; Goh Tong Jaya for its great dishes (such as clay pot fresh water prawns vermicelli, fried pork, braised turtle, braised pork trotters with peanuts, and more); and of course, Yik Kee for some durian lovin'! So see you there!
---