River Travels in Southern Laos
---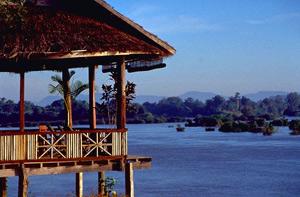 Image ©
2000 Leslie Nevison
I saw a "Save the Dolphins" poster in Pakse, the market town of 60,000 which is the capital of Champasak Province and the departure point for my destination of Khong Island in southern Laos. The proprietor of my guesthouse unrolled a wrinkled copy when I inquired about the conservation program based on the island, a full day's travel away. The faded photos of a mother and her calf were my first look at the Irrawaddy river dolphin, an endangered marine mammal best sighted off Khong Island during the early months of the dry season.
Reaching dolphin habitat involved traveling through the least visited part of Laos, the traditional rural south along the Mekong River that courses much of its length through Laos after leaving China. It was possible to go by land but I planned to follow the downstream flow of what the Lao call the "Mother of Waters" to the Cambodian border, stopping to explore the life she sustained because of her precious contents.
The Mekong's width expands to almost nine miles near Cambodia, its greatest breadth in its entire 3,000-mile journey from its source in the Tibetan Plateau to its mouth in the delta near Ho Chi Minh City in Vietnam. It is an area the Lao call Si Phan Don or the "land of four thousand islands" for countless islands and sandbars lie submerged during the monsoon period, only to appear as the water subsides. The islands that are never under water, of which Khong is one, can support permanent populations of farmers and fishermen.
It is here that the Mekong plummets over the Korat Plateau in Southeast Asia's largest waterfall. Wider than it is higher, it is one of an almost straight line of nine waterfalls collectively known as Khong Waterfalls, a geographical feature that became the major obstacle for early explorers attempting to navigate the river from beginning to end. The cascades also prevent the upstream passage of larger fish, like the Irrawaddy dolphin.
I had first to travel to Khong Island, the largest riverine island in the south from where I could arrange a private boat to Khong. At Pakse's busy waterfront, where the Mekong and Se Don Rivers converge, motorized long-tail boats were moored four abreast. It was easy to find one going downriver, so overloaded with human and animal cargo that it was barely afloat. Not that I worried: the water level at that moment was only shoulder deep. The barefoot pilot on the prow directed the captain at the rear tiller into deeper channels with fluid hand signals. He was aided by buoys of bamboo poles and numbered concrete blocks in the water, some of which were the labor of early French surveyors. We passed the old French telephone antenna erected on the western bank. It was so ensnared by creepers and vines that it looked like a very tall tree.
In 1866, an expedition of six Frenchmen led by Francis Garnier set out from Saigon, a French colony, in a hopeful attempt to find a trade route to China's legendary riches using the Mekong. At the time, many stretches of the river including its path through southern Laos, were unexplored. Later French administrators built a railway line--the only railway ever constructed in Laos--across two islands in the Si Phan Don area, joining them by a bridge, as a way of circumventing what hindered the smooth movement of the cargo-- primarily timber--that was precious colonial revenue. Garnier discovered the cause of obstruction--that Khong Falls was impassable by boat.
Long before the French arrived, southern Laos was part of the Cambodian Angkor Empire and the Mekong one of its transportation arteries. The ruin of Wat Phu, at the top of a 70-meter high hill eight kilometers from the town of Champasak, predates their most outstanding architectural achievement, the city of Angkor, by two hundred years but is no less important. The Angkor kings believed it their spiritual homeland. Like most Khmer shrines, it faces east and should be visited at sunrise but perfect timing in travel is rare. My boat from Pakse had reached Champasak in the afternoon. As the heat of the day dissipated and the light yellowed, I rested near the main sanctuary that once housed a sacred sculpture ritually cleansed in the spring that still emerges from the mountainside, its energetic flow now contained in a grey, plastic pipe.
Frangipani trees framed my view of the vast plain that stretched to the Mekong, or what the Lao call Dok Champa, their fragrant, waxy lemon-yellow blossom the country's national flower. Two young men dragged a nylon fishnet through twin ponds at the temple entrance. Three farmers reaped the tall grasses that grew on the slope with long scythes. Earlier they had ignored me ascending the 100 uneven steps, the symbolic staircase linking heaven and earth that connect Wat Phu's three levels. If you are reasonably fit, reaching the sanctuary is not difficult, but I heeded Yoi's warning and at an image halfway up--of king or Buddha or both--I lit three sticks of incense purchased from a seller at the ticket booth. "The Lao have a saying," Yoi had said. "If your faith is not strong enough, you will not make it to the top."
Yoi Soumpholphakdy is the manager of the Sala Wat Phu, Champasak's one guesthouse. As the only guest that evening I had Yoi's undivided attention but even without it, I would have left the town with an idea of who he was--his quiet voice, careful thoughts and unhurried movements reflected Champasak's calm. Dogs didn't bark at strangers. Smiling residents leisurely cycled the community's two dusty roads. Delighted children, always a gauge of local attitude, followed me everywhere. This was rural Asia at its best, accessible still but with increasing effort, a place where you can relearn the importance of being still. I lay on my bed in my second story room, its balcony shaded by magnificent bougainvillea trees, its shutters open to the Mekong and listened to the river rushing past.
Yoi had an excellent French map of the Mekong River from Pakse to the Cambodian border. On it he showed me the village of Muang Khong, the location of a several hundred-year-old temple, its stupa crowned with crystals that direct a single beam of light on moonless nights towards Wat Phu with which it is aligned. The local people, said Yoi, are much in awe of this phenomenon. A third coordinate on the axis is the Khmer ruin of Um Muang, a contemporary of the earliest structure at Wat Phu but on the opposite side of the river. Provincial folklore maintained that the positioning of these sites was significant to the people who inhabit the hills.
Traditional keepers of elephants, they rode their animals down from their mountain homes to attend February's Wat Phu festival, one of the country's largest and oldest temple celebrations that combines Buddhist and Hindu religious rites. Yoi then conjured for me a wonderful vision, a spectacle I could have witnessed up to twenty years ago'when the elephants reached the Mekong, their mahouts urged them into the water. Scores of these majestic animals forged the forceful current of the mighty river together.
In the fourteenth century, the Lao kingdom was known as Lan Xang or the Land of One Million Elephants. For nineteenth century visitor Henri Mouhot, the man credited with discovering the Angkor ruins in Cambodia and who died from a fever in Laos, travel without elephants simply couldn't be done. He wrote of Laotian pachyderms: "Every village possesses some, several as many as fifty or a hundred. Without this intelligent animal, no communication would be possible during seven months of the year, while with his assistance, there is scarcely a place to which you are unable to penetrate." Twenty years ago, Laos estimated its elephant population at one thousand.
The dramatic image of elephants and mahouts in festival finery crossing the Mekong was too compelling. I decided to visit the district of Yoi's story but I had first to deviate inland from the river. In a rented jeep, I passed many elephants, their backs burdened with sacks of rice. Instructed by their mahouts, they paused, big ears flapping like sails, to allow the car the right of way. Through the back window, I watched the animals resume their steady tread when our cloud of dust dispersed and felt apologetic. Yoi had listed motor vehicles as a reason why elephants no longer make the pilgrimage to Wat Phu.
The headman of Phapho village seemed annoyed with me but his response was understandable. Although I was not the first to do so, my request to ride one of his elephants was presumptuous, rather like asking a stranger at home for the use of a horse in his paddock. He was inherently hospitable, however, and I was offered an elephant that bore a simple howdah of bamboo which I mounted and dismounted in the same ungraceful manner, balancing on someone's window ledge and using the elephant's head as a plank. It was a seat uncomfortable to the point of pain and large red ants ran frenetically over animal hide immune to their bite. Mine was not. Complaining was impossible'it was, after all, my idea.
Under his loosely wrapped red and white checkered headdress, my mahout had the face of a man capable of Lao dry humor: "He who walks behind an elephant," says a proverb, "although he may feel very secure, is likely to be splashed with elephant dung." He gripped a cheroot between his teeth and smiled only once, when we encountered five naked children in a stream, shining water nymphs, who howled with glee when they saw me. His voice was beautiful--soft and low. He sang little commands to his elephant, his feet in constant tickling motions behind the animal's ears. When the elephant showered himself and us with coffee-colored paddy waters, even his reprimands were melodious.
As the elephant's passenger I saw little of my transport; his feet were obscured by his girth, his trunk by his head. I was delighted with the view, however; it offered the same advantages as the upper level of a double-decker bus but was a smoother and quieter ride. From my gently rocking howdah, I saw an agricultural society of small cooperative communities where time was measured by crop cycles and wealth by their outcome. It was a mistake to envy this simplicity too much for nature is never benign'harvests fail and lives are lost to disease'but the paradox remains that the poorest may be the richest.
It is not surprising that in this unpredictable world of natural forces, rice is synonymous with life. The Lao word for breakfast means "to eat rice in the morning," dinner is "to eat rice in the evening." A good standard of living is to "live well, eat well." When I continued my journey down the Mekong from Champasak on another cargo boat, all of the Lao passengers carried with them cylindrical, lidded baskets filled with sticky rice, their dietary staple, glutinous kernels that were rolled into a ball with the fingers. This boat was even more heavily laden with people, animals and supplies; if someone changed their position on the roof, water poured in over the sides. The only way to assess the imminence of sinking was if the pilot stopped snacking from his baskets.
Because I boarded several hours downstream from Pakse, I had no choice but to sit on the prow, my seat a large chunk of ice wrapped in straw that numbed my behind while my head cooked in brilliant sunshine. It was an eight-hour milk run'we stopped at villages on alternate shores and on islands in the middle of the river, off-loading those who lived there and their varied assortment of household goods purchased in Pakse'plastic shelves, pots, rubber boots, an outboard engine, a generator. Upon disembarking, some passengers were paddled away by family members in dugout canoes to their homes hidden behind riverbank vegetation. When the boat finally reached Khong Island, it moored on its western side. All accommodation was in the town of Muang Khong located in the east. What weary travelers remained climbed into a pick-up truck with seats in the back and bumped across the island in the dark.
On Khong Island early nights followed early days, a gentle primordial schedule to which you can instinctively adjust. Generators altered that by providing electricity at night and making entertainment possible, but even so, it was quiet. I was surprised to learn that most residents owned black and white televisions that they powered from car batteries. An indication of the daily rhythm was the market behind the schoolhouse where islanders traded produce and fish catches. By seven o'clock in the morning it was over.
When the market emptied, I walked to the river where the sun increased rapidly in size and splendor. Monks bathed in the shallows before their alms round, which took them past my guesthouse where I waited for them. They filed past gravely, their eyes averted except for the youngest monks, who couldn't resist meeting my gaze.
The monks studied at Wat Fang Kaew in the center of Khong, a monastery shadowed by a gigantic figure of Buddha sitting under the protective hood of a cobra. Its abbot was known for his remarkable powers cultivated after long years of meditation as a recluse. Yoi had spoken of the local tradition of hermit monks living in isolation in the rugged hills bordering the Mekong. He pointed out one such mountain near Champasak where a monk called Sa reputedly still exists in a cave, albeit at an advanced age, who can protect soldiers against death with his amulets and who can replace his body form with a burning candle. I did not meet the famous master of Khong, although I asked for him when I entered the temple grounds, my only guide a grinning teenager seeking a penpal, but to me all monks possess a special quality. It was magic enough to watch them every morning.
Yoi's patronage extended to Khong Island. He had given me a note for his cousin who manages the Auberge Sala Don Khong, arguably the best of four guesthouses for ambience because it occupies an old teak house directly across the road from the river, and for its food because of the culinary skills of its chef, Mr. Pane. On a bicycle the guesthouse provided, the most practical form of transport for the road conditions, I attempted to circle the island but was unsuccessful. It was bigger than I thought--thirty kilometers around--and there were too many diversions: old village temples; cool bamboo groves; friendly farmers in rice fields, and always the sight of the shifting colors of the river as the light varied throughout the day that gave it the appearance of changing moods. I understood when a traveler explained her difficulty leaving Khong Island after ten days.
On the wall of a simple restaurant in Khong was the dolphin poster I had first seen in Pakse. Information about the conservation project called the Environment Conservation and Community Development of the Si Phan Don Wastelands was scarce, however. Its two staff members were rumored to be in the Lao capital. Other travelers who had visited Khong Island had failed to see dolphins and warned me of unfriendly villagers, but I rented a boat for the ninety-minute trip south and departed optimistically. If nothing else, the beauty of the river would satisfy me.
Khong and Det Islands are where the French built their railway in order to bypass the waterfalls. The bridge linking the two islands spans the river near the main settlement of Ban Khong where I would spend the night. Later I would watch the dark descend from the top of its historic arches; the Mekong below dotted with fishermen in dugouts silently casting their nets.
It was a five-kilometer walk to Hang Khong, a fishing village of about forty households in front of dolphin habitat, along a footpath that traced the route of the old narrow-gauge railway of which little remained. Thick bamboo forests full of butterflies shaded the trail in places, alternating with parched plots of burnt rice stubble. Little things skittered into the undergrowth as I passed.
In Hang Khong I found the wooden office of the conservation project shuttered and locked. The villagers seemed more wary of visitors than impolite. Negotiations for a boat took time. The men were repairing fishnets and traps and were reluctant to interrupt their work to take me to the tiny island in the river where I would wait in the midday heat with passionate confidence in my mission.
It wasn't an island as much as an islet of sand and rock, a mere five strides in either direction, that hid under the Mekong four months of the year. Now exposed to the sun, its surface was hard and sharp like coral. When covered by rising waters, its solitary tree was shelter for migratory fish and its leaves, fruits and insects in its roots their food. From within its protection of patchy shade, I sat within sight of two countries'Cambodia and Laos'whose villagers used the fertile silt deposited by the river's annual rise of ten meters and planted tidy subsistence crops of vegetables. From each shore I heard similar sounds of rural life, water buffalo bells, women conversing in riverine gardens and children's voices raised in play.
I heard the dolphin's abrupt exhalation of breath first. There was a fleeting movement near the Cambodian shore of slick, blue-grey skin, a ball of dolphin back rolling over the surface. I was exalted'this brief encounter was sufficient pleasure but there were more dolphin noises, closer this time. One swam purposefully around the islet, rising for air three times. It was possibly one of less than thirty dolphins remaining in the deep-water pools off Khong Island.
The boatman, who waited with me, shared my excitement. Like all Khong Islanders, he believed dolphins to be reincarnated humans who have fallen to their deaths down one of the waterfalls. Their meat, therefore, is never eaten. Dolphins are considered friends and saviors of both man and wildlife. It is said that they have rescued fishermen from drowning or from attacks by crocodiles, and that they share their food with the hungry fishing birds that follow them.
Another sound reached me from Cambodia, the muffled boom of an explosion.
In the past, Asian river systems such as the Mekong have supported large numbers of the dolphin Orcaella brevirostris, which matures to lengths of over two and a half meters. Several reasons for dolphin decline are cited in articles written by a conservation project staff member published in the Natural History Bulletin of the Siam Society in Bangkok. Aerial bombing during the Indochina War killed large numbers of fish and dolphins, a devastation from which they never recovered; accidental drowning in gill-nets, death by gunshot by villagers who mistake them for predators; and death by explosives used by Cambodian fishermen. The project's policy has been to reimburse Lao fishermen the cost of the gill-net they must cut in order to free an entangled dolphin but to stop the use of explosives in Cambodian waters is difficult without Cambodian cooperation. Fashioned from landmines, the explosives are deployed during the dry season when the water level is low. Although it is prohibited in Laos, fish caught in this manner find a market there. The purchase of such fish undermines the protection the dolphins have in Laos as an endangered species.
Khong is an abbreviation of two Lao words that mean "fish waterfall." People who live there take their name from the land. Fishing is their inheritance. Drawing upon a knowledge of river ecology acquired over generations, they have developed a sophisticated system of bamboo traps to collect the fish that use passable channels for seasonal migrations both upstream and downstream. I caught up with a volunteer for the conservation program in Pakse, who described Khong Falls as the most "spectacular" wild capture riverine fishery in tropical Asia. Its future is ultimately dependent upon the ability of the Mekong to support life. River pollution above and below the falls in areas of dense human population reduces water quality. Logging of forest that is flooded during the natural cycle destroys food sources for migratory species. Fishing is no longer a subsistence activity. Extensive trade in freshwater species is possible because of improved transportation, ice and refrigeration. Increased demand encourages the use of gill nets and explosives, both practices that contribute to over-fishing. Conservation project statistics for surveys they conducted in the early 1990s show a 20% decline in fish catches since the 1970s in Khong Falls.
Development seems inevitable. Although a proposal to build a large tourist resort near the largest of the falls, Phapheng, was rejected, other ideas like it will rise again. The waterfall is suggested as one of twelve potential sites in Laos for hydropower plants that would involve blocking important channels below the falls used by migratory fish and the fishermen who trap them. Dam turbines increase fish mortality. How to utilize its natural resources without damaging the environment is the problem that Laos must solve.
When I saw the thundering Phapheng Falls, I thought of the mural in the old Catholic Church in Pakse. Its congregation was preparing for Christmas celebrations when I wandered in. Painters were restoring a painting of Jesus floating between two waterfalls, his arms extended as though in blessing. In his 1866 diary, Francis Garnier described the falls as "grandeur that does not exclude grace." "At the foot of these waterfalls," he continued, "enormous fish similar to dolphins, frolic."
My bathroom at the Khong Island guesthouse was enormous. A waist-high clay vessel held dark, cool water and I bathed like an elephant after my return from hot Hang Khong. There were no other guests; the caretaker, Mr. Lai, was summoned to unlock the front door of the old French house. He was uneasy to find himself responsible for a single woman and pointed out his home a short distance away.
Under the same management as the Khong Island Hotel, it had a beautiful garden that faced the river, filled with banana, coconut palm and hibiscus trees, ducks, roosters, birds and bees. Water buffaloes milled about at the gate. The island was an Eden to an urban dweller like myself; it cast a spell like the Khong fishermen did their nets over the Mekong.
I was awakened at midnight by a silence so immense that I mistook it for sound. It swelled to fill every corner of the room with an intimidating presence. Then I began to identify parts of its composition: the trilling of insects, the patter of rodents on the roof, the clunk of a cowbell, the humming of the river. Had I come this distance only to hear this quiet symphony, I would consider my travels a success. Then I recognized a familiar noise. Someone was snoring softly. I peeked outside--a concerned Mr. Lai had returned to sleep on the veranda.
Getting There:
By air, the only port of arrival is Wattay Airport in the Lao capital of Vientiane. There are regular flights on many Asian airlines between Vientiane and major Asian cities. Lao Aviation turboprops fly daily to Pakse in Champasak Province. The flight takes approximately 1-½ hours.
By land, there are daily buses between Vientiane and Pakse that take 18 hours. Road conditions range from good to very poor making this an uncomfortable way to travel. If your itinerary excludes all northern Lao destinations, you may want to consider entering southern Laos from the Thai province of Ubon Rachathani. Fly to that northeastern Thai city of the same name on one of several daily Thai Airlines flights from Bangkok and take a local bus or rented taxi too the Thai-Lao border crossing at Chong Mek, a distance of ninety kilometers. You must have a Lao visa to clear immigration here. Upon entering Laos, taxis are available for solo or shared hire. It is a forty-minute trip to Pakse that involves a short car ferry across the Mekong, a cost that should be included in your taxi fare.
Getting to Champasak and Si Phan Do:
Local boats depart the Pakse waterfront for Khong Island between eight and ten a.m. These will drop you at the Champasak landing upon request. Small river ferries also travel between Pakse and Champasak throughout the day, more frequently in the morning. The last one returns to Pakse from Champasak around four p.m. Pakse to Champasak takes about two hours, Pakse to Khong Island about eight hours or longer. It is not difficult to continue downriver to Khong Island from Champasak if you wish to stop overnight and enjoy the ruins of Wat Phu at your leisure. Local boats are crowded but more comfortable and enjoyable than the dusty buses that ply Highway 13 to the Cambodian border. It is also possible to rent your own boat or organize your Mekong travels through tour agencies in Pakse. Sodetour, located by the ferry terminal, is reputable. (Tel 856-31-212725; Fax 856-31-212122).
Where to stay:
Pakse: Accommodation ranges from three budget hotels with clean but basic rooms to the former residence of a Lao prince, a five-story palace called, not surprisingly, the Champasak Palace Hotel (Tel: 856-31-212263). Recommended for its central location, large rooms and attractive terraces is the medium-priced Salachampa Hotel, a restored French villa (Tel: 856-31-212273). One kilometer from the town is the new and pleasant Champa Residence used by Sodetour. All these hotels can help with connecting further travel plans.
Champasak: The Sala Wat Phu is the only guesthouse. You will find it and its informative manager, Yoi, directly across from the ferry landing. Meals are cooked in their kitchen. Bicycles are available for those energetic enough to make it the eight kilometers to the Wat Phu ruins or you can hire a small motorized vehicle. Their drivers wait at the ferry landing. Use the Sodetour number in Pakse to contact this guesthouse.
Muang Khong, Khong Island: The Auberge Sala Don Khong is used by Sodetour (Tel: 856-31-212077). It offers large, well-furnished rooms in a teak house across from the Mekong. Their terrace built over the river is a beautiful spot for watching sunrises or a peaceful one for afternoon tea. Mr. Pane's cooking is the best in town'try his fish mousse steamed in a banana leaf. Bicycles are available for guests. The hotel can arrange for a private boat for hire to Khong Island, about ninety minutes south where the conservation program is based, as well as a room in their guesthouse there.
When to go: The southwest monsoon brings heavy rains around May that last into November. This is when the Mekong can rise ten or more meters. Immediately following the rainy season is a good time to visit. Waters have subsided, revealing the islands in the Si Phan Don area but the river level is still high enough to allow boats to make it all the way to Khong Island. The dolphins are best sighted during the first few months of the dry period.
Visas: Your passport must be valid for at least three months from the time of entry. A visa is required and the application time varies. Contact the nearest embassy of the Lao People Democratic Republic.
Health: It is advisable to have your travel immunizations up-to-date and to protect yourself against malaria while in Laos. Contact the relevant health body in your country prior to travel.
Further reading:
River Road to China: The Mekong River Expedition, 1866-73, by Milton Osbourne, published by London George Allen and Unwin, Ltd., 1975.
Travels in Cambodia and parts of Laos: The Mekong Exploration Commission Report (1866-68, Volume 1) by Francis Garnier, reprinted by White Lotus Press, Bangkok, Thailand, 1966.
---