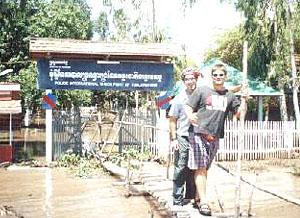 The driver of our longtail boat cut the engine, pointed at our backpacks and then at the building 50 metres ahead. Cambodia's exit border, we presumed. Hesitantly, we stepped into knee-deep muddy water, donned our packs and waded through sludge to the office. A month ago the building was accessible by road, but now the entire complex was underwater.
Due to the heavy rainfalls in Southeast Asia in September 2000, the mighty Mekong rose to dangerous heights. The river and its tributaries spilled over their banks, displacing thousands from their homes, destroying farmlands, closing businesses and annihilating roads. It was the worst flooding in four decades. For the past month the newspapers told of the floods, but my boyfriend, Roman, and I had yet to see their wrath. Southeast Asia's floods even made the news in North America as both our mothers e-mailed us expressing their concern. "We are not underwater," we replied. This was no longer true.
In mid-September we arrived in Cambodia's capital, Phnom Penh, and the talk amongst the travellers was about the possibility of overland travel to Vietnam. For the meanwhile, and perhaps for the long while, travel agents suspended the popular $6 US minibus service from Phnom Penh to Saigon (Ho Chi Minh City). Many roads and bridges along the 225-kilometre route had been washed away. It's not possible to travel by road, the travel agents told us repeatedly. Flying, however, wasn't in our meager budget. And since backpackers have a demented habit of translating "not possible" to possible, we attempted the overland route.
An expat who ran one of Phnom Penh's veteran guesthouses told us it would be a long, arduous journey involving various modes of transportation, but it could be done, in theory. So we joined forces with Bradley from South Africa and Jacqui from New Zealand for extra bravery and greater bargaining power. On Oct. 1, 2000, we left behind our most recent lifestyle-lounging in hammocks at our guesthouse on the lily pad-bejeweled Boeng Kak Lake-and ventured into the unknown. Our provisions included gum, several bottles of water, cigarettes, toilet paper and small denominations of Cambodian riel and American dollars.
A taxi picked us up at 6 a.m. and for such a young hour the streets in the dusty Cambodian capital were already bustling. Heading east out of town, we drove past motorcycles, cyclos, bicycles and other miscellaneous traffic. Within minutes we were in the Cambodian countryside and the lands revealed long stretches with no brick or stone structures, just wooden shacks, rice fields and pagodas. Cows lied on either side of the road, creating something of a reception line for our passing entourage. The road out of Cambodia was surprisingly tame compared to the muddy, bumpy and potholed road, or lack thereof, leading into the country from Thailand. After an hour, the taxi came to a halt, indicating that his leg of the journey had come to an end-literally! The dirt road had fallen off into the river and now looked longingly at its other half 100 metres away. From the instant we stepped out of the taxi, boatmen surrounded us, clamouring for our business. The nearby villagers had also taken advantage of the floods by setting up foodstalls along the newly isolated road.
Eenie, meenie meinie moe, we picked a boatman by the toe. On my way down to the water I struggled to keep my grip in my flimsy flip-flops and maintain my balance with my house-of-a-backpack. I was unsuccessful; I slipped down the riverbank, landing on my butt in the mud-my first mark of adventure. The motorized longtail shuttled us to the road's better half where we now negotiated the next mode of transport. We were unable to have a proper exchange of English or Khmer along the way but simply chanted, "Vietnam, Vietnam" and, in this manner, the Cambodians handed us over to the next set of people. We piled into another of Southeast Asia's innovative vehicles. It was more or less a motorized wagon (remorque-moto), a cart with three rows of wooden benches hitched to a motorcycle. I don't think the villagers often saw such traffic-four dishelleved foreigners seated high atop a rolling cart and looking just as fascinated as the many eyes observing us. We waved, smiled and exchanged hellos along the way. Who was more excited to see whom I could not say.
After another boat-wagon connection we arrived at a "port." It was now 10 a.m. and we were quite proud of ourselves because we were three hours ahead of, what we thought was, a pretty conservative schedule. From here we hired a boat to take us to Moc Bai, the Vietnamese border checkpoint. We confirmed our destination multiple times with the boatman to ensure there was no misunderstanding. After an hour on the river, we arrived at a series of makeshift checkpoints. What I next observed, and what I would see over and over again in my travels throughout Southeast Asia, was that despite what natural disasters besiege the people, life goes on, and they find ingenious ways to make that possible.
The river had overflowed into the border control offices so the guards temporarily relocated to docks in the middle of the Mekong. We moored alongside one such dock to find several Cambodian officers sitting cross-legged in a circle and playing cards. From our seats in the boat, we handed over our passports, apologizing all the while for interrupting their game. At the next checkpoint, we discovered a similarly strange picture of officialdom. A pair of guards had set up a shady retreat for themselves in a cluster of trees at the water's edge. While lounging in a hammock, one guard lazily lifted his head from his sunshine daydreams to ask a few cursory questions about our nationalities and, without even looking at our passports, waved us on. Imagine conducting all your day's business in mid-swing!
We arrived at the Cambodian exit point, an actual building, and trudged back and forth through murky water, walking barefoot (the thick mud beneath our feet had suction-cupped our sandals to the bottom) through who knows what, to receive our exit stamp. Phew, no hassles. Back in the boat. We waved goodbye to Cambodia. "Lyheouy Kampuchea!"
We rounded the corner and reached the Vietnamese border, but the sign jutting out of the water didn't read Moc Bai. For some reason, the boatman hadn't taken us to the right border crossing; instead, he'd brought us to TunleMekong, which we couldn't even find in our trusty guidebooks. We may have been ahead of schedule but now we were completely off the map. We'd prematurely patted ourselves on the back. What to do? We decided to try our luck at this border and if successful we would ask to be taken to the nearest Vietnamese town.
Like the last stop, the river had flowed into the Vietnamese border complex and the water was at and above doorstep level. To reach the passport control office, we walked in single file along a rickety bridge, or balance beam, as it may, consisting of a series of thin, narrow bamboo poles. And, if it wasn't for the similarly constructed handrail alongside the footbridge it was a sure bet you'd end up in the swamp water. Perched on concrete benches just outside of the office were two "guard" dogs. Under normal circumstances, the dogs would have been interested in the incoming and outgoing pedestrian traffic, but they were now more concerned about not getting their feet wet. It was in our best interests to take matters seriously at the border crossing but we struggled to keep our composure and giggled all the way along the farcical obstacle course to Vietnam.
Once inside the office it was business as usual, and the fact that there was a river at their doorstep didn't seem to faze them. Three officials looked through our passports once, twice, thrice and finally we received the entry stamp. "Good morning, Vietnam!" We learned that this border had only recently opened and that, due to the floods, very few people (let alone foreigners) had passed through here. In fact, when we told travel agents in Saigon about how and where we entered the country, our story was always met with the same reaction-utter awe and disbelief. But like savvy businessmen, the Vietnamese travel agents now contemplated transporting tourists in reverse along this route. We felt like true pioneers. Luck was also travelling with us that day. For some reason, not one of our four Vietnam visas specified the port of entry. If they had stipulated the crossing, we'd have been denied entry.
When we decided to undertake this journey it meant agreeing to a bit of adventure and a certain amount of risk. The time had come for us to ad-lib. We asked to be taken to Vietnam; we couldn't specify where, just there. Out on the open waters of the Mekong the sun was searing and I hid my face with my kromah (Cambodian scarf). Bradley, Roman and I all crawled under the small triangular hut in the middle of the boat; it was cramped but we were desperate for shelter. I soon noticed that a lime green praying mantis was clinging to the apex of the roof just above our heads. And after Roman told us that the female bites off the male's head after mating, I frequently glanced up to check on its whereabouts.
After what seemed like an eternity in fiery hell and navigating through the remains of pre-flood Mekong villages, we finally saw land. The boat disgorged us and a dozen curious Vietnamese boys immediately greeted us. No doubt we were a peculiar sight. Fatigued and disoriented, dazed and confused, we staggered onto the main street of some Vietnamese frontier town. I felt like an alien stepping out of its spacecraft for the first time in light years.
We soon learned our bearings. We'd arrived in a small Vietnamese town named Chau Doc, 290 kilometres from Saigon. Our trip took eight hours and cost $16 US per person, a huge savings compared to the cost of a flight. The funny thing, however, was after travelling all day by boat, taxi, boat, motorcycle, boat...we were now 65 kilometres farther from Saigon than when we left Phnom Penh! We'd travelled south along the Mekong instead of east, as intended.
But no one seemed bothered about this slip-up. For me, it was the best adventure I'd had since I'd been away. And the most important thing, we made it to Vietnam!
Originally published: 9/14/2001
---