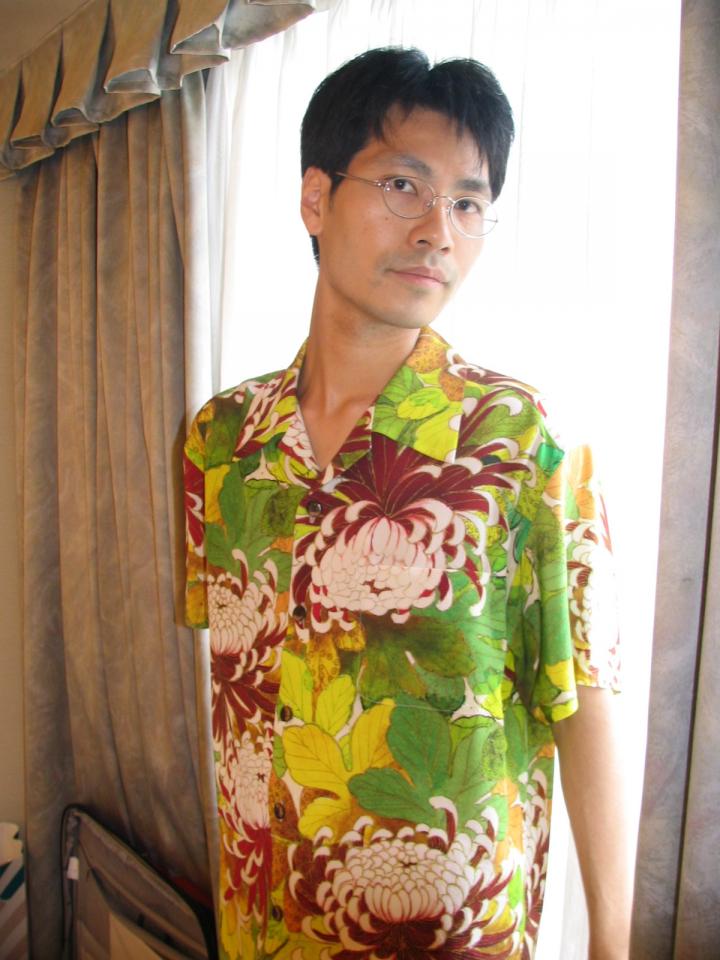 My silk buying experience started in the year 2000 in the ancient capital of Kyoto.  Kamedatomi Co. Ltd. Produces vintage design textile rooted in the Kyoyuzen tradition for kimono production.  About 75 years later since it was founded, the studio now primarily produces Hawaiian style shirts inspired by classical Japanese kimono patterns fused with modern aesthetics.  The label is called Pagong.  www.pagong.jp
There are currently 4 locations within the city of Kyoto to find Pagong's shirts.  The main studio and showroom is on Gojodori, while the Gion shop caters to tourists is actually situated near Shijodori in a traditional wooden house.  A convenient shop is on Sanjodori, catching the younger shoppers and then a recently opened kiosk is inside the new fashion wing of Isetan Department Store of Kyoto Station.
Pagong's design is superb featuring usually all 23 different colours which are both vibrant and subtle.  White Chinese silk is contracted and weaved, embedded with Pagong's unique turtle motif and seawave pattern.  Traditional inspired iconography such as "hundred flowers in a garden", "Korin's wave with clematis", and botanical inspired patterns from cherry blossoms, chrysanthemums, to morning glories and peonies are juxtaposed with whimsical motifs of gold fishes and vegetables or mythological creatures such as dragon, phoenix, crane, and peacock.
The Kyoyuzen team of five at Pagong is remarkable.  These artisans are passionate about their design and printing.  Yukio Katsurada mixes the colour weighted up by Ikuo Aoyama.  Being precise is what makes Pagong successful in producing exceptionally brilliant and vibrant colours on the cloth.  Kozaburo Isobe, Michiaki Nakagawa and Yoshiharu Mizuguchi do the actual printing on the long length of silk using numerous silk screens, changing size of squeegees, with techniques and unique colours that cannot be copied by others.  The resulted silk cloth is cut and sewn into Aloha shirts that are popular among Japanese living abroad.  A silk shirt is retailed at US$ 183 and a cotton camisole or a t-shirt is at US$ 79.  There are copy cats around town especially frequenting the temple markets but don't be fooled.  The Japanesque mish-mesh patterns on cheap polyester cannot be compared to Pagong's authentic designs and delicate materials.  For Pagong's silk shirts, dry clean is the norm to preserve the vibrant colours and I keep my collection in the closet hanged with natural incense brought in Kyoto and it will last many, many years.
www.koromo-kyoto.com is another fashion house riding on the trend of vintage design revival.  Koromo has shops near Kitaoji subway station and Sanjodori in Kyoto.  Other retail locations include Tokyo and Nagoya.  Its main line features indigo dyed shirts with Ukiyoe inspired prints and hand paintings.  The brand is preferred by younger Japanese traveling often to other places but conscious of a national identity.  The unique Japanese iconography of wild demons and Buddhist gods are juxtaposed with whimsical children toys and animal patterns which have Japanese girls screaming "Kawai!"
I bought t-shirts of more subtle magnolia handprint and hanabi / fireworks embroidery (US$ 79) and winter cotton padded silk vests (US$230).  The pieces are fitted with exclusive "Koromo character" buttons showing the complete attention to detail required by the fashion house.
At the other end of the price spectrum is Indonesian batik on Cotton.  I bought a set of pajamas (boxer, loose pants and pajama top) for US$ 2 printed with genuine batik patterns rooted to the Javanese idea of the universe.  The set features the traditional colours including indigo, dark brown and white.  At Mirota Batik, on Malioboro Street of Yogyakarta, one can find a broad range of affordable, good quality batik pieces for oneself or for gifts.  Customers are entertained by musicians in royal Javanist costume playing piano.  The store is stocked with an endless spectrum of colourful scarfs.  I went into the special room at the back of the store that only stocked with silk (sutra).  Here the air-con was in full, enabled me to cool down quickly and to put on and try out the beautiful batik sutra for size.  I have chosen a bluish purple shirt with bold patterns printed using batik cap (pre-carved metal wire block).  Depends on the dye colours and intricacy of the design, batik sutra shirts can run from US$ 20 up to over US$ 100 in Mirota Batik.  All the shirts are lined with an inner layer to prevent sweat from dirtying the delicate silk.  Closed by, Jogya Batik, also on Il Malioboro has beautiful silk shirts printed with batik cap featuring more intricate patterns and daring colours.  Sizes of the shirts are bigger.  I bought an orange / brown / white one for my Dad and a blue / silver / black one for my Japanese friend.  Batik Keris across the street is famous for their exclusive prints in gold.  Pure silk batik shirt starts at US$ 200 and is truly Haute Couture.
For Batik Tulis (hand written batik) that has the characteristic fine crinkle lines, I bought a beautiful green shirt imported from Indonesia when I traveled to Malaysian Borneo and visited Kuching.  Agung Collection is on Il Satol near the site of Sunday Market.  It is a nice fashion house featuring the best Malay Kebaya dress for women and silk shirts for men.  I selected a green batik shirt with botanical prints (batik cirebon) and another one of the local sawarak design.  Special discount is usually given.  Just sit down and fan yourself for 15 minutes and smile to the shop lady and you can try on anything when you cool off sufficiently.  A silk shirt retails for US$ 30 to 60 and is of the highest quality.
Thai silk, on the other hand, is stiffer and coarser.  It is perfect for a jacket of vibrant colour or dual-tone bed sheets and pillow cases.  Jim Thompson House is the most famous Thai silk store in Bangkok.  Located in the heart of the city, backed by the river, Jim Thompson House is a complex of traditional Thai style buildings decorated by beautiful antique furniture, paintings and ceramics.  The buildings are linked by the garden most representative of thai tropical garden style.  It is simply paradise on earth.  But Jim Thompson disappeared one day while going on a walk in Cameron Highlands of Malaysia and he was never to be found again.  Now the residence is a museum, shop and restaurant.  Thai cuisine is fusion of old and new, uniquely adventurous here.  I enjoyed my morning glory tempura.  At the shop, I selected a set of orchid pattern cushion covers in purple and gold.  I also got a golden yellow long-sleeve shirt with pattern of ocean wave and swimming fish.  This classical motif originated from Japan possibly inspired by the huge ceramic urns kept in the garden.
I saved the best for last.  Vietnamese silk is neither expensive nor of the highest quality.  Very often, the silk is mixed with 30% rayon for the mass market.  But what compensates the quality is the mastery of the tailoring.  In Hanoi, the silk street Hang Gai, is simply amazing.  At 77 Hang Gai, Redlee Fashion, www.redlee.vn has beautiful translucent saffron tops and full length silk dress for women.  They are sexy and trendy.  The colours are vibrant and fresh.  I love chocolate brown with apple green, sunset orange with charcoal grey.  At 54 Hang Gai, To Thanh Nga Collection stocks white blouses with beautiful embroidery, uniquely cut at the collar and sleeves bringing a modern touch to the traditional Vietnamese style.  At 108 Hang Gai, Kenly Silk has exclusive prints of cloud-motif on fabrics that can be custom made into the Aodai (Vietnamese dress).  My last stop was Hoang Tu at 23 Hang Bong, for designer copies.  I bargained hard for 2 Armani silk shirts copied from the 2008 Spring Collection.  The size is perfect for the Asian body and this is very much the only place to get trendy attire for men.
Do you have silk buying experiences in these countries or others?
---