Take Me Out To The Ball Game- Osaka Style
---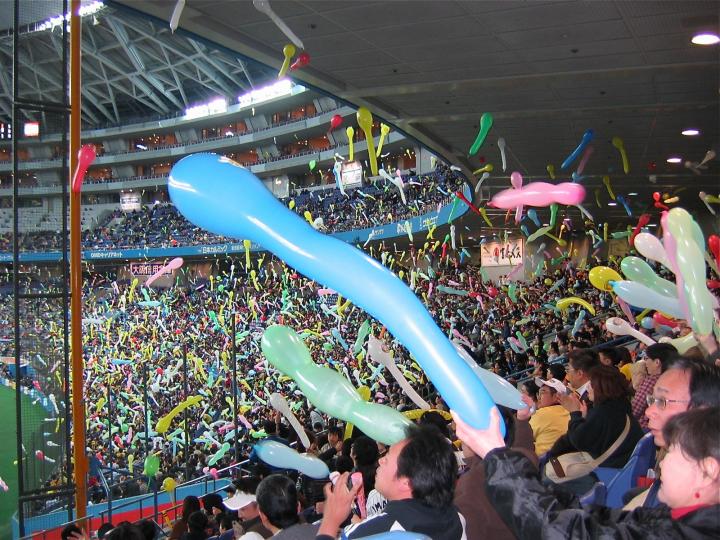 Image ©
2009 MaryLou Driedger
Take Me Out to the Ball Game. You won't hear that classic 7th inning stretch song at a Japanese professional baseball game. Instead when the 7th inning rolls around, everyone in the crowd blows up huge colorful balloons and on a signal releases them into the air. That's just one of the differences I noticed between attending a ball game in North America and at the Kyocera Baseball Dome in Osaka Japan. Last week we watched the Orix Buffalos play the Hanshin Tigers in Osaka. 
Another difference was the noise. I've never heard anything like it at a game in the United States or Canada. We sat in the Hanshin Tigers section of the ball park, and their thousands of fans kept up an incessant barrage of noise when their team was up to bat. Men in immaculate gold and black uniforms, wearing spotless white gloves directed the crowd in a rich variety of chants. A dozen trombone and trumpet players accompanied a recital of Japanese baseball tunes sung in rousing unison.  All of the fans had small black and gold plastic baseball bats they beat together in rhythm to the songs. Four men balanced enormous Tiger flags in their hands and swooshed them through the air in dizzy patterns as the crowd sang. It was a visual and audio spectacle.
             Baseball fever was at an all time high during the week we were in Japan, since the World Baseball Classic Championships were being held in Los Angeles. One morning at breakfast we were watching the Japan vs. the United States game being broadcast on the television in our hotel dining room. The elderly Japanese lady serving us paused in her duties to create a hexing sign with her fingers. She aimed her hex at each new American batter who appeared on the TV screen to face the Japanese pitcher. We happened to be in restaurant having lunch the following day when Korea and Japan faced off in the World Classic Championship game. The restaurant owner had the TV mounted behind the front counter tuned to the game. When Ichiro Suzuki hit a two out- two run single to win the game for Japan in the 10th inning everyone in the restaurant cheered. Business had ground to a halt as the cook, waitresses and patrons stood glued to the screen to see if Japan would be victorious.
          The Hanshin Tiger and Orix Buffaloes game we watched in Osaka wasn't quite as exciting as the World Championship games, but it was tied at the end of the eighth inning and finally won by some Buffalo heroics in the ninth.
               The Japanese people are crazy about baseball. It was fun to be in their country, the week Japan became the baseball champions of the world, and witness the excitement.
---