Where to Stay in Galle, Sri Lanka
---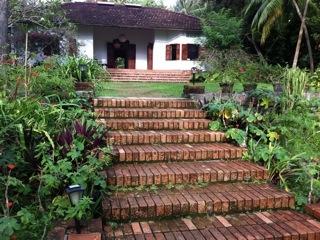 Image ©
2013 Templeberg Villa
Galle, Sri Lanka is a beautiful place to visit. Sri Lanka has various colonial influences, old and new. There are two beautiful white sand beaches by the name of Unawatuna and Hikkaduwa.
These beaches are known for their tourist attractions. There are antique shops, beautiful architecture, gems and crafts.
There is a Literary Festival in October, for those who enjoy books and writings. Or if you are more a sports player than the literary type, there is always a good international cricket game afoot.
* * * 
There is a vast array of accommodation options for your convenience in or near Galle. Within the Fort are several beautiful, upscale boutique hotels. However, if you prefer a more rustic type of accommodation, one of the many villas along the coast will be perfect!
Amangalla
For Aman regulars, this is the place to be in Sri Lanka. The location, building, food and staff are what you have come to expect of an Aman.
Galle Fort Hotel
This award winning 11 room boutique hotel, situated inside the Galle Fort, was built in the 17th century, during the Dutch colonial period. The fort's ancient streets, houses, temples and ramparts, as well as plenty of shopping is all within walking distance.
Dutch Hotel
The Dutch Hotel is a house that has been restored and it is located along a hill. This house was once occupied by a Dutch Admiral. The house was renovated into four Heavenly suites. Each room has a four poster bed, beautifully decorated living spaces, a nice bath-tub, and a private garden. A private pool and croquet is available for visitors. 
Kahanda Kanda
The Kahanda Kanda is a little further out from Galle. The view from this villa is amazing. The villa overlooks the Kogalle Lake. This villa is about 25 minutes from Galle. This villa is sitting on a 10 acre tea estate and has five beautifullyequipped suites for you to choose. 
Lighthouse Hotel
The Lighthouse Hotel Resort was designed by a well-known son of Sri Lanka by the name of Geoffrey Bawa. The Lighthouse Hotel has 63 rooms; located west of Galle on the seafront. This resort has a shallow kiddie pool for the children to have fun while Mom and Dad enjoy the larger pool or Jacuzzi. The lighthouse hasbeautiful private rooms, balconies, and Jacuzzi tubs. There are tea tasting and cooking classes available for those interested.
Templeberg Villa
A villa stay at Templeberg is not only private you are surrounded by a beautiful jungle, coconut trees, terraced cottage gardens, and frangipani (perfume prepared from this plant). You will have a private pool at a villa Sri Lanka.  It is ideal for everything from a romantic getaway to a family vacation. In addition to a breathtaking location, a stay at Templeberg Villa includes one-of-a-kind activities: Sandrew's Temple Walking Tour, Trixie's Sri Lankan Cooking Class, or Tyron's Heath and Well-being Package.
Visit Sri Lanka soon.
---