Lost and Found at Cinequest 21
---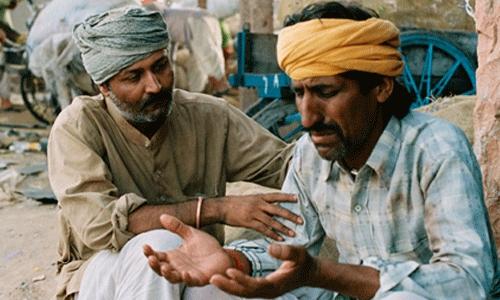 Image ©
2011 Celeste Heiter
Now in its 21st year, the Cinequest Film Festival, held each year in San Jose, Calif., presents an impressive array of independent films by both veteran and neophyte filmmakers. From animated shorts to feature-length cinematic works, themes run the gamut from the dark to the divine. Each year, ThingsAsian features reviews of Cinequest's Asian and Asian-themed entries.
This year, eight films were available on DVD for pre-screening and review: Bardsongs, Snow, Bi Don't Be Afraid, Living in Seduced Circumstances, Madly in Love, Troublemaker, Raavanan, and Night Fishing with Cormorants. And although they all represent the filmmaker's unique visionary style and substance, there is something lost and something found in each of these remarkable films.
Bardsongs
Director: Sander Francken
Producer: Karin S. de Boer, Kawal Soni
Writer: Joost Schrickx
Cinematographer: Melle van Essen, Sal Kroonenberg, Bret Pot
Editor: Gys Zevenbergen
Music: Sakar Kahn & family, Afel Bocoum, Aditya Bashi, Murup Namgyal, Rainer Michel
Cast: Abba Bilancoro, Kolado Bocoum, Dhamender Singh, Kishan Soni, Tsewang Spalgon, Deachen Yangdol
Country: Netherlands
Language: Hindi, Bambara and Ladakhi with English subtitles
Genre: Drama
In the ancient tradition of musical storytelling passed down by the elders from one generation to the next, this richly cultural triad of fables spans the Eastern Hemisphere, from the heart of India to the West African plains of Mali, and across the lofty peaks of the Himalayas to Ladakh.
The first of the stories is a take on a familiar theme. It's about a Rajisthani trash collector whose camel slips its cart harness and wanders off. Bad luck? Maybe not, when it returns with a mate who bears a calf. Good luck? Maybe not when the camel tramples the legs of the trash collector's son. Bad luck? Maybe not, when war breaks out and all the young men except the trash collector's son are summoned to battle. Good luck?... You get the picture.
Next is the tale of Bouba, a young Mali boy attending Koran school when his teacher poses the question, "What is the largest part of all knowledge?" The boy is given seven days to solve the riddle or he will fail to advance to the next class. In his quest for the answer, Bouba asks the question of a blacksmith, a builder, a fisherman, a hunter, and a tourist, all of whom have only their own narrow view of knowledge to offer. But to discover the answer to the riddle, Bouba must first follow his own heart.
The third tale in the Bardsongs tryptych is of Obedient Sonam, a widowed Himalayan herder whose ox gives birth to a fine calf. As a man who cannot say, "No," and always heeds the advice of others, Sonam is told by the village elders to sell the calf and use the proceeds to buy a mobile phone. One of his fellow villagers suggests that the calf be bound to a pole and carried so that it will not lose weight on the way to market. So he does. Some passers-by on the road to market insist that he should untie the calf and let it walk. So he does. A group of school boys along the way suggest that he should let his pretty daughter ride the calf. And so he does. As his journey continues, Sonam inherits a cart and an old woman to go with it, he picks up a hitchhiker with a heavy load, and he walks away from a potential bride, all because he cannot say, "No."
Carried along by hypnotic chanting and the rhythmic flow of the music, Bardsongs segues seamlessly from one tale to the next, weaving each with wisdom and humor. Casting, cinematography, art direction and production quality is on a par with the best that independent cinema has to offer, making Bardsongs a worthy contender for best of show at Cinequest 21.
Snow
Director: Rohan Fernando
Producer: Rohan Fernando, Suzanne Lively
Writer: Rohan Fernando
Cinematographer: Tarek Abouamin
Editor: Sarah Byrne, Rohan Fernando
Music: Asif Illyas
Cast: Kalista Zackhariyas, Ria Mae, Mohan Fernando, Achala Hewaarachchi, Himaly Fernando, Pardis Parker, Sobaz Benjamin, Alicia Orr MacDonald Country Canada
Language: English
Genre: Drama
On December 26, 2004, Parvati's picture-perfect world was swept away when a tsunami struck the coast of Sri Lanka. With all members of her family either dead or missing, Parvati has nowhere to turn until distant relatives living in Canada open their home to her. There she must adjust to a new life that includes a job as a hotel housekeeper, a respectable Sri Lankan suitor, and an unlikely friendship with a young homeless woman. When her taboo relationship with a suicidal hotel guest causes her to lose her job, Parvati feels she must not only atone for the shame she has brought on her family, she must come to terms with the haunting memory of that fateful day, and the loss of the life she once cherished in her homeland.
The film's title refers to a snow globe given to Parvati by her missing sister and the inherent symbolism contained therein. Snow is a film of rare delicacy and subtlety, with a cast of mindfully crafted characters who deliver their exquisitely painful performances without conceit or artifice. The result is a gestalt of excruciating sorrow, irretrievable loss, and just maybe...a kernel of hope.
Bi, Don't Be Afraid
Director: Dang Di Phan
Producer: Anh Hung Tran, Claire Lajoumard, Oliver Ropke, Dominic Scriven, Henri Scriven, Bao Mai Nguyen, Hoang Diep Nguyen
Writer: Dang Di Phan
Cinematographer: Quang Pham Minh
Editor: Julie Beziau
Music: Vu Nhat Tan
Cast: Thanh Minh Phan, Thi Kieu Trinh Nguyen, Ha Phong Nguyen, Thuy Hoa, Tran Tien, Mai Chau, Phuong Thao Hoang, Huyhn Anh Le, Kim Long Thach, Hoang Ha Pham
Country: Vietnam
Language: Vietnamese with English subtitles
Genre: Drama
Complex family dynamics fuel this visceral drama in which three generations grapple with unrequited sexuality and imminent mortality. More visual than verbal, the film offers a glimpse into the lives of a young Vietnamese couple who share a home with their impish six-year-old son Bi, the wife's spinster sister Thuy, the husband's terminally ill father, and a nanny who has been with the family for years.
Husband Quang shamelessly indulges his carnal appetites with his nubile masseuse, leaving his wife and nanny to tend the needs of his ailing father, while Sister Thuy, a substitute teacher, fantasizes over a teenage boy in her class. Amid the narcissistic preoccupations of the grown-ups, young Bi is left to roam the neighborhood in search of new outlets for his precocious curiosity.
Bi, Don't be Afraid is as subtle as it is graphic in its portrayal of sex and death, while minimal dialogue and oblique cinematography lend an enigmatic ambiance to every scene. And though its message may not be abundantly clear, it will leave an indelible imprint on the memory of anyone who knows the innocence of youth, the pangs of desire, and the foreboding of death.
Living in Seduced Circumstances
Director: Ian Gamazon
Producer: Quynn Ton
Writer: Ian Gamazon
Cinematographer: Ian Gamazon
Editor: Ian Gamazon
Music: Real Rice Production performed by: Etienne Andre, Jonathan Lerivray
Cast: Long Nguyen, Quyn Ton
Country: United States
Language: Vietnamese with English subtitles
Genre: Drama
Misery goes beyond the pale in this horrifying vignette of torture and vengeance. Snapshots of a hypodermic kit on the console of a car make it clear from the outset that Mr. Thanh, a middle-aged Vietnamese man, has been drugged and kidnapped by Minh, a very pregnant young Vietnamese woman.
Upon their arrival at a rustic cabin in a wooded hideaway, Minh duct-tapes him to a wheelchair, and in the three days that follow, she assaults him with a shovel, leaves him exposed to the elements, roasts his bare feet in a blazing wood stove, shoots at him with arrows, and subjects him to terrifying threats describing the amputation of various body parts. It doesn't take long to realize that Minh is certifiably (perhaps hormonally) out of her mind, but it isn't until the final moments that this 72-minute film reveals the "seduced circumstances" that drove her to such unthinkable madness.
Through the unflinching gaze of the cinematographer's eye, Filipino-American director Ian Gamazon paints a grim portrait of two victims for whom there is no salvation. Masterful watercolor animation overlaid with haunting musical interludes offer much-needed relief at crucial points in a film that tests the boundaries of endurance to deliver its profound and powerful message.
Madly in Love
Director: Anna Luif
Producer: Andres Brutsch
Writer: Elke Rossler, Eva Vitija
Cinematographer: Stephan Schuh
Editor: Myriam Flury
Music: Balz Bachmann
Cast: Laura Tonke, Muralee Sandrasegaram
Country: Switzerland
Language: Swissgerman, German, Tamil with English subtitles
Genre: Romance
A romantic dilemma lies at the heart of this Tamil/Swiss love story in which Devan, a refugee from his war-torn homeland in Sri Lanka, must make an agonizing choice between two women. Devan has been engaged in a lengthy Internet correspondence with Nisha, his Sri Lankan bride-to-be in an arranged marriage, until Leo, a Swiss single mother of an adolescent boy, is hired at the restaurant where he works...and it's love at first sight. When Nisha arrives in Switzerland to fulfill their betrothal, Devan is squeezed in the vice of family expectations and obligations, all the while wooing Leo in a misguided attempt to follow his heart down the path to true love.
Madly in Love is a sweet, simple love story, abruptly punctuated by the occasional detour into Bollywood-esque flights of fancy, replete with sari-clad dancers in impossibly brilliant colors, grooving to the spirited beat of Sri Lanka's latest pop tunes. But beneath its facetious façade, there lies a culturally relevant parable with a heartfelt moral.
Troublemaker
Director: Geeta Malik
Producer: Geeta Malik
Writer: Geeta Malik
Cinematographer: Quyen Tran
Editor: Geeta Malik
Music: Harry Mestyanek
Cast: Pranidhi Varshney, Peter Pasco, Ajay Mehta
Country: United States
Language: English
Genre: Drama
World Premiere
With her rent ninety days past due, her writing career stuck in neutral, and her job lost due to an assault on a co-worker in a fit of anger, Rehka embarks on a road trip from Southern California to Seattle with her former boyfriend Omar in an attempt to tap the brakes on the downward spiral that is her life. There she hopes to track down her estranged father to guilt him into a financial bail-out for abandoning her as a child. Somewhere along the way, Rehka realizes that the payoff she seeks has little to do with money, and the emotional support she craves has been there all along.
Troublemaker is a cinematic study in stark realism, populated with not only likeable, but believable characters coping with life's everyday travails. No convoluted plot. No gratuitous melodrama. No overwrought sets and costumes. Just a simple story told with pathos and purpose.
Raavanan
Director: Mani Ratnam
Producer: Bejoy Nambiar, Mani Ratnam, Sharada Trilok
Writer: Mani Ratnam, Suhasini
Cinematographer: Manikandan, Santosh Sivan
Editor: A. Sreekar Prasad
Music: A.R. Rahman
Cast: 'Chiyaan' Vikram, Aishwarya Rai, Prithviraj
Country: India
Language: Tamil with English subtitles
Genre: Drama
Stockholm Syndrome soars to epic heights and a galaxy of gorgeous faces come out to play in this panoramic saga of love and vengeance. Inspired by the Sanskrit tale of Ramayana by the Indian poet Valmiki, Raavanan tells the story of Dev Prakash Subramaniam, a high-ranking police official assigned to apprehend Veeraiya, the notorious criminal overlord who has kidnapped Dev's wife Ragini. For 128 action-packed minutes, Dev's relentless pursuit of Veera takes them through some of India's most scenic locales, as the relationship between Ragini and her smoldering captor veers into uncharted territory.
Raavanan is a brilliant reinterpretation of this ancient myth, made larger-than-life by Tamil director Mani Ratnam. The raw animus of Vikram as Veeriaya, the unctuous-yet-menacing allure of Prithviraj as Dev, and the rapturous beauty of Aishwarya Rai as Ragini create a cast of characters befitting the archetypal deities they portray. Classical storytelling in grand cinematic style.
Night Fishing with Cormorants
Director: Betsy Kopmar
Country: United States
Language: English
Genre: Animation
A sensory suite of audiovisual expressionism comes together in Betsy Kopmar's short film Night Fishing with Cormorants. Inspired by a Japanese painting of the same name by 17th century sumi-e master Kano Tan'yu, overlaid with the transcendent melody and ethereal vocals of Andreas Ecker's Winter Skies from his CD Dominatus Illuminato Mea, for an ephemeral four minutes and thirty-two seconds, Kopmar's kinetic interpretation emerges in a hypnotic unfurling of motion and music.
In one of her many interviews, Kopmar refers to the "feeling of compressed energy that can be found in some classical ink drawings." With its stark economy of palette, Kopmar uses the compressed energy of Kano's Night Fishing with Cormorants as a metaphorical springboard to animate the moonlit ripples of the night river, the paraphernalia of boats, lanterns, poles, ropes, and nets, the winged cormorants and flailing ayu fish, and the shadowy silhouettes of the fishermen themselves, all in a reeling, spiraling quadrille of black, white and red.
Night Fishing with Cormorants has screened at more than 25 festival venues worldwide, including the Hiroshima International Animation Festival where Kopmar was awarded a Special Prize.
---