Crazy Shopping or Relaxed Browsing for a Day in the Heart of Kyoto
---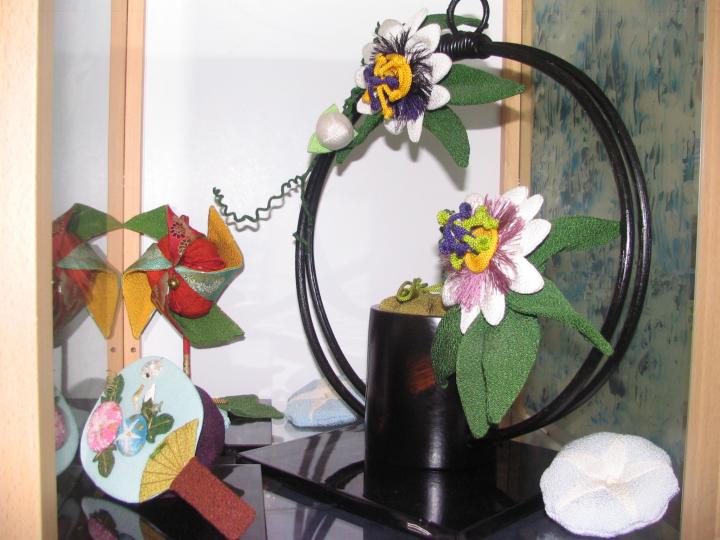 I remembered in 1985 my friend Ricky and I went to Kyoto, Japan for the first time; we were in a group tour, so there was no time for shopping on our own except in the underground shopping arcades somewhere in Tokyo.  The second time I went to Kyoto with Ricky, we were on a day trip from Nara.  We visited Daimaru Department Store on Shijodori.  He went up to the Men's Fashion floor and I went to browse in the basement food levels.  Thirty minutes later, he found me resting on a bench in the basement with 10 bags of merchandises all spread out beside me.  He freaked out and spent the rest of the day helping me with the bags but cursing me at the same time.  The goodies included yogan (red bean cake), matcha (green tea), crackers, kyogashi (Kyoto's delicate sweets), wagashi (Japanese sweets) etc.  That day we finally got back to Nara Station, we had to take a taxi to reach our ryokan.  Starting from 2002 to 2008, I visited Kyoto annually and I had an obsession with Japanese candies and fashion.  My luggage was over-weight, and I would send back boxes of goodies as my annual supplies.  Here I will share with you some of the best shops around Kyoto.  Let's start with fashion.
        Sanjyo Damascene on Sanjodori and Tominokojidori (11 AM to 8 PM) www.sanjyo-damascene.com is a factory in a classical building since 1890 originally produced damascene, similar to cloisonné, as a fashion accessory.  Now it retails damascene as well as several fashion labels of Kyoto such as Seisuke 88 and Pagong.  Every time I came to Kyoto, after checking into my hotel room, the first shop I visited was Sanjyo Damascene.  The two show windows are elegantly decorated with Pagong's Aloha silk shirts, with a couple of mannequins in Seisuke88's shirts and jeans and skirts of other Kyoto labels.  The gentleman shop owner showed me Pagong's new design for the current season.  I had bought more than a few here.  He also introduced me to the unique design of Seisuke88 www.seisuke88.com  (concept shop on Sanjodori between Kawaramachidori and Kiyamachidori, 11 AM to 8 PM closed Monday).  Normally, I would not choose shirts in cotton, but the design patterns were uniquely Japanese such as: ryuka (flowing flowers), chidori (a lot of birds), tsurutokame (cranes and turtles), maidaiko (traditional drums), Shochikubai (bamboo, pine and plum), harusakura (cherry blossoms), ryu (dragon), nami (wave), budo (grape) and summer gourds which I had chosen.  Currently, there are belts, slippers, scarves, t-shirts, travel bags and other accessories on sale.
        Koromo www.koromo-kyoto.com across the street (noon to 8 PM) specialized in hand-painted vintage designs on shirts and jeans inspired by the heroes, gods and demons of Buddhist belief and the vast repertoire of Ukiyoe.  The designs on indigo material are best suited for younger generation. 
        After spending quite a fortune in these two shops, I was determined to browse in the next shop.  I went to open the sliding door of Ishigurokoho just a few shops down from Sanjyo Damascene (daily 10 AM to 7 PM closed Wed) on Sanjodori and Yanaginobanbadori.  Sometimes, I would buy one item that match the current season, and over the years, I built up a small collection of incense / fragrant pouches made by Ishigurokoho.  I have a bonsai decoration with passion flowers, a fortune wind wheel, a fan, a morning glory and a peony flower all made meticulously with kimono cloth inserted with natural incense.  Other designs include the 12 Chinese animals of the year, and the different seasonal flowers.  Prices are high but the incense lasts for a long time and keeps all my kimonos safe from any insect damage.
        However, if you are just smittened by the cute animals or flowers made in cloth and will not care for incense, try Manekinekonote Shop www.manekinekonote.jp at Nishikikoujidori (10 AM to 6 PM).  With the ancient concept of making dolls to put in temples and shrines for good wishes, cutest modern versions of the cat, gold fish, Daruma, frog, owl, pig and Fukusuke are produced and sewed in China using Japanese style cloth.  You can find cushions, bags, money pouches and good-wish home decorations. 
---