A Feast of Vietnamese Cuisine in Hanoi
---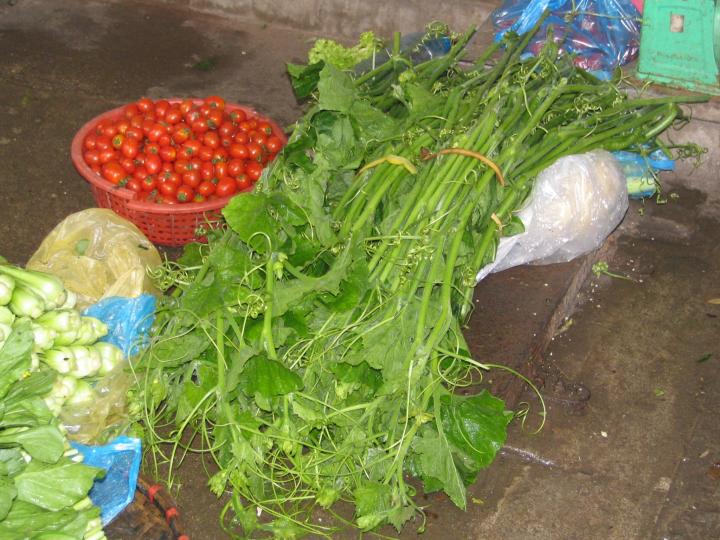 I arrived in Hanoi late afternoon and was transferred to my boutique hotel Hanoi Elegance 3 in the old quarter.  After shopping for silk on Hang Gai, I continued walking towards the direction of Hoan Kiew Lake.  At the intersection of two of the busiest streets, I found a nice restaurant called Little Hanoi (21 Hang Gai 7:30 AM to 11 PM).  It had an international menu for the lovely simple café.  Long ceiling to floor windows opened to the streets let the breeze in for such a hot evening.  I ordered a banana flower salad and tempura prawn in tamarind sauce.  With my lime juice, I savoured the nice dinner with the unique ambiance that I could only describe as noisy.  Motorbikes traversed non-stop and there was a small accident outside our restaurant with 2 parties arguing fiercely.  The car spotlights, honking, traffic noise and the fast and furious Vietnamese language added together, not without an exotic touch, made me feel like I was eating in the middle of the street.  It was indeed a whole new dining experience that opened my trip for the next 10 days.
The next day after viewing a beautiful restored 19th century tube house (87 Ma May), I walked across the street to Tamarind Café (80 Ma May, 6 AM to midnight) to sample some of the best vegetarian dishes in town.  I ordered a passion fruit juice that came with broken black seeds on the bottom of the glass.  I was sure it would release enough passiflorine to help me sleep well tonight.  Then my appetizer was vegetarian spring roll followed by the main course, stir-fried pasta with wild mushroom and basil.  The place was casual and quiet with beautiful hardwood furniture and colourful, and very comfortable cushions.  A tropical uplift compared to the motorbike swamp last night.
One night after a hard day of shopping, I took a taxi to the Emperor Restaurant.  It was now called Club de l'Oriental (22 Tong Dan).  The taxi passed by Hilton Hotel near Opera House.  It was quiet and dark on the street and definitely smart to go there safely in a taxi.  The grand entrance was something to behold.  Two sets of heavy automatic doors in sculpted wood gave a view to a water oasis in between.  It was through the water-tunnel crossed with an imitated tropical garden experience before reaching the reception.  I was given the choices of table, balcony or open kitchen bar.  I chose the last one as I was dining alone.  Service was attentive and menu was ridiculously esoteric with US$ 650 shark's fins, or abalone to US$ 15 freshly order-made Vietnamese salad roll.  I ordered what I thought was reasonable: steamed tiger prawns in passion fruit sauce (prawns could be bigger) and stir-fried pumpkin leaves with garlic (delicious common market / home cooking).  I was surprised they did not even have a chocolate cake somehow for dessert.  So I had to settle for none.  However, I was treated to the interesting open-kitchen view of how to make the perfect rice paper given all the time in the world.  Just like the place, elegant and classy, the chefs cooked in a languid way.
Koto Restaurant was situated near the Temple of Literature (59 Van Mieu, 7 AM to 3 PM daily, 6 AM to 9 PM Fri-Sun). This Australian non-profit establishment gave street and disadvantaged youth an opportunity to learn about food preparation and serving at the restaurant so they can eventually have a better life and career having these learned skills.  I sat at a low table on the 2nd floor, on a very comfortable red sofa, sipping my beautiful clear passion fruit juice.  A courteous young man brought my bowl of Bun Cha (BBQ pork in a soup-based sauce with vermicelli and herbs).  Then for dessert, he brought the small blackboard written with chalk delicious sweet names.  I ordered my chocolate ganache cake and enjoyed every bit of it.
I was on the Valentine Junk overnight at the World Natural Heritage Site Halong Bay. The lunch and dinner that I took on board were fantastic.  They were all specially prepared by the excellent chefs.  Attentions were placed onto the food taste as well as the variations of regional cooking of Vietnamese fair.  The food carving decorations using cucumber, carrot, tomato, apple etc. on the side of the plate added to the luxurious touch.  I had a freshly steamed Vietnamese jumbo prawn with lime and sea salt.  Then I also had a green papaya salad, crispy spring roll just to name a few.  All were great except the squid which needed ginger to take the fishy smell away.  The spectacular scenery of Halong Bay added to the ambiance of the lovely meals.
I have heard about Highway 4 Restaurant before I came to Hanoi and I actually booked a cooking lesson there (5 Hang Tre, 8 AM to 1 AM). To test out the food, I went on a Friday night and it was busy with no attendant showing me a table.  The top balcony was all full, with Australian and European tourists drinking beer and singing loudly.  I sat myself on a low table and a rattan sofa with flat cushions.  For drinks, they had almost everything except non-alcoholic.  I managed to get an ice tea which I downed in a few minutes since the dishes were so salty.  Stir-fried morning glory was a standard.  The fiery frog legs sates were a great surprise.  Everyone around the place kept ordering drinks and I guessed that was from the intended overdose of fish sauce in the dishes.  I did learn on the next day at the cooking class the generosity of salt and fish sauce in the 3 vegetarian dishes I made: "the Earth", Vegetarian Spring Rolls, Banana Flower Salad, Tofu sautéed with Spring Vegetables.  Overall, the impression of this place was hip, casual that needed a better service.  The market tour for cooking class was fun and wet, and my teacher was cocky with a weird sense of humour.
Of course, I saved the best restaurant review to the last.  After a slightly disappointed visit to Club de l'Oriental, I asked my hotel concierge to recommend a place that had great Vietnamese food, a nice view and traditional Vietnamese music.  She called and reserved a table for me at Dinh Lang Thuy Ta by Hoan Kiew Lake.  When I arrived, there was a touristy café on the ground floor but I took the stone staircase on the side up to the 2nd floor.  The restaurant was in a long classical structure of a cruising boat with wide windows showing the beautiful night view of the lake.  All attendants wore traditional Vietnamese costume and the interior of this restaurant was decorated lavishly.  The extensive menu featured all the delicacies of regional cooking of Hanoi, Hue and Saigon.  I ordered the lotus-stem salad (came with crackers), sautéed frog with vegetables in curry sauce, a peas sprout soup in fish broth and finished the lovely dinner with jasmine agar-agar.  During the hour-long dinner, I was treated to a live traditional music concert performed by 3 musicians and 2 singers.  (7-9 PM for musical performance every night) Traditional renditions of Vietnamese, Chinese and Japanese songs all sounded very exotic under the orchestration using Vietnamese stringed instruments and flutes.  It was an intimate and a very enjoyable dining experience.  Why not then walk over to the Thang Long Water Puppet Theatre to see the unique art form after dinner?
* * * * *
---