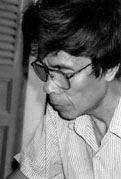 Image ©
2000 Global Directions, Inc.
"Hoang An is a self-taught amateur in oil painting who produces outstanding pieces impregnated with tragic symbolism. He seems to be obsessed with eternity and his compositions are filled by the immensity of space, while his palette projects a kind of inner light through primary dark colors. His inspiration reflects an intense search for the source."

Vietnam Fine Art Book, Danang Publishing House
When we traveled to meet with him recently at his modest studio we found a man who has created a body of impressive work and whose creativity is reaching new levels. He explained that some blocks of black and grey in the background of his paintings are reserved for himself. His inspiration seems to come from a very deep place within his gentle being. He lives with his wife, daughter and two sons. He often travels with his guitar and easel.
Born in Thua Thien, Central Vietnam, 1953
Member of the Vietnam Fine Arts Association
Guitar player and teacher
Member of the Quangnam Danang Association of Art and Literature
Group Exhibition in Danang, 1988, 1990
Solo Exhibitions in Ho Chi Minh City, 1989, 1990.1991, 1993
Contributed paintings to All Nation Exhibition in Hanoi, 1990, 1995
Solo Exhibition in Hoi An, 1990
Exhibited in Singapore, 1992
Group Exhibition in Nha Trang, 1995
Awarded prize of ten years of art and literature of Quangnam Danang, 1985-1995
---