Nakhon Si Thammarat: A Glimpse Into Thailand's History...
---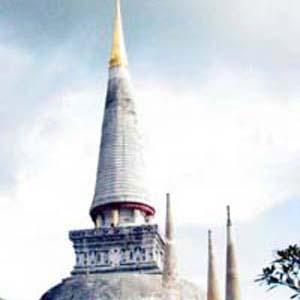 Something "Different"
My recent trip to Nakhon Si Thammarat in South Thailand is best described as a truly impulsive one. After numerous trips to Thailand, I am looking for something different this time around. I have done the basic touristy thing around South Thailand -- shopping in Hat Yai, lazing along the beaches of Koh Samui and Phuket, "surviving" in the wilds of Tarutao Island -- I had enough of ecotourism and shopping tours for the time being. So after searching through my newly Thailand Rough Guide, I decided that a trip to the ancient capital of the Langkasuka empire is that "something different" I seek. Formerly known as Ligor during its Langkasuka hey-day, Nakhon Si Thammarat, the one time the largest town in South Thailand, is greatly overshadowed by Koh Samui (100 kilometers north) and Hat Yai (160 kilometers south). Much less developed compared to the Ayutthaya ruins near Bangkok, Nakhon Si Thammarat is best described as an absorbing place, where adventurous travelers can linger and enjoy the historical relics and cultural sights at their own pace.



Crazy Ride On a Local Bus
Getting there from by road is not easy -- the local bus we boarded from Hat Yai to Nakhon Si Thammarat is an excellent experience in "rough travel" -- imagine getting squashed three person to a seat meant for two, with people standing for the entire four-hour ride, some hanging onto the bus doors for their dear lives. Now I can understand why the bus drive prayed for so long at the small shrine placed on the dashboard before the trip! He really needed divine interference to ensure the safety of all the passengers and himself. But after that four-hour ride, I learnt something about human kindness.
As we could not speak Thai, the conductor asked around the bus for someone who could speak English -- to find out where to drop us off. Then, we were dropped off right in front of the tourist office situated in the City Hall building. A slightly less adventurous way to travel from Hat Yai to Nakhon would be by shared taxis, where four passengers are squashed into the back seats of a 1960s Mercedes (with no air-condition!), and two passengers sharing the front seat. A more luxurious way is to hire an entire (air-conditioned!) taxi at around US 50 from Hat Yai to Nakhon Si Thammarat.



Seeking Travel Information
Apart from the two Tourism Authority of Thailand (TAT) offices in Nakhon Si Thammarat -- one in City Hall and a smaller one near the Ta Chang Souvenir Market, this town is short on tourist facilities -- few people speak English, there are no taxis available at your beck-and-call (except the motorbike taxis), and many road signs are in Thai script. The most convenient way to get around is to get a Thai-English road map from the TAT office and to point to the Thai road names when you get lost!

Nakhon Si Thammarat is actually quite easy to get around once you understand how the town is built. On the north end, starting from the City Hall and TAT office is the newer end of town. Here, there are many modern shops selling everything from electrical products to clothing, the railway station, the bus terminal and several modern hotels. Song-taews (pick-up vans covered with plastic sheets run along the 7 kilometers long Ratchadamnoen Road at a price of 6 Baht per person. Therefore, it is easy to rely on the song-taews to get from the newer part of town and to the older part of town (where many historical sites are situated). What we did was to simply hop-onto the song-taews, get off at a convenient spot and then walk from there.

Wat Phra Maha That, the Jewel of Nakhon Si Thammarat
The highlight of Nakhon Si Thammarat, the major pilgrimage site in South Thailand must surely be Wat Phra Maha That Woramaha Wihan. The origins of this Theravada Buddhist temple (originally believed to be brought by Sri Lankan traders) remain shrouded in mystery. My guidebook describes missing out on Wat Mahathat when visiting Nakhon Si Thammarat as going to Rome and not visiting St Peter's. It is believed the main chedi of Phra Boromathat was first brought here over two thousand years ago from Sri Lanka, thus laying the foundation for Wat Mahathat. Like the Taj Mahal, the main building of the Wat does not produce a shadow at any time of the day. This is because Buddhists believe that a shadow caste by Wat Mahathat will bring bad luck to Nakhon Si Thammarat and its surrounding towns. Next to the main building is the Viharn Kien Museum, which houses many artifacts in two different halls. In the first hall, models of Bodhi tree made from gold and silver plus other jewelry and some money donated by visitors and worshippers are placed on display.

Many Thais donated personal belongings including gold chains, marriage rings and even elephant tusks during the Asian financial crisis to help in the restoration of Wat Mahathat. The second hall houses ancient statues of Lord Buddha, household items using during ancient times and a reclining Buddha. In the corridor connecting the two halls, the Phra Puay is on display. Many infertile women come here to pray, and once they give birth, the women will come back to pay homage to Phra Puay and leave photos of their babies here. Wat Mahathat is one of the most revered temples by Thais, Malaysians and Singaporeans, who come here on special pilgrimage tours.



Paying Homage to the Dead
Many locals were praying here when we arrived in early October to celebrate a huge religious festival called Tamboon Deuan Sip. We were very fortunate to arrive in Nakhon Si Thammarat on the last day of the Tamboon Deuan Sip (the only downside being the lack of hotel rooms in the town -- we walked to two hotels with our baggage before finding a room!). According to the tourist brochures given by TAT, Tamboon Deuan Sip is celebrated during the waning moon of the tenth lunar month. This festival is held to pay homage to dead relatives and friends, for Buddhists believe the spirits of those who did not die happily (i.e. in an accident or was murdered) will wander around aimlessly, but merit-making by relatives and friends will ease their suffering.



Side-shows
As part of the festival, we witnessed a huge fair right outside Wat Mahathat. Here, performances such as shadow plays and other Thai theatrical performances are held. World-renowned "royal" puppeteer (he performed for the Thai King some time ago) Suchart Subsin was around to show his shadow making skills. A rural women's entrepreneur board brought a cloth weaving machine to demonstrate traditional cloth weaving skills. Another stall demonstrated methods to treat yan lipao ferns, which is used by rural folks to make basket ware.
Food stalls selling a wide array of local delicacies and show-casing the rich handicraft heritage of Nakhon Si Thammarat are also on display. I had a great time trying delicious seafood (most dishes are priced between 10 Baht and 20 Baht), but the local version of Tom Yam left me spluttering and screaming for water! After seeing my antics, the lady refused to sell us some pork curry, bringing out several chilies and indicating that it is even spicier compared to the Tom Yam.



Local Specialities
Besides the more popular Thai Tom Yam, a local dish that is a Nakhon specialty is the khanoom jiin, a noodles dish served with peanut gravy, giving it a slightly sweet, slight spicy taste. Apart from the fair, this dish is also served at an open-air restaurant called Krua Nakhon, situated in the eating area of Bovorn Bazaar. When trying the khanoom jiin, do not forget to order the local Hao Coffee from a nearby coffee shop. Served with Jasmine tea, the strongly blended Hao Coffee is best drunk together with the light Jasmine tea. According to a local gentleman we met at Hao Coffee (he spoke English, so was an excellent source of information), the coffee so special that locals come here frequently for the coffee -- despite is relatively costly price of 15 Baht for hot coffee and 25 Baht for the cold variety. At night, you can find a several stalls selling cheap tom yam (remember to tell them to reduce the chilies!) at the entrance of Bovorn Bazaar.



History and Culture Come to Life
Since visiting Wat Mahathat and the Tamboon Deuan Sip took all afternoon the previous day, we did not have time to visit the other historical sites. At around 7 am in the morning, after some buns and a cup of Hao Coffee at Bovorn Bazaar, we hop onto a song-taew to get to the southern part of Nakhon Si Thammarat. After getting dropped near the Old City Ruins, we walked around the old walls and walked about 5 minutes north to get to another historical site: The Sa Lang Dap Si Prat pond. According to the legends, Si Prat was a great poet during the Ayutthaya who was banished by King Narai the great for some misconduct. He was later executed by Chao Phraya Nakhon when he was found guilty of committing adultery in Nakhon Si Thammarat. It is believed that the executor washed the sword in the Sa Lang Dap Si Prat pond after the execution, hence the existence of this pond as a historical place.

Right across the road from the pond is the striking Ho Phra Isuan temple. Built to house Phra Isuan (Shiva), this Brahman chapel is built during the Ayutthaya era. There was a Brahman church adjoining the temple some time ago, but it was damaged and demolished about 50 years ago.



Delicate Handicrafts
As mentioned before, another highlight of Nakhon Si Thammarat is the excellent handicrafts. A short walk directly down the road from Ho Phra Isuan will take you directly to the Ta Chang souvenir market. Besides the more popular shadow puppets, there are many factories in Nakhon Si Thammarat producing handmade silver and nielloware jewelry. The industry is so big here that many silver pieces found in other parts of Thailand are produced here. Guess who ended up with a silver bracelet, a silver chain plated with gold and a pair of gold earrings for less than 1000 Baht? (around US 25).
After spending the bulk of my shopping budget on the jewelry, it was for a short lunch before bidding Nakhon Si Thammarat goodbye. I am certain I will return one day to this beautiful historical town, and hopefully the people of Nakhon Si Thammarat will remain as friendly as they are today. It is now time to depart by shared taxi to the town of Songkhla.



* * * * *
Fact File:
Getting There:

Regular government buses run from major towns to Nakhon Si Thammarat, but be prepared for the most interesting bus ride of your life! The buses take about an hour longer compared to other modes of transports as it stops in every small town on the way. Great way to "see" Thailand if you can spare the time.
Vans and shared taxis are quicker and more comfortable choices.
Getting Around:
Song-taews run along Ratchadamnoen Road all day. The rate per person is 6 Baht. Alternatively, take a motorbike taxi to other areas in Nakhon Si Thammarat for 10 Baht per person.
Accommodation:
According to a Dutch backpacker we met at the TAT office (one of the three foreigners we saw in Nakhon Si Thammarat), Thai Lee Hotel provides safe and clean accommodation, but it is rather noisy. Expect to pay around 200 Baht for a fan room.
Thai Hotel's new wing, priced at 500 Baht for a comfortable and clean air-conditioned room, is a good choice considering its convenient location in the heart of the new town. More classy choices still within walking distance from town would be the Nakorn Garden Inn (promotion rates at 450 Baht) and the striking Grand Park Hotel (600 Baht), but these hotels are popular with Thais and was fully-booked when we were in Nakhon Si Thammarat. The five-star Twin Lotus Hotel (1000 Baht and above) is a bargain, but the location is rather inconvenient.
For up-to-date information (current hotel rates, long distance bus and van fares), e-mail TAT Nakhon Si Thammarat at tatnksri@tat.or.th or tatnakhon@nrt.cscoms.com
* * * * *
---