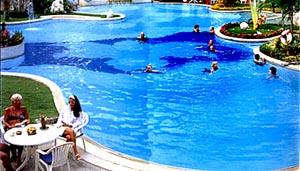 The Amari Orchid Resort is located in Pattaya, on North Pattaya Road. Set on 30 rai of land, the Amari offers guests a welcome retreat from the hustle and bustle of Pattaya proper. The grounds here are meticulously groomed and the effect is that of being in a large botanical garden of some kind. There is a big crew of people to keep things looking just right and a large greenhouse in the back of the property, which we happened upon while strolling around, that's filled with plants and trees for future planting.
It's really a relaxing atmosphere and along with the pool and tennis courts it makes up the recreational attractions of the resort. Also, the property fronts Beach Road, so there is a good view of the ocean from the grounds, too, in case you want to watch a picturesque sunset or the daytime activity on the water.
The inside attractions are the several restaurants that provide guests with a variety of cuisine choices and entertainment. Two of the outlets, Henry J. Bean's and La Gritta, have branches in Bangkok and elsewhere so you may have sampled what they have to offer already. The branches here are very similar, although La Gritta is a touch more intimate here. In case you're not familiar with these two, Henry J. Bean's is actually an English chain that promotes an American concept of decor and food and La Gritta is a traditional Italian restaurant with a full menu of dishes from all over Italy.
Both are well done as our dinner at La Gritta reconfirmed. It's a lovely atmosphere for romantic dining with soft piano music in the background and dimmed lights with candles on the tables. The menu, as mentioned, is quite varied and contains a complete selection of Italian traditional favorites. We started with a plate of beef carpaccio that was expertly done with only parmesan cheese, olive oil and a touch of lemon - just the way it should be. Also up first was a bowl of cream of shrimp soup, something we'd never seen before but would like to again. It was light and frothy with a wonderfully strong flavor of shrimp along with small chunks of meat.
The main courses consisted of a spaghetti carbonara and a grilled salmon. The salmon was in the form of two small filets that were cooked just right and the spaghetti was a large portion with a light version of the egg, cream and bacon sauce that gives it its name. Also with the salmon came a good portion of spaghetti fettucine that was very tasty.
The three red house wines from Italy that we sampled were all pretty good and reasonably priced as well but we didn't explore the rest of the wine list so can't report on anything there.
One thing we can report on, however, is the entertainment outlet here, the above-mentioned Henry J. Bean's. If you've never been to the two in Bangkok, you're in for a treat, especially when the live band is good. This is a place for casual dining on American-style food like burgers, sandwiches, ribs, some steaks, fajitas, salads, fried chicken, etc. The portions are large and the quality of the food is very high. The decor is an Americana theme with lots of signs and collectibles from the U.S. and there's both a bar area and dining area where the entertainment takes place.
Our stay at the resort was, on the whole, quite relaxing and a perfect getaway from Bangkok. The pool area where we spent most of our relaxation time is very nice with a Jacuzzi area and pool bar that you can swim up to. For the kids, there's a slide to play on and shallow areas of the pool also.
The rooms here are pleasantly decorated with comfortable furnishings and the bed was one of the largest we've ever slept in. More importantly, the air conditioning is very quiet and the water pressure in the shower is strong, so the management obviously has their priorities straight. Don't you hate a weak shower and loud air conditioning?
One last thing: make sure you take a walk around the grounds as we did. The foliage is beautiful and many of the trees and shrubs are marked so you know what you are looking at. It's very relaxing and a good way to spend a lazy late afternoon. It will also give you another reason to return to this beautiful resort and spend another couple of days... or longer.
* * * * *
---