Pulau Bidong: Vietnamese Boat People in Malaysia
---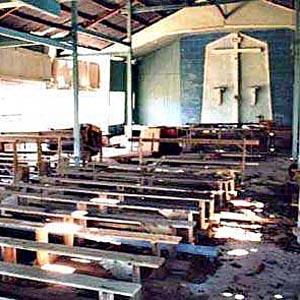 * * * * *
"We have heard stories of similarly desperate boat people escaping out of the communist Vietnam. Out in the sea, our main fears were the pirates - who will not hesitate to rob, rape, beat and murder - on top of the natural hardships of starvation, thirst and sea sickness. But we don't have any choice. Many of us ethnic Chinese who remained in Vietnam were persecuted by the locals. After collecting all the cash and valuables my parents had, my family realized that there was only enough money for three people to go. In the end, it was decided that my brother, eldest sister and myself was to go, giving the opportunity to the younger generation to make a better life in the outside world. My parents remained in Vietnam with my youngest brother, then still a toddler. Although I was very reluctant to leave for obvious reasons, my parents insisted. Crying, my brother and sister pulled me aboard.
Traveling in the open sea in monsoon season in an overcrowded boat was a harrowing experience. Since we did not have any adults to protect us, we were often bullied. By the second day, our remaining food was stolen by another refugee. My sister wisely hid the gold and precious stones that would determine our survival. Sadly, my brother could not survive the traumatic journey. He was thrown out into the open sea on a dark night.
There was nothing my sister and I could do, but to grieve silently. Luck was with our group. Not only did we survive the open sea without any sign of pirates, but we arrived at Pulau Bidong without any trouble. We took about a week while some other boats spent one or two months being tossed and turned by the waves.
As our boat approached the island to dock, we were given a warm, yet strange welcome by other survivors. They indiscreetly scrutinized us as we treaded gingerly, looking out for relatives and friends, on the white sandy beach.
Despite having my sister to take care of me, I missed my family terribly. Imagine a seven year old child with a twelve year old sister, wondering about the safety of our family members back in Vietnam! We also did not know how to tell my parents that our brother drowned on the way here.
However, my time on Bidong was gainfully occupied. I studied at a school in the camp which prepared the refugees for resettlement. My sister and I took English lessons to prepare ourselves for repatriation to a third country. We were also lucky to meet up with some old neighbors, who soon took us under their wings.
Waiting for the United Nations High Commission for Refugees (UNHCR) to process our application for asylum in Australia took nearly two years. It was an agonizing wait - what will happen to us if our application is rejected?
Again, lady luck smiled at us. Our applications were approved and we sailed to Australia. In due time, my parents and younger brother joined us in Melbourne. And I've been here till today."
. . . Eric, Tour Guide in Australia.
* * * * *
That was my first hand introduction on the horrific experiences of the Vietnamese Boat People. As a young girl, I remember staring at the refugees staying at the Sungei Besi Refugee camp. Their vacant stare, looking onto the outside world from behind the barbed wire, will forever be etched in my mind, although I was no more than ten when the camp was closed. Recently, I had the opportunity to visit the famous Pulau Bidong, while participating in a foster family program in Terengganu.
Pulau Bidong, one of the scenic and uninhabited islands off located off Kuala Terengganu, is often remembered as the temporary home of the Vietnamese boat people who fled their war-torn country in the 1970s. Out of the estimated 800,000 Vietnamese who left their country during this period, the biggest proportion, more than a quarter of a million, landed on our shores. Yes, this is the famous island portrayed in the controversial movie Turtle Beach (starring Joan Chen) but no, none of the refugees were murdered by the local fishermen. The UNHCR and International Red Cross was on hand to protect the safety of the refugees, then gazetted as a protected area by the Malaysian government.
Although the island has the capacity to provide shelter for 4,500 refugees at any one time it took up to as many as 20,000 people at one stage, at the height of the arrival of the boat people. Pulau Bidong served as a half-way house for these people before they were sent to other third countries, including the United States, Canada, Australia and several European countries, and it took time to grant approval to those qualified to be accepted as refugees. Those whose applications were rejected were sent to the Sungai Besi Refugee Camp, where they were later forcibly repatriated back to Vietnam after the war.
In the early stages, the refugees, some with nothing except the clothes on their backs, ate anything they could find on the island including monkeys, frogs and squirrels. The wildlife population was decimated. To ensure the refugees got humanitarian aid and better living conditions, the UNHCR through the International Red Cross supervised the activities on the island.
Long-houses and offices made from wood from the local forest were built and the boat people were provided with better basic needs and amenities such as food, schools, workshops, electricity and water. Perhaps to make it just like home, the camp was subsequently turned into a bustling mini Saigon. It had the trappings of a township - post office, church, temple, tailors, hair salons, sundry shops and even disco and bar. One part of the beach was even named Pantai Cina - China Beach - after its more famous counterpart in Vietnam.
Outside this mini Saigon was a Malaysian police station, a Red Cross hospital and UNHCR schools - kindergarten, primary and vocational.
When the last of these boat people left the island in the early 1990s, the island began the long process of healing following damage caused to the environment. What remains are mute reminders of recent history: charred wooden buildings and rotting huts which once housed about a quarter of a million boat people since their first arrival in 1978.
There are still several solid wooden buildings left standing but these need a huge "face-lift" if they are to be put to use as a tourist attraction. Since all the buildings were made of wood, they are now all on the verge of collapse under the attrition of weather and the ageing process. The overwhelming shrubs and weeds are not helping either!
Today, the only welcome for visitors to the beach are a barren beachfront stall and glimpses of buildings heavily hidden by overgrown brushwood and bushes. Only emptiness and a strange affectionate air lingers.
Though there's little of practical value in the ruins, signboards with Vietnamese characters and names are still on display - guiding our way around the little ghost town.
The vocational school still has leftovers like television tubes, circuit boards, carpentry work-tables and tailoring guides - obviously displaying the training that UNHCR had given to refugees before sending them on to a permanent host country.
A kindergarten run by UNHCR staff looks no different than any other school. There are colorful paintings, posters and alphabets decorating the walls in the classrooms and library. Though faded by the unforgiving weather, the paintings and posters give a heartfelt feeling that there were once children learning and playing in these shacks.
Struggling past the dense weeds and mosquitoes, the narrow passage then leads deeper into the island. It seems the camp spread and scattered around every flat area of the island. This little Saigon has been turned to several villages, each with a number of long houses and its own chief.
Like a harmonious neighborhood, the "villagers" built their church adjacent to a Buddhist temple, both structures still standing today. Indeed, outside of the Philippines, Vietnam was Asia's most Catholic country due to the French colonial experience.
The flight of stairs leading to the temple from Pantai Tenggara is richly decorated with colorful plaques written with the refugees' names, social security numbers and dates they arrived. Outside the church, on a mass of cement shaped as a ship's bow, dozens of stone tablets commemorate all those who didn't make it over. Though refugees could reach Terengganu within days, the slow overcrowded boats were often attacked by pirates who, in ascending order of severity, robbed, raped, maimed and killed.
A short walk into the deep at Pantai Cina will lead to a small waterfall, said to be the favorite picnic spot of the refugees. It also served as their source of fresh water (when supplies run out) and a stopover after collecting wood at the nearby hills.
Today, the recovery is evident as the trees which were once cut down for firewood and building material have regenerated, although some scars - a reminder to visitors of the boat people - are still evident. While it has been said that the living conditions in makeshift tents for those who become refugees due to wars are deplorable, for the thousands of Vietnamese boat people who found refuge at Pulau Bidong it was, to some extent, likened to living in a tropical paradise.
The island has a spectacular backdrop ranging from various species of plants, trees and animals to clear waters surrounding it with a great view of the corals. Visitors are encouraged to join a guided tour for safety reasons because there are many "booby traps" in the form of abandoned wells about 20-metre deep dug by the Vietnamese for freshwater.
Though Bidong rarely appears in local holiday itineraries, it has been frequented either by returning Vietnamese or UNHCR volunteers. Some recent travelers claim that the island is haunted by spirits who died trying to get there - one lady recently claimed she heard something eerie issuing from one of the shop houses of the former boat people there. Whether that is fact or fiction is immaterial. If something is not done about Pulau Bidong, and soon, it will fast become nothing more than a ghost island.
The Vietnamese boat people may have faded from national consciousness, thankfully because the causes which led to such a disruptive human exodus have been dealt with. Peace and tranquility have returned to these idyllic spots in the South China Sea but Bidong will never be the same again. Similarly, some might choose to sweep this tragic story of Vietnamese refugees in Malaysia under the carpet and pretend nothing like that ever happened, but the boat people incident will always be part of Malaysia's modern history. Something should be done to retain the heritage of the boat people, once so controversially intertwined with the country's destiny. Pulau Bidong is like a gem in the South China Sea waiting for the right time for its potential to be realized.
* * * * *
Fact File
Getting There:
Pulau Bidong is off the coast of Terengganu and accessible via the Kampung Merang jetty, a 20-minute drive from Kuala Terengganu. It takes 30 minutes to reach the island by speed boat. For details on the Bidong Island Guided Tour Package, call Ping Anchorage Travel & Tours Sdn Bhd at 09-6262020.
* * * * *
---