Sapa adventure with motorbike
---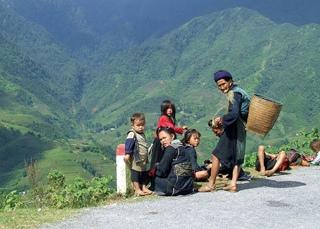 Sapa is a pretty town in the mountains of northwestern Vietnam near the Chinese boarder.
Originally built by the French as a medical outpost, the city is now full of minority people from the local mountains and one of the major tourist destinations of north Vietnam. On Friday, 19 September, Ben, his girlfriend Huyen, Ben's college friend Paul, and I set out for Sapa.
The first leg of the journey began on a night train to the boarder town of Lao Cai. We arrived in Lao Cai early Saturday morning and hired a shuttle to Sapa. Thanks to the infusion of tourist dollars and French planning, Sapa is a very pretty and well-designed town. The town sits on a saddle and overlooks two large valleys. Vietnam's largest peaks surround the town, and these are rugged mountains with significant elevation changes. Vietnam's tallest peak, Fansipan, is very close.
The first thing we did after checking into our hotel Sapa GoldSea was rent motorbikes. We rented three Honda Waves: one for me, one for Paul, and one for Ben and Huyen. Paul, who's an actor from LA, had never ridden a motorbike before. We weren't on the bikes for even two minutes before Paul drove his motorbike directly into the largest curb in Sapa. Apparently he was having difficulty turning and braking. Luckily Paul wasn't hurt, even though I was convinced that he was going to fly over the handlebars, across the sidewalk, and into the bushes. Ben and Huyen were already back at the hotel wondering where Paul and I were as 12 or 15 Vietnamese men surrounded us and shook their heads, saying to Paul, "you no drive motorbike good." The damage: the front tire was bent pretty badly. The total cost of the damage: 400,000 VND, roughly 25 USD. While his bike was at the shop, Paul hopped on the back of my bike and we left Sapa to visit some of the minority villages nearby. And Paul and I discussed how to drive a motorbike, which lead him to some success later in the trip.
The first village we came to was remarkable only because a sixty-foot section of the road through the village was comprised of one continuous rock. We parked our motorbikes and started walking through the town, but quickly realized that we weren't going to see much because each of us had three minority (H'mong, I think) women surrounding us saying, "You buy from me? Very cheap for you—good price." We retreated to our motorbikes and did a bit of shopping for hand woven textiles and silver jewelry, then took the road through town to the cave in the mountain.
Outside the cave stood six young boys carrying flashlights. After haggling with the boys, we rented four flashlights for 10,000 VND each and hired one of them to guide us through the cave. We had been hiking into the cave for 20 or 30 minutes when we made a startling discovery: This was a cave to China. Our guide told us that if you knew the way and had two or three days, the cave would dump you out in China. Needless to say, Ben, Paul, and I were ecstatic. A real tunnel to China? Amazing!
We left the cave and returned to our motorbikes to find them flocked with more minority women, again trying to sell us things. One of them lived a short distance from the cave's entrance and she invited us back to her house. We accepted. The house was a barn, except that people lived there too.
She kept pigs just outside the back door. We asked to see them and she proceeded to feed them corn. There were 12 or 15 pigs, mostly piglets, a few medium sized pigs, and a few big mommas. I asked Huyen, our official interpreter, what a pig costs in the local market. A big pig, one used for breeding, cost 50,000 VND, or roughly 3 USD. A medium sized pig, the best for eating, cost 80,000 VND, or roughly 5 USD. I suggested we buy an eating pig and hire the women to cook us lunch, but between Paul's protests and the realization that they wouldn't cook for us, we headed back to Sapa pigless.
That afternoon we picked up Paul's bike and headed into one of the valleys below Sapa. There we visited the ancient stone carvings. There not actually stone carvings, but some black rocks (basalt maybe) that poke up like sea monsters among the terraced rice fields. The scenery was beautiful. It was rice harvest time, so the rice field were light brown instead of rich green. To harvest rice, the locals cut the rice grass and lay it in bundles to dry. Once sufficiently dry, the bundles are beaten over bamboo baskets to knock the rice grains out. The rice grain is stuffed into huge sacks for transport to a machine that removes the husk from the grain. At this point the rice is ready for the market. The whole process relies heavily on manual labor, sickles, and water buffaloes.
We came back the hotel after an interesting trip day. Having dinner at The Golden Restaurant, we had a happy time to relax.
* * *
Further information about Adventure tours, you can visit:
Activetravel Vietnam
Activetravel Shop
* * * * *
---