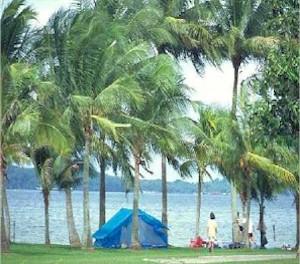 Image ©
Photo courtesy of National Parks Board, Singapore.
Singapore is sold abroad as a garden city. Alas, visitors only see the greenery of this beautiful city when they shuttle between airport and hotel or they abidingly visit the touristy places like the Botanical Gardens and the Mandai Orchid Garden.
Beyond the tourist places where beautiful blooms and well-kept lawns meet the eyes, Singapore boasts of many beautiful, serene and themed parks in the heartlands. Indeed, there are places in Singapore to while away the weekend instead of shopping and feasting - famous highlights of the Singaporean way of life.
Some of the parks featured here bear historical heritage and odd reminders of history past still stand in its grounds. The parks are built for exercising, recreation and social interaction and they are open to everyone. Strolling, walking, jogging, tai-chi, qi-gong, foot reflexology path, in-line skating, roller blading, cycling and kite-flying are but some of the activities that are allowed in the parks. A few of the parks feature amphitheatres where concerts are held and some have facilities for recreational fishing, camping and barbecues. Some of the parks are located near open seas and these offer excellent spots for fishing and swimming.
East Coast Park
One of the largest and most popular park in Singapore it is located south-east and covers an area of 151 ha. Food, recreation and entertainment centers abound making it one of the busiest parks where young and old congregate. The park is lit from 7:00 pm to 7:00 am.
Facilities: Food, recreation, entertainment, sports, holiday chalets, camping, picnics, sailing, swimming, cycling, fitness equipment, bicycle and skates rental kiosks, in-line skating, barbecue pits, bird sanctuaries, tennis courts, fishing and kite-flying.
West Coast Park
Spread over 50 ha, West Coast Park was built on reclaimed land in 1979. Touted as the "Play Centre in the West", the park boasts of facilities for the challenging and adventurous. The park is lit from 7:00 pm to 7:00 am.
Facilities: Adventure playground, bicycle obstacle course, fitness corner, exercise garden, foot reflexology path, bird cage trellis, sand play area, bird sanctuary, barbecue pits, tent pitching ground and in-line skating.
Pasir Ris Park
Developed on reclaimed land and located in the east, this 71 ha park is the third largest in Singapore. The distinguishing feature of this park is its carefully preserved 6-ha mangrove swamp. Birdwatchers delight in a 3-storey high observatory tower from where they can indulge in their hobby.
Created with children in mind, this park has one of the largest playgrounds. Its giant space-net, cableways, innovative play stations and a maze garden are guaranteed to provide hours of fun and laughter.
If food is uppermost in your mind after a day of fun and sun, then tuck in to barbecued seafood as well as western dishes prepared at reasonable prices. Alternatively BYO to barbecue. Camping is allowed in this park. The park is lit from 7:00 pm to 7:00am
Facilities: 14 ha children's playground, exercises, fitness stations, amphitheatre, barbecue pits, bicycle and skates rental kiosks, mangrove swamp, in-line skating, fishing, water sports, kite-flying, dining and nature walks.
Bishan Park
The 52 ha Bishan Park, distinctive with its lakes and bridges, colourful shrubs and lush greenery, provides a romantic setting for weddings. Young and old can be seen exercising daily in the park. The park is lit from 7:00 pm to 7:00 am.
Facilities: Cycling track, children's playground, fish/prawn ponds, shaded lawns, in-line skating and exercises.
Kent Ridge Park
Sited over 47 ha of land, this park is located in natural vegetation of secondary forests. Urbanites will benefit from a study of nature where many species of birds, creepy crawlies, flora and fauna call home. A stroll on the meandering trails will no doubt bring on déjà vu memories of past kampong days when Singapore was an undeveloped nation. The park is lit from 7:00 pm to 7:00 am.
Facilities: Fitness stations, exercises, nature trails, picnic grounds, ponds, bird sanctuaries, shelters and in-line skating.
Marina City Park
Stretched over 30 ha and located in the city, this park stands on reclaimed land. It was planned as a premier place of retreat for office workers and city dwellers.
The park boasts a spectacular two-tiered large pond with the fountain jetting up water 18- 20m high. Large open spaces cater to community events such as Family Day Carnivals.
To promote a culturally vibrant society, the park also boasts of contemporary and historical sculptures. The Constellation Plaza is a star gazer's delight as he traces the constellation during the evenings. The young are enthralled by the Sundial Plaza, a fun place to learn to tell time. The park is lit from 7:00 pm to 12:00 am, and from 5:00 am to 7:00 am.
Facilities: Sundial Plaza, Constellation Plaza, look-out point, pond, playground, fitness corner, exercising, in-line skating and kite-flying.
Telok Blangah Hill Park
This 34 ha park, themed "Recapturing the Past Splendour", has a history that goes as far back as the early 19th century. A distinctive symbol of the park is Alkaff Mansion - an elegant colonial bungalow built by an Arab trader. Today Alkaff Mansion has been restructured as a restaurant of fine dining and entertainment.
Many weddings and movie scenes have taken place atop Telok Blangah Hill Park. It is easy to understand why. A series of semi-circular terraces, wide open spaces, the majestic presence of Alkaff Mansion and a view of surrounding islands make the park a charming and popular destination. Locals gather to practise tai-chi and to jog. The park is lit from 7:00 pm to 7:00 am.
Facilities: Exercises, bird singing area, shelters, nature trails, fitness corner, foot reflexology path, picnic tables, water cooler and fine dining at Alkaff Mansion.
Changi Beach Park
Changi Beach Park, an area of 52 ha, is located in the east. Being one of the oldest coastal parks in Singapore, it holds historical remnants. The old harbour and the pedestrian bridge across Sungei Changi had remained unchanged since World War II. The swaying coconut palms are reminiscent of the coconut plantations that were there in the 1800s. The park is lit from 7:00 pm to 7:00 am.
Facilities: Beach, picnic grounds, swimming, water sports, dining, barbecue pits, overnight camping and play equipment.
Fort Canning Park
Located close to the Registry of Marriages, this park is the backdrop of many wedding pictures. It is 19 ha in size and is a historical heritage. Known previously as Central Park, it used to be the residence and office of Sir Stamford Raffles in 1819. Other historical relics include Keramat Iskandar Shah (venerated by Muslims and believed to be the ancient tomb of the last Malay King), the 19th century Fort Gate and the underground operations bunkers of the Far East Command Centre. It was in this "Battle Box" that Lt-Gen Percival made the decision to surrender to the Japanese in 1942.
Interpretative plaques and signboards installed along the history trail give visitors a better understanding of the key historical features of the park.
Spice Garden, landscaped to represent a small replica of Raffles' original 19-ha experimental and botanical garden, is planted with clove and cinnamon and education tours are conducted. The park is lit from 7:00 pm to 7:00 am.
Facilities: History trails, trekking, picnics, function halls, outdoor performance areas, drink machines, dining and bird watching.
Labrador Park
Another of Singapore's historical park, this park measures 16.8 ha. It is famous for its World War II relics and bunkers.
The park offers picturesque views of the sea and a rich variety of flora and fauna. Fishing enthusiasts will find like-minded buddies at the sea walk along the promenade. The park is lit from 7:00 pm to 7:00 am.
Facilities: Beach, fishing, barbecue pits, jogging track, shelters, nature trails, aerial staircase, cycling paths, children's playground, fitness corner, bird watching and kite-flying.
Bukit Batok Nature Park
This 36 ha park was developed on an abandoned quarry site in 1988 and is the backdrop for several local movies. The high look-out points give visitors an absorbing and breathtaking view of Singapore and its surrounds. The park is lit from 7:00 pm to 7:00 am.
Facilities: Nature walk, exercises, high look-out points, a picturesque 1.2 ha deep pond (a relic from the old mining days) and a historical memorial erected by the Japanese during the Second World War.
Bedok Reservoir Park
As the name implies, this 41.7 ha park is built around the picturesque and serene Bedok Reservoir. The park teems with joggers both in the early mornings and evenings. It is used frequently for community events such as school sports day. The park is lit from 7:00 pm to 12:00 am and from 5:00 am to 7:00 am.
Facilities: Jogging track around a reservoir, children's playground, fitness stations, jogging track, cycling and resting pavilions and landscaped mini-gardens.
Sembawang Park
Sembawang Park, 15 ha, is beautiful with its rolling lawn, undulating terrain and matured vegetation. It sits on a piece of land formerly occupied by the British Forces. Beaulieu House, the former home of the then Admiral Beaulieu has since been restored. The park is shaded by Tembusu trees and is ideal for strolls, jogs and picnics. Besides joggers and strollers, fishing enthusiasts gather at the 30-m jetty at the sea front and swimmers go for a dip in the sea. The park is lit from 7:00 pm to 7:00 am.
Facilities: Beach, barbecue pits, children's playground, foot reflexology path, 1.5 km footpath, in-line skating, boating, camping, cycling, fishing, exercising, kite-flying and sea sports.
Punggol Park
Situated over 16 ha, this park was built with the family in mind. The park themed "Family Leisure" has facilities aplenty for both young and old. There is a plaza area for tai-chi and a community corner for relaxing.
The park is lit from 7:00 pm to 12:00 am and from 5:00 am to 7:00 am on weekdays and from 7:00 pm to 7:00 pm on weekends and public holidays.
Facilities: Pond, 1.3 km jogging track, play equipment, fitness equipment, waterfall, bicycle rental-cum-refreshment kiosk, shelters, in-line skating, cycling, exercises and kite-flying.
* * * * *
Fact File
Foot Reflexology
Foot reflexology, a natural health method practised by the ancient Chinese, is based on the principle that our nerves or zones end at the bottom of our feet. When pressure is applied to a certain point on the bottom of the foot, energy is sent to the corresponding area in the body to heal.
Tai-chi and Qi-gong
Tai-chi, an ancient Chinese art, consists of a set of slow and graceful movements, known as a form.
Qi-gong is a formulated set of movements and balanced breathing. As with tai-chi, Qi-qong's slow movements help to stimulate the internal organs, by promoting the flow of internal energy called qi. Qi is the fundamental energy force contained in all things.
Both these ancient Chinese art forms are now practiced worldwide as exercises to relax, reduce stress and for healing.
* * * * *
---