Such Stuff As Dreams Are Made On: An Interview With Japan Shakespearean Actor Dwayne Lawler
---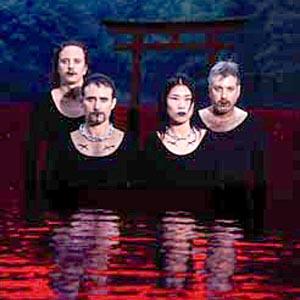 Image ©
2003 Dwayne Lawler
"I dare do all that may become a man;
Who dares do more is none."
-Macbeth, Act I, Scene VII
To what length will a devotee of the Bard go in pursuit of a venue in which to tread the boards? In Dwayne Lawler's case, all the way from Sydney, Australia to Nagoya, Japan. Moreover, this intrepid young thespian has even dared to mount his own production of Macbeth, boldly adapted for contemporary Japanese audiences, yet still using Shakespeare's original script in Elizabethan English. O brave new world!
Originally set in Scotland at the beginning of the second millennium, this supernatural tale of bewitchery, ambition and treachery is considered by many scholars to be Shakespeare's darkest play. So dark, in fact, that some consider it cursed, and refuse to utter the name of Macbeth in the theater, referring to it instead as "The Scottish Play." Yet Dwayne Lawler chose it, in part, for that very reason.
"One of the reasons I chose Macbeth is because for years I avoided doing it, as I was afraid of 'the curse.' Now I believe that the best way to overcome your fears is to confront them. However, I most certainly do, as do my actors, adhere to the tradition of only referring to it as 'The Scottish Play.' Just as I believe that every theatre has a ghost, I also believe that you should continue the tradition of referring to Macbeth as "The Scottish Play" whenever you are in a theatre."
He goes on to say, "I have always been fascinated with the character of Macbeth, more so because of his weaknesses than his strengths. The great challenge for an actor playing Macbeth is to make the audience like him, despite all the dreadful acts he is involved in. Historically, there have been definitive performances of Hamlet, Richard III and Lear. However, no one actor has truly done the definitive performance of Macbeth. First and foremost I am an actor, and this is what makes Macbeth so appealing to me.
Regarding casting himself in the role of Macbeth, Dwayne says, "An actor can measure his life in Shakespearean roles. Being in my thirties, I am a little too old to play Romeo, could still get away with Hamlet, am thankfully too young for Lear, but am about the correct age for Macbeth. The original anti-hero, Macbeth is a role that any actor would cherish."
Curriculum Vitae
"Men at some time are masters of their fates:
The fault, dear Brutus, is not in our stars,
But in ourselves, that we are underlings."
-Julius Caesar, Act I, Scene II
Dwayne Lawler was born in Sydney, Australia, the son of a horse breeder, and a mother trained in the classical arts. "My mother was a classical musician and my father owned racing horses," says Dwayne. "My mother loved music and theatre while my father had no appreciation of either. Although my mother played violin with the Queensland Symphony Orchestra, I never learned to play."
"We also had a kangaroo," he says.
"My passion for Shakespeare began in Australia when, as a teenager, I was cast as Lorenzo in a production of The Merchant of Venice. Being my first real acting experience, I felt as if I had been pushed into the deep end of the acting pool. I quickly learnt how to swim and loved every minute of it."
As a result of that experience, when it came time to choose a college major, Dwayne made an impromptu choice that would eventually shape his destiny. "I was originally accepted into a Law/Japanese double major degree at Griffith University on the Gold Coast, Queensland," says Dwayne. "But in a last minute decision, I switched to Japanese and Drama. I was the only student at my university enrolled in both subjects. Although it was an unusual combination, in retrospect, I believe that it prepared me well for what I am doing now."
Dwayne earned his Bachelor of Arts in Japanese, and is currently working on a thesis for a Master of Arts in International Education through Monash University in Melbourne, titled "Staging Macbeth in Japan: The Chameleon Approach."
Dwayne has also devoted years to studying acting, both during his university days, and in private lessons. "My fondest memory of those early years was as a student of legendary actress, Babette Stephens A.M. O.B.E., (awarded for her services to theatre) who was a strict disciplinarian from the 'old school' of acting. As part of my training, I was expected to stand for up to four hours a day, reciting lines from Shakespeare. Mrs. Stephens (never Babette!) would often say, 'If you want to work in the theatre you will have to get used to standing!' How right she was."
"I used to dream of the perfect teacher and when I met Mrs. Stephens it was a dream realised. When she passed away, I was in Japan and hadn't maintained contact with her for a couple of years. After reading about her death on the Internet, I immediately flew home for the funeral. There was a sign at the front of the church that read 'Full House.' She would have liked that. I miss her dearly."
In addition to studying acting at university, and with Babette Stephens, Dwayne also studied singing with Ms. Ruth Gerner, who, at one time was understudy to New Zealand opera singer Dame Kiri Te Kanawa. "I enjoy singing," he says. "But I don't have the same passion for it as I have for acting."
"Apart from being an actor," he adds, "I have also worked as a water-ski show announcer, and once co-announced with Japanese celebrity Obayashi Motoko, a New Year's Eve water-ski show, broadcast live to Japan for Fuji TV. Other 'non-acting' jobs I have held are public servant and corporate video presenter."
Dwayne recalls, "A fond memory for me as an actor was actually receiving a rejection letter from Geoffrey Rush (of "Shine" fame), thanking me for auditioning for a production of Shakespeare he was directing. Although, it delivered bad news, it was the most polite and kindly letter I have ever received from anyone in the profession."
"A great honour for me," he adds, "was to be asked by Australian writer Jay McKee to contribute to the biography he is currently writing about Babette Stephens. Famously known as 'The Queen Mum of Brisbane Theatre' she was the most significant person in my life and I was officially her last student."
Dwayne now lives in Japan, near the city of Nagoya in Central Honshu. "I have been in Japan for about four years," he says. "I have lived in Fukuoka and Hiroshima, but for the last couple of years I have lived in Toyohashi City in Aichi prefecture. Actually, this is my second time in Japan. The first time I came here was in 1989 where I studied karate in Shizuoka. I stayed for 18 months and lived in several places, including Tokyo and Okinawa, which was, and still is my favourite place in Japan."
Dramatis Personae
"All the world 's a stage,
And all the men and women merely players.
They have their exits and their entrances;
And one man in his time plays many parts"
-As You Like It, Act II, Scene VII
Rising Sun Theatre is a professional theatre troupe that specializes in presenting the works of William Shakespeare. Dwayne Lawler is its founder. Dwayne worked in the theatrical and television industries in Australia for over a decade before relocating to Fukuoka four years ago to teach drama. He is a member of the Shakespeare Society of Japan, and is both producer and director, and will also take on the role of Macbeth.
Throughout his theatrical career, some of the roles that Dwayne has previously been cast in are Sir Dinadan in Camelot, The Gentleman Caller in The Glass Menagerie, King O'Malley in The Legend of King O'Malley, Corporal Ralph Cooper in Live at the Trocadero, Richard The Lionheart in The Lion in Winter, Reverand T.Lawrence Shannon in The Night of The Iguana, and Heathcliffe in Wuthering Heights. Dwayne's most recent role before moving to Japan was as The Un-Cucumber Man in The Un-Cucumber Man at the Twelfth Night Theatre, Brisbane. Dwayne has also appeared in "The Body" a short film directed by Tim Wade and the television series, "Paradise Beach" for Channel 10 studios, Gold Coast. In Japan, Dwayne has worked as a voice and drama tutor, appeared in television commercials and has also narrated several promotional videos for the city of Toyohashi.
Lady Macbeth will be played by local actress, Noriko Kashiwakura who studied acting in New York and acted with the Pan Asian Theatre Company before returning to Nagoya as a newsreader for local radio station, Radio i. The other members of this talented cast hail from Australia, the UK, Canada and Germany.
Macbeth as Metaphor in Modern Japan
The lunatic, the lover, and the poet
Are of imagination all compact.
--A Midsummer Night's Dream, Act V, Scene I
Historically speaking, according to Dwayne Lawler, "Macbeth is the last of Shakespeare's four great tragedies, the others being Hamlet, King Lear and Othello. The shortest of Shakespeare's plays, it was most likely written in 1606. It is loosely based on Ralph Holinshed's "Chronicles of England, Scotland and Ireland" (1577). Other reported sources were Reginald Scot's "Discovery of Witchcraft" and "Daemonologie" by King James I. There was a King Macbeth that, after killing King Duncan in 1040, ruled Scotland for seventeen years. Macbeth, which means 'Son of Life,' was in fact, his Christian name, not his surname. As a surname, it would have been written as 'MacBeth'. Although Macbeth was married, there is no evidence to suggest that Lady Macbeth played any part in the killing of Duncan. Macbeth was eventually defeated in battle by Duncan's son, Malcolm and was later killed by Macduff, the Thane of Fife, in retaliation for the killing of his family by Macbeth a year earlier."
"It is widely believed that Macbeth was written for James I (Shakespeare's patron) and performed by the King's Men during a visit by the King of Denmark in 1606. James I was an ardent fan of theatre, with more than a passing interest in witchcraft. The major characters in "Macbeth" are historical and the story is largely about King James' ancestors, both real and imagined."
In a concise synopsis, Dwayne says, "Macbeth is a play of five acts. Act I is the temptation of Macbeth by The Three Witches. Act II is the murder of Duncan. Act III is the downward spiral into madness as Macbeth kills Banquo. In Act IV, Macbeth reaches bottom and murders Macduff's family. Act V is the retribution, wherein Macbeth pays for his sins."
However, Dwayne describes Rising Sun Theatre's inaugural production of Macbeth as, "A unique interpretation of Shakespeare's macabre masterpiece, with influences ranging from Noh theatre to martial arts and dance. The set is an enormous torii, which is a gate or entrance to a Shinto shrine (Shinto is Japan's indigenous religion). Using a technique I call 'The Chameleon Approach,' I have adapted the production to suit the Japanese environment. I wanted a spiritual symbol unique to Japan and a torii seemed the natural choice. The Japanese influence is also apparent in the costuming," he continues. "All the actors wear hakama."
"The history of the hakama is quite interesting. Its original use was as protection for a samurai's legs when riding a horse. The hakama has seven folds in it and each fold has a symbolic meaning. They are: yuki (courage), jin (humanity), gi (integrity), rei (obedience), makoto (honesty), chugi (loyalty) and meiyo (honour). These meanings may not be apparent to most Japanese. However, they are significant to my production, and affected my decision to use the hakama as part of my costuming.
Further Japanese influences are the use of Noh masks for The Three Witches and the adoption of Japanese customs such as bowing and sitting in seiza (a kneeling position). The Three Witches' costumes, in particular, are a sinister combination of Japanese and Western demonic imagery. However, I made a conscious decision not to use samurai swords, as I didn't want to stereotypically 'Japanize' Shakespeare."
According to Dwayne, his production of Macbeth in Japan has taken on a life of its own. " I originally intended to present a very westernised production of Macbeth," he says. "However, as time has passed the Japanese influences have naturally seeped in. Had I done this production in Australia, I am certain I would not have used any of the concepts presented above. This aspect of adapting a production to suit its environment, what I call 'The Chameleon Approach,' is something I am interested in investigating."
As a result, Dwayne's production design is starkly unique. "I have always been fascinated with black and white movies, and was more than a little disappointed with the phenomenon of colorisation. In this production, I have tried to combine the dramatic effects of black and white cinema with the spontaneity of live theatre."
They say that we dream in black and white. If so, Macbeth is in the midst of a nightmare with no clear beginning or end. Through the use of stark lighting and black and white costuming, Dwayne Lawler has created a monochromatic world. "Essentially, it is colourless, much like Macbeth's soul. A place where spirits and demons dwell, where time is irrevelant and, 'nothing is but what is not.'"
Inspired by the masters of old, Lawler uses simple theatrical techniques to create the special effects required for a production such as Macbeth. "Directors like Orson Welles and Kurosawa Akira could create truly magnificent effects with a simple camera angle," he says. "It's all about illusion."
Shakespeare in Hell
"Though this be madness,
yet there is method in 't."
- Hamlet, Act II, Scene II
According to Dwayne Lawler, "Theatre, like all forms of entertainment, needs to evolve. Hence, Rising Sun Theatre's innovative method of combining Shakespeare's dialogue with music. The intelligent linkage of Shakespeare's words to the thrashing rhythms of death metal by the band "Shakespeare In Hell," creates an atmosphere in the theatre that is more akin to a rock concert than a play.
Based in New Orleans, Shakespeare in Hell takes the words from Shakespeare's darker plays and sets them to music. "Personally, I love what they do," says Dwayne. "I am most grateful to them for letting me use their music."
According to their website, "Shakespeare in Hell was formed in late 2000 by Kevin Kish and Keith Guillory, ostensibly for a school project. This project has now evolved into one of New Orleans' newest and most interesting heavy metal bands. Shakespeare in Hell takes a traditional approach to metal songwriting and combines it with the technical precision of progressive metal and the extreme vocal attack of death and black metal. Against this sonic stage the band sets the darkest plays of William Shakespeare, delivering lyrics that are taken verbatim from the original Elizabethan text."
Dwayne goes on to say, "Our signature method of presenting Shakespeare with music is a serious attempt to mainstream the Bard's works."
The Gauntlet
"Our doubts are traitors,
And make us lose the good we oft might win,
By fearing to attempt."
-Measure for Measure, Act I, Scene V
To quote Rising Sun Theatre's press release, "In a frenzied blood fest of Shakespearean brilliance, Rising Sun Theatre throws down the gauntlet and enters the theatrical arena of Japan, to take on all challengers."
When asked to describe the challenges unique to presenting Shakespeare in Elizabethan English to a Japanese audience, Dwayne answered, "Presenting Shakespeare in Japan is as much a challenge as presenting anything foreign in Japan. The reason I founded Rising Sun Theatre was because I felt there was a need for professional English language theatre here. Shakespeare is highly respected in Japan, and his tragedies hold special appeal to the Japanese. My favourite film version of Macbeth is Orson Welles production. Yet, I was fascinated by Kurosawa's substitution of The Three Witches for a wood spirit spinning a wheel in "Throne of Blood". I know of two other Japanese directors, Ninagawa Yukio and Suzuki Tadashi who regularly present Shakespeare (in Japanese) both here and abroad. However, to the best of my knowledge there is no professional English language theatre group in Japan that utilizes talent that is already here and in that respect, I consider myself to be somewhat of a pioneer."
"When I first decided to do Macbeth," he continues, "I had no idea how much of an influence Japanese culture would have on the production. I was determined to cast a Japanese actor as one of the leads and was fortunate enough to find Noriko Kashiwakura, a fine actress who can speak English fluently. I had pondered doing at least some of the show in Japanese. However, after seeing a Japanese language production of Macbeth, I realised that part of the magic of Shakespeare is the fact that it is written so beautifully in English. The translation into Japanese loses some of that magic. In my production, Lady Macbeth, in her opening scene, holds a wara ningyo while chanting her lines in a Buddhist style. The wara-ningyo is a Japanese version of the Haitian voodoo doll. It is very difficult to buy one of these dolls in modern Japan. Therefore, I have resorted to making one from drawings."
Regarding his bold interpretation of Macbeth, Dwayne remarks, "What I am doing may be seen as experimental or avante garde theatre. I will admit, some of the scenes in the play are quite disturbing and even brutal, and I have had people watch some of the rehearsals and quite literally been shocked by what they saw. There are certain scenes in the production which may be seen as culturally-insensitive. However, I never intentionally set out to make them offensive. Rising Sun Theatre is about pushing the boundaries, presenting theatre and particularly Shakespeare, in a way that hasn't been done before. "
Treading the Boards
"I have no spur to prick the sides of my intent,
but only vaulting ambition, which o'erleaps itself."
--Macbeth, Act I, Scene VII
Rising Sun Theatre presents Macbeth, directed by and starring Dwayne Lawler for one night only at the Aichi Arts Center Mini Theater in Sakae, Nagoya city on Saturday, October 4th, 2003. The show starts at 7:00pm (doors open at 6:30pm). Tickets are 4500 yen, non-reserved and available from the Box Office on 052-972-0430 (Japanese). For information about the production call 090-3562-6533 (English).
When asked why his debut production is limited to only one performance, Dwayne explained, "The reason the production is only one evening is because in Japan you have to book a year in advance, and a year ago there was only the one evening available. I am planning to do the same production throughout Japan." Future performances are planned for Shizuoka, Osaka, Kyoto and Tokyo.
Toward the Horizon
If you can look into the seeds of time,
And say which grain will grow and which will not,
Speak then to me.
-MacBeth, Act I, Scene III
Of his bold production, Dwayne Lawler says, " I am at a point now where I can no longer look at the production in an objective manner. It has quite literally become an obsession, something that I think about all day, and regularly dream about at night. I sincerely believe I am on the edge of doing something historical here in Japan. This is the last frontier for English language theatre and I am determined to see how far I can explore it."
* * * * *
---