'Woman in the Dunes' Osaka-Style Japanese Menu
---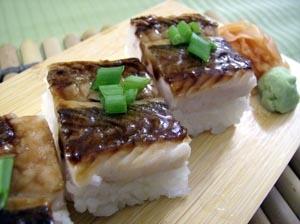 Image ©
2008 Celeste Heiter
This Osaka-style menu features a rich and savory array of dishes that includes a light cucumber and baby octopus salad, fried baby octopus tentacles, golden crab cakes, pressed sushi, grilled beef and chicken teriyaki skewers, octopus dumplings, plump udon noodles topped with golden fried tofu, and okonomiyaki vegetable and seafood pancakes.  
Tako Tsukemono
4 baby octopus
1 cucumber, thinly sliced
1/3 cup rice wine vinegar
1 teaspoon sugar
In a large saucepan of water, boil baby octopus until tender, about 40 minutes. Set aside to cool. Dissolve sugar in rice wine vinegar and set aside. When octopus are cool, trim away and discard the heads, and separate the legs into individual tentacles. Combine octopus tentacles and cucumbers in a container with a tight-fitting lid. Add sweetened vinegar and toss to coat. Refrigerate for 4 hours, or overnight, turning occasionally to ensure even marinating. Serves 4.
Fried Octopus
8 baby octopus
1 cup flour
1 cup dashi or water
1 egg
1 teaspoon salt
Vegetable oil for frying
Ponzu for dipping
Trim away and discard the heads of the octopus and divide legs into individual tentacles. In a mixing bowl, combine flour, dashi or water, egg and salt and stir thoroughly. Add octopus tentacles to the batter and toss to thoroughly coat. In a large skillet, heat about 1/2 inch of vegetable over medium heat. When a drop of batter sizzles, the oil is ready. Fry battered octopus until golden brown. Drain on paper towels and serve with ponzu. Serves 4.
Crab Cakes
1/2 pound lump crabmeat
4 scallions, thinly sliced
1 egg
1 teaspoon salt
1 cup panko (more if needed)
1 lemon, cut into wedges
1 bottle Kewpie (Japanese mayonnaise)
Combine crabmeat, scallions, egg, salt, and 1/4 cup of panko in a mixing bowl. Stir to thoroughly mix. Divide the mixture into 12 even portions and shape into croquettes. Dredge the croquettes in the remaining panko to evenly coat the outside. In a large skillet, heat about 1/2 inch of vegetable over medium heat. When a panko crumb sizzles, the oil is ready. Fry crab cakes until golden brown, turning once to brown on both sides. Drain on paper towels and serve with Kewpie and lemon wedges. Makes one dozen.
Teriyaki Sauce
1/2 cup honey
1/2 cup soy sauce
1/4 cup mirin
2 cloves garlic, finely minced
1 knob ginger root, finely shredded
1/2 teaspoon sesame oil
2 tablespoons cornstarch
1/2 cup dashi or water
In a small saucepan, combine honey, soy sauce, mirin, garlic, ginger, and sesame oil. Bring to a simmer over medium heat. Reduce heat, cover and simmer for about 15 minutes, stirring frequently. Allow to cool, and strain through a fine sieve to remove ginger and garlic particles. Return sauce to the pan and bring to a simmer again. Dissolve cornstarch in dashi or water and add to sauce. Stir constantly until the sauce is thickened. Sauce may be used to brush on meats, sushi, etc.
Oshizushi
4 cups rice (medium grain, cooked)
1/4 cup rice wine vinegar
2 tablespoons sugar
1 teaspoon salt
1 pound flavorful fish (mackerel, eel, catfish, salmon etc.), thinly filleted, skin intact
Teriyaki sauce (see recipe above)
1 Oshiwaku (sushi mold)
Prepare rice according to directions. Combine vinegar, sugar and salt in a small saucepan over medium heat. Allow to cool. When rice is done, transfer to a large, shallow bowl. Pour vinegar mixture evenly over the rice and stir gently to mix. Use a paper fan or a sheet of cardboard to fan the rice for five to ten minutes, stirring occasionally for even cooling. Cover rice with a clean kitchen towel and allow to cool to room temperature.
Heat oven broiler to 500 degrees. Place fish filets on a baking sheet and broil until skin is golden and crispy. Remove from oven and allow to cool. Evenly pack the oshiwaku sushi mold with a 1-inch layer of rice. Top with a layer of fish, skin side up. Tightly press the sushi with the oshiwaku lid. Remove the mold and slice the block of pressed sushi into five even pieces. Brush fish with teriyaki sauce. Repeat with remaining rice and fish. Makes about 20 pieces.
Yakiniku
1 pound boneless beef sirloin or tenderloin
1 pound boneless chicken breasts
Teriyaki sauce (see recipe above)
Bamboo skewers
Heat oven broiler to 500 degrees. Slice beef and chicken into 1-inch strips and arrange on bamboo skewers. Brush with teriyaki sauce and place on a baking sheet or grill pan. Broil for 3 to 5 minutes per side, until meat is done all the way through, brushing several times with more sauce. Yakiniku may also be cooked on an electric grill or outdoor barbeque. Makes about two dozen.
Takoyaki
For this recipe, you will need a special takoyaki pan with half-round indentations to shape the takoyaki into balls. They're available on Amazon.com.
Batter:
1 cup flour
1 cup water or dashi (see recipe below)
1 egg
Filling:
3 baby octopus, boiled and chopped
4 scallions, thinly sliced
2 tablespoons beni shoga (red ginger)
Vegetable oil for frying pan
Toppings:
Bonito flakes
Kewpie mayonnaise
Takoyaki sauce
Combine batter ingredients in a large measuring cup. Assemble filling ingredients and toppings nearby. Brush takoyaki pan with vegetable oil and place over medium heat. Fill each indentation with batter about halfway. Add about a tablespoon of filling ingredients, fill the indentation to the top with batter, and fry until the bottom sides are golden. Using bamboo skewers (a fork will also do), gently turn the takoyaki balls over to brown on the other side. Don't worry if the process is a little messy, they don't have to be perfect. However, be careful not to brown the outsides too quickly, so that the insides have time to cook all the way through. When the takoyaki are done, transfer to serving plates and top with a drizzle of takoyaki sauce and mayonnaise, and garnish with bonito flakes. Makes about a dozen.
Kitsune Udon
4 ounces firm tofu (NOT silken)
Vegetable oil for frying
4 servings udon noodles
6 cups dashi (see recipe below)
1/3 cup soy sauce
2 tablespoons mirin
2 scallions, thinly sliced
Heat about 1/2 inch of vegetable oil in a skillet over medium heat. Slice tofu into four pieces. Fry tofu slices until golden brown and drain on paper towels. Combine dashi, soy sauce and mirin in a large saucepan, bring to a simmer and cook udon noodles until tender. Transfer noodles and broth to individual serving bowls, top with fried tofu and garnish with scallions. Serves 4.
Okonomiyaki
"Okonomiyaki" means "grilled as you like it" in Japanese. The foundation of okonomiyaki is a basic pancake batter and a large mound of finely shredded cabbage. The other ingredients may vary according to individual taste.
Batter:
1 cup flour
1 cup water or dashi (see recipe below)
1 egg
Non-stick cooking spray
1 large package shredded cabbage or cole slaw mix (about 8 cups)
Additional Vegetables May Include:
Finely sliced green onions
Coarsely grated carrots
Julienne zucchini
Thinly sliced mushrooms
French cut green beans
Fresh bean sprouts
Diced tomatoes
Firm tofu cubes
Bay shrimp
Chopped ham
Bacon bits
Garnishes and Toppings:
Okonomiyaki sauce (substitute A-1 steak sauce)
Kewpie mayonnaise
Pickled red ginger (beni shoga)
Dried bonito flakes (kazuo)
Dried seaweed flakes (nori)
Combine flour, water and egg in a large mixing bowl. Add shredded cabbage and other vegetables and stir to thoroughly mix. Oil the griddle or pan with non-stick cooking spray and heat to medium temperature. Divide batter and vegetables into four portions and pour the mixture onto the griddle in large mounds. If using a skillet, cook each okonomiyaki separately. Allow okonomiyaki to cook until golden brown on the bottom. Using two spatulas, carefully turn the okonomiyaki over to brown on the other side. When okonomiyaki are browned on both sides and done in the center, remove from the pan to a cutting board, cut into wedges, and transfer to serving plates. If you like, drizzle with okonomiyaki sauce and mayonnaise. Serve with pickled red ginger, dried bonito flakes and dried seaweed flakes. Serves 4.
Basic Dashi Recipe
Two quarts of water
One 6" piece of dried konbu (dried sea kelp)
One cup of katsuo (dried bonito shavings)
Rinse or wipe the dusty coating from the surface of the konbu and place in a large kettle with two quarts of water. Bring to a boil and simmer for about 5 minutes. Remove and discard the konbu, add the katsuo and bring to a boil again. Remove the pan from the heat and allow it to cool. Strain the liquid into a separate container and discard the katsuo. The remaining liquid is called dashi and can be used as a base to make a wide variety of soups and sauces.
---