Alternative Destinations in Thailand
---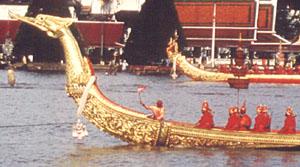 Vacation time has taken on a budget-style face over the past 10 years as the world has tightened its belt against the threat of financial recession, yet at the same time vacationers yearn to travel farther and see more for their money. Bargains appear as airlines and hotels try to fill their vacant spaces but holiday-makers search for value for money and require a bonus for their hard earned currency.
Destinations once considered out of price range have become affordable. That is value for money. The bonus is being able to use the allotted budget to see more and do more upon reaching the chosen new destination. This need has created a new version of an old trend - the alternative traveller - the vacationer who prefers to travel and discover a feel for the surroundings rather than spend time at a chosen resort.
A semi-self-sufficient budget traveller in search of something different: this is no more prevalent than in Thailand.
Prepared to find new experiences in lieu of some (but not all) creature comforts, the new alternative traveller has a wealth of choice within the Kingdom. From the adventure-type outdoor activities of trekking, rafting, mountain biking, sea canoeing, diving or off-road motorcycles to more relaxed Crusoe-style deserted islands or treehouse living, Thailand provides a phenomenal cross section of alternatives. Certainly the major tourist attractions and destinations are not forgotten but the visitor is now tending to look further afield to find the "real" Thailand.
That, of course, lies in the provinces and with the welcoming nature of the Thai people.
Guest house accommodation has increased dramatically in the provinces while Bangkok has become inundated with new mini-hotels catering to the middle of the road budget traveller.
Former secondary destinations such as Hua Hin, Chiangrai, Krabi and Kanchanaburi are now becoming bases for side trips to the more known locales such as Chiangmai, Phuket and the capital. National Parks also head an ever- growing list of "new" destinations.
Accessible from Hua Hin is Kaeng Kracharn National Park (Thailand's largest at 3000 sq km) with its lakeside cabins and houseboats. The park borders Myanmar and this is thick jungle. Even day-trippers can experience the wilderness by taking the park's only road some 33 kilometres to Tho Tip where a 2-3 hour forest hike will bring them to an 18 tier waterfall. If you don't wish to hike, private operator's boats take escorted reservoir tours or longer excursions up the many rivers within the park, some taking several days and encroaching deep into the rainforest. Phanern Tung Mountain and Khang Kaew batcave are but two of the many park highlights.
Remote areas of the park nearer to the Myanmar border require experienced guides when trekking. For the adventurous, this gives a satisfaction lacking with Northern Thai treks. Quite simply, there is more to be seen and there are less people doing it.
The real bonus is the abundance of wildlife that can be found there including tigers, elephants, mouse deer, leopards, tapir, gibbons, sun bear and black bear. A huge cross section of birdlife including many thousands of hornbills habitate the park; quite a boast when only 3 hours by road from Bangkok, and certainly more of a contrast to its sister park, Khao Yai, 3 hours north from the capital and the 2nd largest of Thailand's parks.
Again, the adventurous may head to Khao Soke National Park situated in the hill ranges splitting the isthmus of Kra between Phuket and Surat Thani. It's more adventurous in that it is further from the capitol and access is more difficult. Upon arrival, one may choose to stay in a riverside cabin or a treehouse!
With lush jungle surroundings and the sound of baboons as a morning wake-up call it is a far cry from the city sounds. Accommodation is far from sparse although the treehouses tend to be popular at approximately bht 600 per night. Cabins can run from bht 700-1800 depending on size.
Back closer to Bangkok and near to Hua Hin, the silhouetted, jagged peaks of Sam Roi Yot National Park are only an hour away from the Royal Resort on the road south. Frequented mainly by day visitors, the major attraction is the Praya Nakorn cave with its decorative shrine. The cave is accessible through a 20 minute boat trip plus a steep cliff climb. The cave is not the only attraction and government-owned cabins are pre-bookable for those wishing to stay at the many scenic beaches. As ever, the alternative traveller will find that leaving the beaten track provides satisfaction in both location and value for money. Cabins here can cost as low as bht 600 per night depending on seasonality. The Brit-owned Dolphin Bay Resort, near the entrance to the park, also offers good accommodation starting at around bht 1000 per night/room.
Further south at Bang Saphan Yai, Suan Luang Resort and the more decorative Coral Hotel provide a real beachcomber's getaway. Situated in the 100 kms of coconut groves between Prachuap and Chuphon, there is little to do but relax or take an excursion to the local waterfalls and goldmine. In season, diving excursions to Ko Tao (not the Samui one) are very rewarding. Rooms here cost bht 600-1800 depending on fan/air and size.
In Southern Thailand, travellers are beginning to "discover" the birdlife and wildfowl reserves around Songkhla Lagoon and Phattalung, not least the Ko Khut reserve with its Irrawaddy dolphins.
In the North, with the opening of the Laos border at Chiangkhong, travelling the Mekong is a flourishing trade along with the now more accessible archaelogical dig at Udon Thani and the walk up Phu Kadung mountain in Khon Kaen.
While the world's "green" conscience is drawn to these protected areas, national parks are, of course not the only alternative destinations. Many of Thailand's small provincial towns are achieving prominence on the traveller's map, themselves becoming the secondary destinations that were once Hua Hin, Chiangrai etc.... The old adage of " been there, done that" is turning full circle as the alternative traveller seeks to exclaim "went there, found that"
---