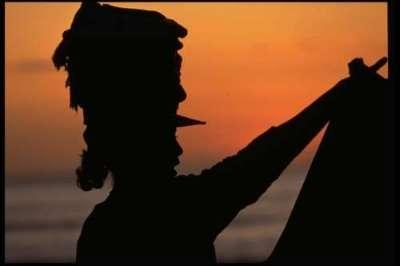 In this village called Secardadi, I am photographing gateways - the rows of big and colourful porticoes for which the place is famous. Groups of men in ceremonial garb gather by the roadside. A clamour of gongs announces something grander on the way - a parade. Down the road they come - men only - in golden satin blouses, chanting as they pass. Soon ladies in iridescent costumes, pyramids of fruit set prettily on their heads, file into view. Their seeming aloofness dissolves with the broad smiles they give you as they pass.
"There is an offering at the temple here tonight," Ketut, my guide, explains in reverent tones. "They will celebrate through the night."
There would be offerings like this all over Bali on these days. This was the time of the full moon (as if I hadn't noticed), a time of thanksgiving, and I would be there for it all - Bali serendipity, I told myself.
I remembered being here some twelve years ago, at a different time of year. Then as now there were ceremonies you couldn't help but stumble into - a funeral, a barong (theatrical dance), a commemorative celebration at a temple. Time spent in Bali is time spent immersed in the culture and religion of the place. Here Hinduism is an all pervasive thing. Like the thickly tangled foliage, it seems to spring right from the earth. Its temples are everywhere - elaborate archaic places - its shrines adorn the garden plots, its gods and demons haunt the streets, the homes and your hotel.
My self-allotted task was to drink all of this in, and perhaps find just a little more. The fullness of the moon bade well.
I had asked Ketut to take me to the island's greatest temples, craft centres, rice terraces and lakes, but to go by ways that only local people knew.  I wanted Bali to be new for me.
Our first destination was Batur. It's a large volcanic lake in the island's northeast that supplies most of Bali's irrigation waters. It is also where you find Secardadi. To get there from Kuta where most holiday makers stay, you first go through Batubulan. This is the centre for stone crafting. Nearly every shop in town is a gallery, exhibiting life-size sculptures of lions, monkeys and the like. But it's not just their size that recommends these to the eye. They are exquisite works of art.
In the cooler mountain regions further north the specialty is wood carving. We passed through the village of Jason, with its leafy mountain setting and narrow broken road. The artists chip away on the verandahs of their workshops, producing anything from rocking horses to fantastic ceremonial masks. No machinery is used - everything is done in the traditional way.
Lake Batur itself is a stunner. A crater lake, its northern rim is guarded by the ominously ashen Mount Abang. To the east is the moody Banung Batur volcano. In 1917 it gave vent to its chagrin with a violent eruption. Entire villages were wiped out, and thousands of inhabitants killed. The volcano's next tantrum was in 1926. This one was predicted, allowing time for the mountain's would be victims to escape.
These days a road runs along Lake Batur's southern rim. The restaurants here allow their patrons the chance to monitor Banung Batur for themelves, and at the same time indulge in some typically scrumptious Balinese cuisine.
Bali's volcanoes may have taken lives away, but they have fostered life as well, this by dint of the rich volcanic soils. They produce most everything that the Balinese people would ever want or need: like vegetables, cocoa, coffee, cloves (for those aromatic cigarettes) and rice.
Bali's great rice terraces are at their emerald green and geometric best in the northwest district of Tabanan. Here is a much more isolated Bali, with towns having much more to do with farming than with art. Still, of course, there are the ever present temples and shrines. It was in these parts we chanced upon a Balinese funeral in preparation. These are always extremely elaborate events. The gorgeous winged lion by the roadside would transport the spirit to the afterlife. The high tower - which was still under construction - would accommodate the equally gorgeous gold sarcophagus. All of this finery would be burnt with the body. The Balinese take no risks. Only by total cremation is the spirit assured of freedom from its earthly forms - water, space, fire, earth and air - and of gaining quick and easy access to the beyonds.
Ketut was adamant that I see the island's two most venerated temples - Tanah Lot and Ulu Danao. Both feature traditional Balinese style meru, or multi-roofs. In Balinese religion these represent mountains or volcanoes, which are the abodes of the gods. Both are also built on water - Tanah Lot on a rocky outcrop off the southeast coast, and Ulu Danao on an all but submerged little island on a lake. The best time to visit Tanah Lot is at sunset. It's then you get that picture-postcard view, with the sky a crimson flame behind the temple's soaring tiers. Ulu Danao is unique in that it is attended by Hindus and Buddhists. The devotees undoubtedly appreciate the temple's cool mountain setting, with the gentle mists imbuing it with an enchanting and mystical feel.
From Danao it's an easy drive north to Lovina. This is a quiet strip of coastline where holiday makers share the black sand beach with the local fishing community. It was while returning from here that we came upon another temple offering. This was at the township of Tagtag. Ladies with impossibly high creations on their heads glided up the temple steps to add theirs to the other copious offerings already on display. Priests inside were blessing the faithful. It was a scene at once both festive and serene, and you couldn't but be drawn to its gentle piety.
For me it was a privilege to have visited Bali when so much exquisite ceremony was taking place. But then, there is ceremony in Bali almost any time of year: a Sanghyang trance dance, perhaps, to ward off demon spirits, a birth ceremony (there are six or more of these for every child), or a wedding. These are all fantastically elaborate events. Seeing them, participating in them is part of the joy of being here. It is Bali serendipity, and you are sure to find a slice of it every time you come.
* * * 
Bali Fact File
Getting There:  Ansett Airlines fly from Melbourne to Denpasar three times a week.
Stay:   Chedi: $132 pp twin share; Kupu Kupu Barong: $92 pp twin share; Campuan: $44 pp twin share
Visa:   Not required for holders of Australian passport.
Bring:   light cottons, long trousers/ dresses for entering temples, sunscreen, sun hat, repellent, comfortable walking shoes
* * * * *
---