Chiang Mai date for antique lovers
---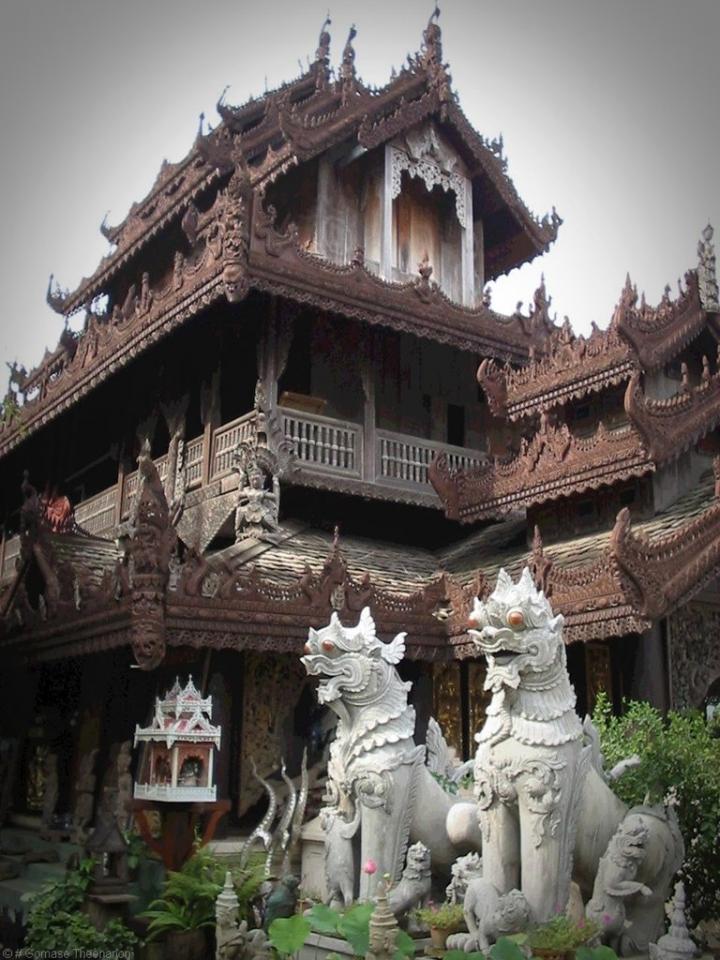 Image ©
2010 Gomase Theenanon
"The histories and cultures of the people of the Northern Kingdom and Burma have been linked for centuries and can be seen from the temples, pagodas, arts, dresses, food and architectures that abound in and around Chiang Mai," reads an excerpt from an article penned by a former scholar.
If you travel southward from the city along Chiang Mai-Hang Dong Road, just one kilometer from Tesco superstore, notice on the left-hand side you will see a large wooden house that stands prominently facing the road. It's probably the biggest Burmese-style house, and the only one of its kind, in the whole of Chiang Mai.
Dating back more than a century, early evidence about this Burmese house is sketchy but it's on record that "it was inspired by the Mandalay Palace and built by an architect whose name is not known. Its design was based on geography, climate, culture and local beliefs. Teakwood was the principal material used for building and decorating the house, while Shan artisans did the filigree and wood carving in distinct Burmese-style".
Two mythical lions with red eyes guard the entrance of the house, which has lush tropical gardens and towering trees that offer shade to visitors.
Mr Sathian Na-Wongrak, the owner of "Huen Rattana", who is highly experienced in antique design, said his great grandparent, was Tai or Shan who came to Chiang Mai several times with Burmese invaders and found employment in a teak factory in Wat Gate area during the reign of Prince Inthawitchayanon. Later he was appointed as an aide to the Prince and given the rank of Phaya Jar Baan.
These days an increasing number of Shans have made Chiang Mai their home after fleeing the military regime in Rangoon that has been waging a war against Burma's ethnic minorities.
"As a child I learned local crafts such as the art of cutting paper, the traditional Thai Yai dance and designing ornaments that became part of my profession years later. As a result, I have a good feel and sense of northern art. Even today I am learning new things. It's a never-ending process." Said Sathian.
Pointing to the specimen displayed in the compound, he said he found the house in Doi Saket district that its owners had abandoned since opting for modern living quarters. They had bought it from a former nobleman and it was in dilapidated condition. It took him years to restore the house to its former glory.
The house is built in rectangular shape with an open verandah running the width of the house in the front. It's old northern-style house decorated wooden crosses called 'Galare' on the roof painted in dark color.
In the downstairs room of the Burmese house are displayed decoration items and mural paintings by local artists and old style furniture, a perfect place for antique and souvenir collectors.
The room upstairs is designed as an exhibition chamber to display very old antiques, and the backyard serves as an "antique clinic" to breathe new life into damaged items. The day I was there I saw old Chinese furniture and a Buddhist statue being restored to their former grace by craftsmen with long experience in woodworking.
"I have bought all antique items directly from their owners. I don't buy antiques illegally without the permission of their legitimate owners. Sometimes a temple may want to dispose of ancient treasures buried in the compound or sacred Buddha images and amulets to raise funds for temple activities".
"In such cases I make sure they (temple committee) provide me with the necessary paperwork certifying the transaction before I decide to buy anything from them. I don't want to run into problems with authorities later," Sathian said.
Sathian not only repairs antiques but he also reproduces. Some of his creations are reproductions of old themes, while others are made to order to fit the taste of the hard-nosed buyer or tourist.
"Although my reproduction are usually copies of originals displayed in my house, sometimes I also do variations of the same theme, or even go for entirely new designs."
"Most of my clients are foreigners and Thai antique collectors from Bangkok," he said proudly.
The imitation of Mandalay Palace is today listed as Chiang Mai's cultural-heritage site. Old Burmese architecture and classic antique teak furniture never fall to fascinate visitors.
And the credit for that goes to Sathian, the modern day Shan artist who has succeeded in bridging the generation gap.
---