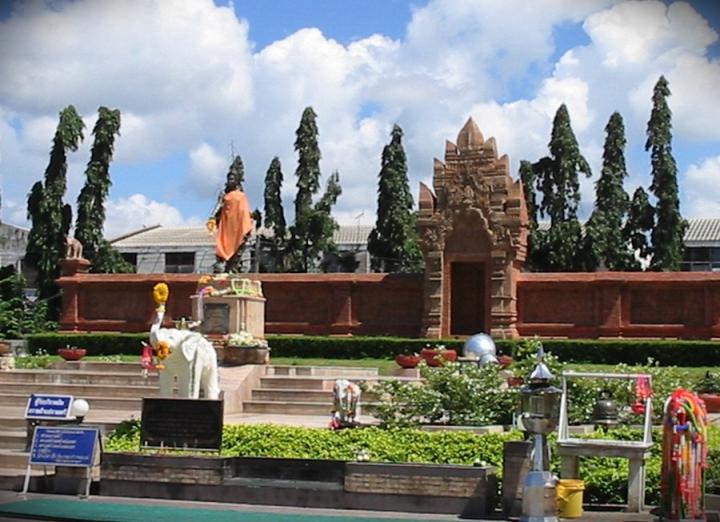 Image ©
2010 Gomase Theenanon
Armed with a road map I got behind the wheels and drove south from Chiang Mai to Lamphun to enjoy the tranquility of the Lanna countryside. From Chiang Mai I drove down the old Chiang Mai-Lamphun Road (Highway 106) lined with giant gum trees more than hundred years old that ensured ride would be a pleasant one. As I approached Lamphun I noticed farmers selling fruit by the roadside: it was peak longan season.
Even though my destination was Pa Sang district but I had plenty of time left and decided to take a break in Lamphun and visit Queen Chamthewee Monument, the founder of the ancient kingdom of Hariphunchai-Lamphun.
As I wandered around the monument I came across a blind man who tried to sell me lottery tickets, and a 'samlor' (tricycle) driver who offered to take me around town on sightseeing trip for a nominal 150 baht. At the car park I bought a bunch of violets from a couple of hill tribe people dressed in traditional Hmong costume.
Pa Sang, a fairly quiet town, is located just 10 kilometers south on Route 106 about 20 minutes drive from town center. In the old days Pa Sang was famous for its vast orchards of succulent longan fruit and beautiful girls. It was the dream for every to own orchards and enjoy the peace of the countryside.
The district also has a vast-patches of bamboo forests from which it derives its name. The word "Pa" means forest and "Sang" is a species of bamboo native to the area. It's a fairly quiet district made up of vast stretches of paddy fields interspersed with bamboo forests and villages, which are noted for its cottage industries that churn out local handicrafts and hand-woven cotton fabrics for which there are ready buyers in Bangkok and overseas.
I decided to visit Ban Nong Nguak handicraft center, which apart from its handloom products, is home to an ancient temple with beautiful arches influenced by Burmese architecture but what is intriguing about this place of worship is that it has no name.
I left Pa Sang and drove 10 kilometers further south on Route 106 to Ban Nong Nguak in Mae Raem sub-district. I strictly followed the road sign and about 50 meters before the next crossing I turned right and drove six kilometers on the paved road to the cottage industry.
The atmosphere there reminded of a typical Thai village where farmers tend rice fields while women weave cotton on handlooms to supplement the family's meager income. But what I noticed here was that the farmers used motorcycles not bicycles to commute between the villages.
I met Khun Chankaew Khamta, the head of housewife group, who invited me to her house to observe women at work, weaving.
"Actually we weave big sheets of cloth of different size and colour. Most of our products are meant for Bangkok and markets overseas, mainly European. We formed a cooperative in order to improve marketing and help members earn extra income. Our handmade cotton products are reliable, of good quality, reasonably priced and have tasteful design. Recently an agent from a furniture company in England came here and bought all our handmade products." She said proudly.
Chankaew led me to the weaving area behind her house where the trees provided shade and women sat weaving big sheets of colorful cotton fabrics behind the traditional handloom and chatting away in a manner that is customary of village women. To me it appeared to be more of a social gathering than a serious attempt to work and make extra money. They were certainly good at whatever they were doing and enjoying every moment of it.
She had six handloom systems all passed down to her grandmother. Some of their products were displayed in the showroom waiting for buyers. After wandering around and having watched women of different age at work I crossed to street and went to another house where people were picking longan and putting them in basket containers. A woman was kind enough to offer me a decent bunch of the fruit to sample. It tasted excellent.
Next to her house I met Mr Inkham Chansiri, village headman and leader of the cooperative of woodcarvers, and two craftsmen who were completely engrossed in their task trying to carve outs cats (in different poses) from wood. The implements they were using were surprisingly few-chisel, knife and hammer. The initial carving was done using axe and knife and then refined to the desired shape with the help of chisel, knife and hammer. Truly, a handmade product with no machinery involved.
Mr Inkham or Uncle In is 67 years old and lived in Lamphun all his life. He is a craftsman who has been involved in wood carving since childhood. Save for his father, who was a carpenter, none of his forebears followed ever practiced the trade.
Speaking of his earlier days, he said teak was abundant in northern Thailand then. But then came to ban on cutting teak trees and suddenly there was shortage of new material.
Alternative sources of wood had to be found, which initially wasn't easy because everybody in the neighborhood was more at home with teak.
In due course he learned how wood obtained from jackfruit, mango and rain trees could be adapted to suit the purpose. As things turned out, these woods were softer and easier to chisel into shape, and products made from them were more beautiful.
I left the cottage industry for my next stop, a temple, about seven kilometers away on the route to Li district. It's built atop a hill. After driving a few kilometers I turned left and parked my car in the temple compound.
Wat Phra Buddhabath Tak Pa is not only a temple but also a huge monastery. It is home to several monks and nuns. There is a school in the temple compound attended by children living in village in the vicinity.
Highly revered by the local people, it offers several interesting things to explore. Although it's packed with followers on weekends, this day I was the only visitor. The temple has a shrine dedicated to Lord Buddha in the middle of the compound. According to popular folklore, Lord Buddha was drying his robes when he stepped on soft ground and left his foot-mark there.
Information in the guidebook says that the temple was designed by Phra Kru Weruwanphitak, the abbot who had never studied design or architecture.
Thus with the temple visit ended an eventful day in Lamphun. It was time to head back to Chiang Mai. I offered my thanks and goodbye to all the people I had met that day who had made this visit so special.
---