Foreigners find Pai enchanting
---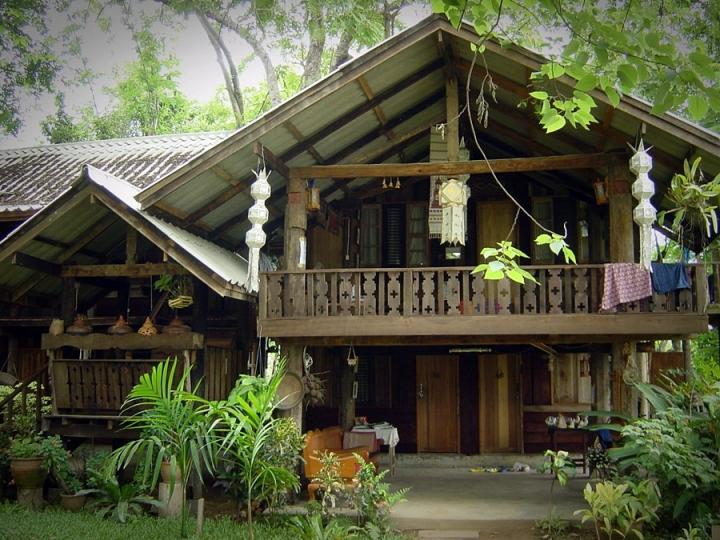 Image ©
2010 Gomase Theenanon
Gazing up, the clouds above Pai seem different from elsewhere, their form and shape influenced by the surrounding peaks. They constantly changing shape and are more beautiful than any artist can ever imagine.
            Muang Pai is a little burg set in the embrace of mountains, 135 kilometers northwest of Chiang Mai on Highway No.1095. It is more than two decades since budget travellers seeking a bit of adventure first set foot on Pai. Since then modern values have started replacing the old way of life of the local people. This wind of change in the last few years has made Pai district very different to what it was in the old days.
            A friend of mine recently visited Pai and returned to complain: "There isn't a lot to do in Pai, it was so quiet there."
            From my experience I know that could be true, but then you have to stick around in Pai for a few days to really get a feel of the place. You can rent bicycles, motorcycles or jeeps to explore some beautiful sights out of the town, waterfalls in the dense jungle, hot mineral springs and there are exciting outdoor activities. All these factors combine to make Pai a paradise for nature lovers.
            Pai was a cloistered region until the Japanese carved out a dirt trail from Chiang Mai to Burma during World War II. Back then, the journey from Pai to the northern capital took three to seven days, depending you were riding a horse or an elephant. Even to this day, getting to Pai demands a real effort. The Thai government softened the endless series of hair pin bends and paved the road in 1980, but the stomach-churning journey from Chiang Mai still takes two to three hours to reach by car.
            I have driven many times on this twisted road offering some of the most stunning scenery in Thailand. The road skirts the mountain edges, rising high up among the clouds before going into a steep downhill climb. From Ban Mae Malai onward I noticed that every other vehicle I came across was a four-wheel drive. The track to the village is steep, narrow and virtually impassable during the rainy season. There was no trace of the local bus, a common sight on this track at other times of the year.
            Driving to Pai one has to be careful negotiating the countless number of curves, and drivers not familiar with the terrain should strictly follow the instructions posted by the roadside.
            Unfortunately, I didn't have time to stop at Huay Nam Dang National Park, the Switzerland of Thailand, situated at the Km65 marker. The park offers a beautiful view of the Mae Taeng valley and Chiang Dao mountains.
            In Pai, I wandered through the afternoon market on Rangsiyanon Road in town's center, and got a fair measure of Pai's multi-ethnic community. Teenager Lisu girls dressed in vivid traditional costumes sold hand embroidered clothes on the sidewalk. I stopped at a roadside vendor. It had a sign hanged over, which read 'Muslim Homemade Bakery' and I bought sweetened crispy croissants, taste good!
            I was amazed to see signboards in English everywhere. I stopped for drinks at a new internet-café run by a young guy from Chiang Mai. For foreigner travellers, the e-mail is easily the best way to keep in touch with friends. Thai massage, it seemed was one of the more popular services in this town, after restaurants that also served Western food. I noticed that a lot of business was being run by foreigners.
            Late in the afternoon as I strolled through the outskirts of the town. I heard prayers being offered at the local mosque and a jumble of voices I couldn't understand. Now Pai is home to many ethnic minorities who coexist peacefully. Lisu, Karen, Shan and Haw Chinese communities, diverse though they may be, still retain their distinct customs and traditions.
            I was taken aback when I saw that bamboo huts in paddy fields had been converted into guesthouses for budget travellers. I met Thong, a 35 years old Karen farmer who owned a small plot of land by the river. It was a beautiful location ideal for building a lodge. He said people from outside Pai have often asked him to sell the land or lease it on a long-term basis. Most people in Pai still retain their land with no intention of selling it to anybody.
            "Once a foreign businessman who has a Thai wife and lives in Bangkok offered me one hundred thousand baht for my land. If foreigners can't buy, they want to lease land in the countryside to build guesthouses, quite different from Thai people who want to rent a commercial building in town to start business," explained Thong.
            Did you know the cost of land in the old days was very cheap. It cost about a thousand baht per rai. Now it's gone up to anything between ten thousand and over one hundred thousand baht, and if it's located near the river, it's worth millions. If I sell my land I don't know where I will go to live after that," he added.
            Gunya Chan-Ai, who spent 10 years in Chiang Mai but has now returned to Pai told me that there are a lot of tourists in winter. "It's very busy then; Thai massage is popular here. Pai residents went to Chiang Mai to learn the art of massage and returned to set up their own business."
            Over 80 guesthouses are scattered inside and outside the town with room rate starting from one hundred and going up to a thousand baht per night depending on the facilities and location.
            Although some villagers sold or leased their farms, most have chosen to keep them and continue to maintain the simple and peaceful lifestyle they are accustomed to. Those who sold their farms tried their hands at other jobs but the lack of English and business acumen were a major drawback and they didn't succeed in their new careers.
            I saw temples, a mosque and a church, all located along a common street-and people with different religious learning living side by side-for generations-in peaceful coexistence.
            After sunset, I wandered into the night and found that nighttime in Pai offered its own brand of charm. I came across many good-looking restaurants offering all kinds of cuisine from Thai to international. You can easily find a cold beer, play pool or listen to Western music.
            I met Tommy, a Thai who owned a small bar outside the town. He moved here from Ko Samui several years ago and his bar offers friendly atmosphere accompanied by reggae and rock 'n roll music.
            "The distractions here are only the ones you make for yourself. You have to be in the acceptable frame of mind and show respect for local traditions and customs. In my bar drugs and firearms are prohibited," he said.
            No wonder Pai is now rated as the most livable town for those seeking a long vacation. Pai is getting rapidly established on the travel map of international middle-class tourists. The food is good and relatively cheap, and the even so-called expensive accommodations are amazingly affordable. And there is a wide selection to choose from, ranging from riverside bungalows to huts built on stilts set amid lush gardens and paddy fields.
            And with that I bid farewell to Pai, the real paradise for travellers who need a long stay on vacations.
---