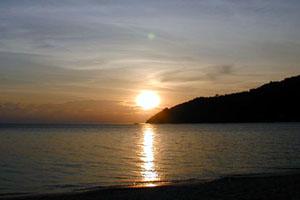 To be part of a fisherman's family for two days! The thought of it thrilled me to bits as I had never even been inside a fisherman's house before. Also, the fishing village we (the participants of this "foster family" program) were going to is a true blue traditional fishing village. Come to think of it, I feel sort of guilty now for initially regarding the trip as a free holiday-cum-adventure at a Terengganu fishing village.
Anyway, my two days was a real adventure alright. There were funny moments, like my antics during bath time at the family perigi (well) where I was not supposed to mind being seen wrapped in just a batik sarong by every Mat, Awang and Dol who passed by the lane nearby. A city dweller like yours truly has not even used a well before this!
Not daring to wear just the batik wraparound (in case it falls), my bath ensemble also included my baggiest and blackest T-shirts, or I would bathe after dark!
The whole experience at the little village populated mainly by traditional fishermen opened my urban, middle-class, city-girl eyes to the reality of being poor and the plight of a fishing family.
The experience was made possible through Fisheries Department, which organized the program, and the men, women and children of Kampung Merang in Terengganu, who accepted our group into their fold with the kind of hospitality now hard to find among folks in Kuala Lumpur. They were certainly not rich materially, but what they had, they willingly shared.
Kampung Merang, which is 50 km north of Kuala Terengganu, is in the Setiu district. It takes pride of place in travel brochures as the jumping-off point for tourists to Pulau Redang, a popular scuba diving spot.
The village boasts a RM 2 million observatory perched on Bukit Merang where the sighting of the new moon normally takes place before Hari Raya Puasa and Hari Raya Haji.
Just beneath the hill, there is a jetty for boats to Pulau Redang, equipped with eateries, toilets and ticket counters, aimed at providing a more comfortable and convenient departure area for tourists to Redang and Perhentian.
With coconut trees growing nearly everywhere and the turquoise blue sea so evident, the idyllic beauty and serenity of the village was a welcome sight for our group.
We were handed over to our respective foster parents during a formal ceremony at the village balai raya (community hall). My "foster father" was 40-year-old Ahmad Khalid, whom I addressed as Pak Cik Ahmad (Uncle Ahmad) -- it felt a bit awkward calling him "ayah" (father) as I was only there for two days.
He seemed rather shy initially but warmed up considerably as soon as we arrived at my new home -- a ramshackle hut perched precariously on wooden stilts -- to meet the rest of the family. I was somewhat shocked to see the size of the house and a wee bit disappointed to find that the beach was nowhere near, the way I had imagined it a thousand times during the long bus ride from Kuala Lumpur.
His wife, Mak Cik Nita, greeted me with brimming cups of tea and questions in a local Malay dialect I barely understood. Our laughter over the communication breakdown broke the barrier between our two different worlds. She stared in awe at the photos I showed her of my house in Kuala Lumpur and of the beautiful city lights.
The other family members were their eight-year-old daughter, Liza and a male toddler called Mat.
Despite its sad-looking exterior, the little hut was clean and well-kept. The first thing I noticed was that there was no television, not even a transistor radio.
The only electrical appliance was an electric fan which they kept directed towards me as though afraid their city guest would melt as we talked over tea on that humid afternoon in April.
Pak Cik Ahmad says he did not want to be like some of his neighbors who shy away from participating in the foster program as they feel their homes are not good enough to receive guests from the city.
In his quaint dialect, he said: "Do not be shy. Take all the photographs you want of this house. I am not embarrassed to admit we are poor. But we are happy with our lives, and we earn a honest living."
Both Ahmad and Nita are illiterate and their main link to what's happening in the rest of the country is hearsay from other villagers. Sometimes, their relatives who are literate will visit and share some current news.
Deeply-tanned and looking older than his age, Pak Cik Ahmad blames himself for dropping out of school at 12 to become a fisherman like his father and grandfather.
The only letters of the alphabet he knows are those which form his name.
"I am able to recognize my name by comparing it to what is written on my identity card," he says. However, he is at a loss when his name is written in an elaborate script.
As a fisherman, Ahmad earns about an average of RM 20 (US$5) a day and blames his illiteracy for his family's poverty. He says it is a major setback, especially when it comes to applying for Federal or State aid, or loans for fishermen.
He normally asks friends to fill applications for him but to date, he has not received any feedback.
"Of course I hope for a better life for a family. After all, the life of a fisherman is very uncertain. Especially in the East Coast, we do not have any income during the monsoon months. Also, the rough seas is always dangerous even when it's not monsoon season," Pak Cik Ahmad says with a sigh.
Despite the silence from the authorities, he hopes to be able to secure a loan to set up a small farm so that he can have a more stable income, especially during the monsoon season at the end of the year.
He told me that many times in the past, his daughter had missed school, sometimes for a whole month, because there was just no money to spare for the bus fare she needs to go to her school in Batu Rakit.
On the day we arrived in Kampung Merang, our entourage was taken to Kampung Mengabang Lekor in Batu Rakit, about 30 km from "our" village, where 10 hectares of Roselle met our eyes. This Roselle farm is funded by the government, to help retired or sickly fishermen to be self-sufficient.
Roselle is a crimson plant is called Sabdariffa hibiscus or simply asam paya by the Malays. The juice from its calyx (the part which remains after the flower petals drop off) can be made into a cordial which has been named Hib-C by the Malaysian Agricultural Research and Development Institute. Once the juice has been extracted, the husk of the calyx can be made into candy while the seeds of the fruit can be used in the making of perfume.
According to the officials helping to organize the mini farm, Roselle is a cash crop they are encouraging fishermen to grow as it would enable them to have a stable income of throughout the year. However, each fisherman need at least RM 500 (US$ 130) initially to start a Roselle farm of at least 0.4 hectare for the farm break even.
I pictured Pak Cik Ahmad with his zero savings and lack of luck in chasing after Government loans and sighed.
On that first night we spent with our foster families, it rained heavily in Kampung Merang and we had a foretaste of what it would be like during the monsoon season. Rain trickled down holes in the roof of my foster family's house and shivers ran down my spine as cold blasts blew in through the cracks in the walls and the floorboards. Still, I slept like a log in the one and only bed in the house vacated by Ahmad and Nita just for me.
The next day, finding some time to ourselves, five other students and I made arrangements to go fishing with Ahmad and another student's foster brother, Razali.
(One shortcoming of the program was that we did not get to experience how the fishermen really lived as the men did not go out fishing on the two days we stayed with them -- it was raining heavily! The organizers had promised each foster family RM 40 (US$ 10) for the entire duration of our stay.)
Our little band of urbanites saw first-hand how the two experienced fishermen dropped anchor at a spot about eight nautical miles away from Kampung Merang where there is an artificial reef.
Within seconds, both Khalid and Razali were landing ikan merah, ikan selar, squids and prawns into our little boat. We were amazed to find they did this merely with a line armed with hooks without any bait.
Enthralling as it was, our fishing trip had to end when dark clouds appeared above. Razali whispered, "The rain is coming" in Malay and we got ready to return to Kampung Merang. Within minutes, we had a first hand experience of how dangerous it can be even during non-monsoon months. The boat swung from side to side in the in dark, choppy waters. We sped back to shore as fast as the boat could take us but not before we were all well and truly soaked by both rain and salty sea water.
That night, we feasted on our catch at Razali's house -- a lip-smacking ikan bakar, sotong bakar and udang bakar (barbequed fish, squids and prawns) dinner dipped in a belacan-based (spicy prawn paste) concoction which I still dream about.
Although they tried to put on a happy face for us, some of the foster families also poured out their problems to us. We heard claims of unfair distribution of aid due to favoritism or political differences. Many said that they had never received any benefits and were always overlooked when it came to applications for loans or aid.
Also, there are no suitable jetty nearby for the fishermen to land after fishing. Kampung Merang's fishermen land their fish further up the river and navigating along the waterway is impossible at low tide when the sandbars only allow a seven-meter opening to the already shallow river mouth. This delays fish landings, affecting the freshness of their catch and reducing the fishermen's already meagre earnings.
Knowing full well that city dwellers like us could not picture what they were lamenting about, we were taken on a tour of the sandbars in a convoy of small boats light enough to navigate the shallow river.
The sandbars did indeed look menacing but I could not help but be awed by the beauty of the spot where the clear waters of the Merang River met the rolling waves of the South China Sea.
From this spot, we spotted Pulau Lang Tengah, Pulau Redang and Pulau Bidong (where the Vietnamese boat people were housed when they seeked refuge here years ago) from there.
On our last day at Kampung Merang, each of us received souvenirs from our foster families. Many took home keropok (a Terengganu specialty), locally-made purses and nasi dagang (a special type of brown rice served with fish curry) wrapped in banana leaf. One guy even ended up with two barbequed chickens to take home!
We left the village with heavy hearts wishing we could do more for the villagers, apart from sharing our experiences through our writing. The fishing folk hope that their villages can be opened up to tourists someday, as a stopover on the way to the islands. However, the lack of infrastructure nearby and reluctance by bigger corporations to built proper tourist facilities here is hindering their dreams. After all, the islands on the east coast is only accessible during the non-monsoon months -- about six months in a year and facilities built here might not bring in much profit.
* * * * *
---