Have Camera, Will Travel: An Interview with Marianne Henderson
---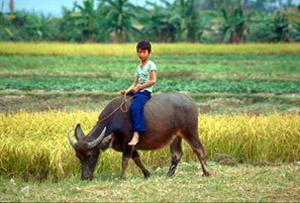 Image ©
2000 Marianne Henderson
If a picture is worth a thousand words, photographer Marianne Henderson's portfolio speaks volumes. As a world traveler and emerging photojournalist, Marianne chronicles her experiences abroad in brilliant landscapes, poignant vignettes of everyday life, and especially in the shining faces of the people that she meets along the way and captures on film with her lens. Her photographs vary widely in both theme and content. Some are grand and opulent, like the Saigon Opera House at Night; others are simple and unpretentious, like the coy grin of an H'mong Child peering from under an elaborate plaid headdress. But all share a common quality: Marianne's deep appreciation and keen ability to convey the spirit of the people and places she has discovered in her travels to more than 35 countries in Europe, Asia, North and South America, Oceania, and the Middle East.
Although Marianne describes an idyllic childhood in which she lived with her parents and two sisters in the same house in Philadelphia until she graduated from Imaculata College, she has a seemingly anomalous passion for travel. Upon completion of her undergraduate studies, she traveled throughout Europe and shortly thereafter embarked upon her first experience living abroad when she answered a classified ad for an English instructor in Japan.
"I had graduated from college and started working as a management trainee for the telephone company, when one day I received a newsletter from the Modern Language Association. I was a member of that because I was a language major in college. In that newsletter there was an ad from a professor in Nagano who was looking for an English teacher. I decided that this was something I really wanted to do, so I applied for the job. I think he wasn't exactly expecting a woman to respond. But we exchanged a few letters back and forth and he offered me a job. So off I went."
"I lived in the home of the doctor and his wife and children and it was just a tremendous experience. At that time there were only two other Americans living in the area. And of course everyone knew who I was. I taught in the university, and I taught a special program for very small children, and I taught in a high school. It was a quite an experience."
Unfortunately a skiing accident cut short her planned two-year stay in Nagano. But upon her return from Japan, Marianne went on to earn a Masters Degree in International Relations with a focus on Asian Studies from the American University in Washington D.C., and has since worked abroad in several other countries.
"I had a wonderful job with Bell Atlantic, who purchased TeleCom of New Zealand when it was privatized back in 1990. I was the general manager for business development. I got to travel extensively in the South Pacific and some in Asia. Because Bell Atlantic had investments in other places, I also spent a year in Germany, and about two months in Argentina. I also traveled to Indonesia, Mexico, and Italy. It was the best of all worlds."
Marianne regards the time she spent living in New Zealand as perhaps the best three years of her life, and it was there that she rediscovered her love of photography. "I have enjoyed taking photographs since I was very small, and when I was in high school, my father set up a darkroom for me. I enjoyed that immensely. However, when I started on my career and got married, I still took pictures but was not as dedicated. It was when I was in New Zealand that I really got very interested in photography again and decided to get better equipment. And that's when I started down that 'slippery slope' as I call it."
Marianne's husband George Henderson, whom she describes as an 'army brat,' was born in Panama, and lived in Japan, India, and many other places. Together, they have lived and worked all over the world. George retired from his career as a civil engineer when Marianne took the position in New Zealand, and Marianne later retired from Bell Atlantic International in 1995 to seek a career in photography and writing. "Actually my day job was getting in the way a lot," she says with a hearty laugh. "And so we decided to take off, to do more traveling. I took some courses to bring my skills up to date."
Marianne has studied photography at the New York Institute of Photography, Santa Fe Photography Workshops, Maine Photographic Workshops, Great American Photography Workshops, the Canon Masters Photography Program, the Nikon School, George Lepp Seminars and a Helen Longest-Saccone seminar.
Marianne's photography business, Third Rock Images, is already off to an auspicious beginning. "I was fortunate that some people, right from the beginning, were interested in buying my work." Since then, her photographs have been published in the New York Times and Destination Vietnam magazine and her awards and honors include an Honorable Mention in Gourmet Magazine's Local Color Contest, a finalist in Photographers Forum magazine, and first place in the Rappahannock Art League. Her photographs have also been featured in Global Spectrum and Snow Lion Expedition travel brochures. In fact, Global Spectrum is one of Marianne's ongoing clients.
"Global Spectrum, a travel agency specializing in South East Asia, has employed me to develop marketing plans, create and manage non-profit projects in Vietnam, and to lead photo instructional tours to Indochina. I know I can share my knowledge with other people. So that's why I do it, and I just love it."
When asked if she has her own darkroom, Marianne replied, "I have a digital darkroom. I do everything on the computer. I was considering setting up a traditional darkroom, and had even spoken with some neighbors about buying their equipment. But I happened to attend a seminar by George Lepp, who introduced me to the digital darkroom. I decided to test this out. I purchased PhotoShop, and went to a one-week class, which was ten hours a day sitting in a 'dark room' staring at a computer screen. Afterwards, I decided that this was the way to go. However, with PhotoShop, mostly I just print out the photos, or maybe crop or enlarge. Sometimes if I'm working on art prints, I will manipulate them in the computer, maybe put some interesting filters on or something like that. But for the most part, I keep them as they were originally."
Even with all her technical expertise, Marianne still takes her photographs the old fashioned way and has not yet made the leap into the world of digital cameras. "I use the Canon camera and lens system. I don't use a digital camera because right now, because with the kind of photography that I do, I don't need a digital camera. Sometimes one would be useful, but when you sell photographs to magazines and newspapers, they really want film. They prefer 35mm slides or larger film formats. The reason for this is that except with the high-end models, images from digital cameras generally do not contain sufficient information to meet the requirements of magazine people and book publishers at this point." Marianne notes that she also needs the large file sizes that film can yield in order to create prints to sell at a local gallery.
"I do have a film scanner, so I take the 35mm slide and scan it myself into a Nikon scanner. Then I can print the image, send it to a potential photo buyer by e-mail, or store it in an image management data base program. It's just that when you say digital it doesn't necessarily mean digital camera. After the image is captured on film, the rest of the process is digital. Canon has a digital camera that I'm considering, but I would use it in addition to the film camera. Of course advantages of a digital cameras in terms of turnaround time is just fantastic."
Marianne emphasizes that much of her photographic technique is the result of lots of trial and error. "It takes a lot of experimentation," she says. "And you have to be bold sometimes about applying different techniques, looking at unusual angles, altering exposure. Some people wonder who buys all these coffee table books. Well, I do. I have tons of them. I look at them and I study them. And sometimes I go out to reproduce a particular technique."
Which translates into an enormous expenditure of film. On a recent trip through California, Oregon, Las Vegas and the Grand Canyon, in 30 days, Marianne shot 40 rolls. However, while she may lean heavily on the shutter, she strives for leanness in her baggage. "One thing I try to do with travel photography is to learn how to travel with only what I need and to learn how to cut down on a lot of the neat photo accessories that can weigh you down. I'm not quite there yet, but I'm very close to understanding what it really takes to get the kinds of images that I want without the equipment tiring me out first."
Marianne's love of photography comes from what she describes as "a need to create beautiful things...to recreate beautiful images from the people and places I see in my travels." And although her portfolio features a wide variety of subject matter, she especially favors "pictures of people in their natural habitat." When someone asks, "How do you get pictures of people?" She replies, "I ask them, and it's rare for someone to say no. It's one way you can engage people, to get to know them. It can be a very nice entrée. You just don't snap a picture and leave. You spend some time with the person, and so you get to know a little bit about them. And language is generally not too much of a barrier."
Like many others, Marianne has recently discovered Vietnam, and has found it to be not only a photographer's paradise but also a country and a culture that left its imprint on her heart and soul. Her first visit to Vietnam was the result of a series of friend-of-a-friend recommendations and invitations that weren't included on her original itinerary to Nepal. "Traveling to Vietnam was truly serendipity," she says. "I didn't really know that this was the place that I had to get to. But when I got there, I knew it."
When asked to explain the allure of Vietnam, she responds, "Here is a country that has been beset by wars for hundreds and hundreds of years. As a result, I think they have become a "down to earth" people who welcome others and have a very kind and sharp eye toward what life is. And I think that's the reason why I go back, because I really feel very welcome there."
These days, however, Merry Point, Virginia is the place Marianne Henderson calls home. It is a rural and beautiful area, located on Virginia's "Northern Neck," the Tidewater area of the state on the Chesapeake Bay. Hence, it is a popular summer destination for boaters. The home, which she and George built in 1996, is located on Davis Creek, about a half hour by boat to the Chesapeake Bay.
Marianne spends her mornings working in her home office, cataloguing and marketing her photographs, and at least once a week she make the three hour trip to Northern Virginia to work in the Global Spectrum office. And as if that weren't enough to fill her days, she still finds time to do volunteer work at the local community theater, to play the piano and study the flute, to knit and do needlepoint, and to read 100 books a year. She is also looking for someone to teach her Vietnamese.
To fill a significant destination void, Marianne has her eye on the continent of Africa. She also feels that she hasn't seen quite enough of Central and South America, and there are a couple of friends in Bosnia who have invited her to visit. It's only a matter of time before Marianne heads off to experience one of those destinations and to capture it with her lens.
On the subject of travel, she concludes, "I think that I am much more broad-minded and understanding of all people as a result of having known so many in varying circumstances in so many different cultures. There is nothing like traveling and learning about unfamiliar cultures to rid us of our biases, and to help us appreciate the diversity of the world."
Ed: Join Marianne in a photography tour of Vietnam and Cambodia
---