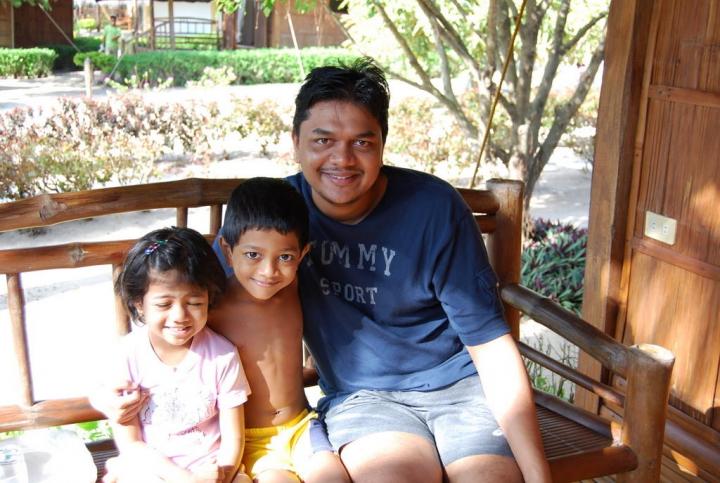 Clear blue-green water, clear blue sky and clean beach! I thought I had just landed in heaven. The most beautiful sight I have seen in a long time. It was picture perfect, like something out of a postcard. Never thought that such a place existed and it does right here in Laiya, San Juan, Batangas. Virgin Beach Resort, that's the name of the place.
We were told of the beauty of Virgin Beach resort by friends who had been there before. Only when I arrived there did I truly believe every word of praise they uttered about the place. The resort has more than a kilometer of pristine white sandy beach. Its waters are pure, serene and crystal-clear. The majestic Mount Lobo serves as a tranquil backdrop to its beautiful beachfront area.
The beauty of the landscape is further accentuated by the bamboo structures – the accommodation facilities and restaurant. There are three types of accommodation facilities here for visitors -  bamboo cabanas, air-conditioned casitas and parasols. My family booked a bamboo cabana for our two-night stay. The cottage was absolutely comfortable, with an electric fan, two queen-sized beds and attached bath. It was almost totally made out of bamboo, except for the bath, that you could see the beach sand under the cottage through the bamboo flooring. It also had a spacious veranda with a bamboo sofa where you can sit and enjoy the sea breeze.
The casitas are air-conditioned and come with two double beds, attached bath, a spacious veranda with a bamboo sofa and a hammock. Now how cool is that! You can actually have a nap outdoors smelling the fresh ocean scent. Parasols are of course the absolute best for groups of friends. The canopied bamboo beds are located on the powdery beachfront. You can just leave it open or close it with the curtains. Guests are given mattresses, pillows, bedsheets and blankets for their overnight stay. Or you can also rent it for just the day. No fan or air-conditioner, just the cool sea breeze to lull you to sleep.
Since the resort is situated in the interior, it will be difficult to leave the area in search of food. It's of course more convenient to just have your meals at the resort restaurant. And you wouldn't have any cause to grumble because the food is splendid with a wide variety to choose from plus the portions are big.
I guess my only complaint was that the national road leading to the resort was in a terrible state and if the government had any plans to promote this place as a tourist destination, then something has to be done about the roads. It was difficult for even us who were traveling in a Toyota Fortuner. I can only imagine the hindrance for those coming in smaller vehicles.
Otherwise, it was a pleasant holiday and I would definitely recommend Virgin Beach as a quiet and peaceful get-away from the hustle and bustle of the metropolis. Reservations can be done by phone or online, just like I did. The staff will get back to you in no time. Information regarding the place is on its website http://www.virginbeachresort.com
---