'Japanese Story' Australian-Asian Fusion Recipes & Photos
---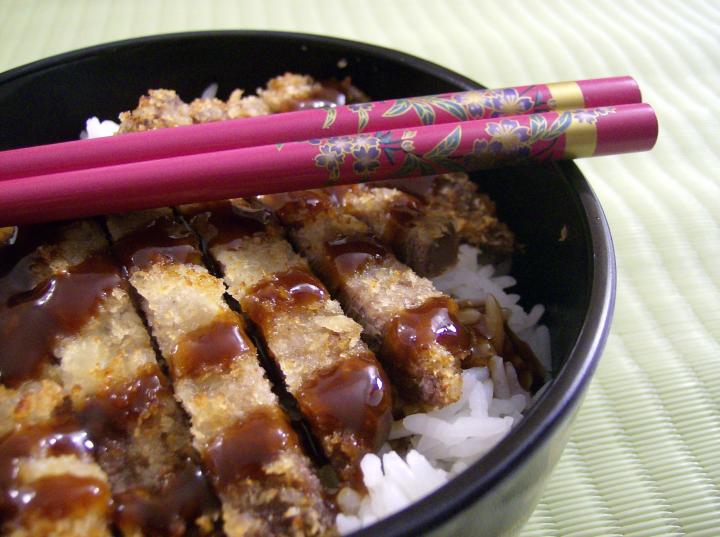 Image ©
2007 Celeste Heiter
East meets the land down under in this Australian-Asian fusion menu, which includes Lamb Gyoza with spicy dipping sauce, Spinach Salad with Crispy Mahi-Mahi Skins in a wasabi-laced ponzu dressing, a rich and hearty Rabbit Chanko Nabe stew, grilled skewers of Ostrich, Rabbit, and Lamb Yakiniku, Mahi-Mahi and Prawn Tempura, golden Ostrich Katsu cutlets with tangy tonkatsu sauce, and a light, refreshing Kiwi Sorbet perfumed with Japanese sake. The best of both hemispheres.
Lamb Gyoza
1/2 pound ground lamb
2 scallions, thinly sliced
1 cup napa cabbage, finely chopped
1 knob ginger root, finely shredded
2 cloves garlic, finely minced
1 tablespoon soy sauce
1 package small round wonton skins
3 tablespoons vegetable oil for frying
3 tablespoons water for steaming
Dipping Sauce:
1/4 cup soy sauce
1/2 teaspoon chili oil
Combine lamb, scallions, cabbage, ginger, garlic, and soy sauce, and stir to thoroughly mix. Place a teaspoon of the filling mixture in the middle of each wonton wrapper. Dip fingertips in water and moisten the edge of each wrapper. Fold the wrapper in half over the filling and pleat the edges to seal. Heat the oil in a large skillet. Fry the dumplings in the hot oil until the bottoms are brown and crispy. Add water, cover pan and steam over low heat for about 8 to 10 minutes, until filling mixture is done and dumplings are tender. Makes about 36 gyoza.

Spinach Salad with Crispy Mahi-Mahi Skins
Crispy Mahi-Mahi Skins
Trim the skin from one large mahi-mahi filet, leaving a thick rind of flesh on the skin. Slice the skin into 1/2 inch strips and fry in hot oil until crispy and lightly browned. Drain on paper towels.
Spinach Salad
1 bunch fresh spinach, washed and trimmed
1 cucumber, thinly sliced
1 carrot, shredded into fine ribbons
1 daikon radish, shredded into fine ribbons
Dressing:
1/4 cup ponzu sauce
1/4 cup rice vinegar
1 tablespoon sesame oil
1 teaspoon wasabi paste (more or less to taste)
Combine soy sauce, rice vinegar, sesame oil and wasabi paste in a jar with a tight-fitting lid. Shake vigorously to blend. Place spinach leaves in a large bowl. Top with cucumber, carrot, and daikon. Drizzle with dressing. Garnish with crispy mahi-mahi skins. Serves 4.

Ostrich, Rabbit, and Lamb Yakiniku
1/2 pound ostrich
1/2 pound rabbit
1/2 pound lamb
1/2 cup soy sauce
1/4 cup mirin or sake
1 knob ginger root, finely shredded
3 cloves garlic, finely minced
2 tablespoons brown sugar
1 package bamboo skewers
Combine the soy sauce, mirin, ginger, garlic, and brown sugar and mix thoroughly. Cut the meat into 1" strips and marinate for 2 hours in the soy sauce mixture. Place the strips of marinated meat on the skewers. Grill skewers to desired doneness on an electric grill or an outdoor barbeque, 3 to 5 minutes per side. You can also place skewers on a baking sheet, baste with the remaining marinade and broil in a 350-degree oven for 12 to 15 minutes, basting every 5 minutes. Serves 4.
Basic Dashi
1 quart of water
1 4" piece of dried konbu (dried sea kelp)
1 cup of katsuo (dried bonito shavings)
Rinse or wipe the dusty coating from the surface of the konbu, place in a pot with one quart of water and cook over high heat. When the water comes to a boil remove and discard the konbu. Add the katsuo flakes and bring to a boil again. Remove the pan from the heat and allow it to cool. Strain the liquid into a separate container and discard the katsuo and kombu. The remaining liquid is called dashi and can be used as a base to make a wide variety of Japanese soups and sauces.
Mahi-Mahi and Prawn Tempura
1/2 pound mahi-mahi, cut into 1" strips
8 large prawns, peeled and de-veined, tail intact
1 onion cut into 1/4" rings
8 mushrooms, washed and trimmed
1 carrot cut into thin slices
1 yam, peeled and cut into thin slices
8 broccoli florettes
Batter:
2 egg yolks
2 cups white flour
2 cups ice water
(or packaged tempura batter mix prepared according to directions)
Flour for dredging
Vegetable oil for frying
Tentsuyu Dipping Sauce:
1 cup dashi
3 tablespoons soy sauce
3 tablespoons mirin
1 tablespoon daikon radish, finely shredded
1 knob ginger root, finely shredded
Combine all tentsuyu ingredients, mix thoroughly and spoon into small individual dishes (one for each guest) so that the dipping sauce is ready when the tempura is served. For a more interesting and attractive presentation, you can also combine only the liquid ingredients and serve the daikon and ginger in little mounds on a separate condiment dish for the guests to mix in themselves.
Combine all the batter ingredients, being careful not to overmix. It's okay if the batter is a little lumpy. Work quickly so the batter stays chilled. If necessary, you can divide the batter into two bowls and store one in the fridge until needed. Dredge all the seafood and vegetables in flour. A good way to do this is to place the flour in a small plastic or paper bag with the fish and vegetables. Shake gently to coat. You can also scatter the flour on a large plate and drag the pieces through it.
Fill a large wok about half full of vegetable oil and heat to 370 degrees. A good way to test the readiness of your oil is to dribble a few drops of batter into it. If the batter sizzles and floats, it's ready.
Dip one piece of fish or vegetable at a time in the tempura batter. Hold each piece over the bowl to allow the excess batter to drain off and slip them into the hot oil, being careful not to splatter. You can use a fork or a pair of chopsticks for this step, but fingers work just as well. Do not overfill the wok. Each batch should contain no more than 6 or 8 pieces. The chilled tempura batter should explode into a lacy crust that will turn a pale, golden brown in about 3 minutes. When crispy and tender, remove the tempura from the oil with a pair of tongs or a slotted spoon and place on paper towels to drain.
Before adding the next batch of tempura, skim and discard the loose bits of batter from the cooking oil so they do not burn. Work quickly and serve the tempura on a large platter, or place a variety of each fish and vegetable on individual plates. Tempura may also be kept warm for a short while on a baking dish in a 200 degree oven until serving time. Serve with Tentsuyu dipping sauce. Serves 4

Rabbit Chanko Nabe
1 rabbit, cut into large pieces
1 small knob ginger root, finely shredded
3 cloves garlic, finely minced
3 tablespoons vegetable oil
8 cups dashi
3 tablespoons miso
1/4 cup soy sauce
1/4 cup sake
2 tablespoons mirin (sweet rice wine)
6 small boiling onions
2 carrots
2 scallions
1 leek, white part only, trimmed, washed, and sliced on the bias
1 small daikon radish, cut into bite-sized pieces
1 medium yam, cut into 1" chunks
12 shiitake mushrooms
4 ounces tofu, cut into 1/2" cubes
1 package udon noodles
Heat oil in a large kettle, and brown rabbit pieces on all sides. Add ginger and garlic and stir until tender. Combine dashi, miso, soy sauce, sake, and mirin and whisk to blend. Add mixture to kettle with rabbit and bring to a simmer. Reduce heat and continue to simmer on low heat for 1 hour, stirring occasionally. Add onions, carrots, leek, daikon yam and mushrooms and simmer for 1/2 hour longer, until vegetables are just tender. Remove from heat add tofu and noodles, and allow to stand for five minutes before serving. Serves 6 to 8.
Ostrich Katsu
4 boneless ostrich filets, sliced 1/2" thin
1 egg, lightly beaten
1 cup panko (fine Japanese bread crumbs)
Vegetable oil for frying
6 cups white rice, cooked according to package directions
1 bottle Japanese tonkatsu sauce (A-1 may be substituted)
 
Place beaten egg and panko on two separate plates. Dredge ostrich filets in egg, and then in panko. Heat cooking oil in a large skillet over medium-high heat. Do not overheat oil or panko will brown too quickly before the meat gets done all the way through. Fry ostrich filets until golden brown on both sides, turning frequently to ensure even browning, 3 to 5 minutes per side. Drain on paper towels. Transfer pork chops to a cutting board and slice into 1/2" strips. Serve with Japanese tonkatsu sauce over steamed white rice.
Kiwi Sorbet
4 kiwi fruits, peeled and coarsely chopped
1 cup lemon-lime soda
1/4 cup sake
1 kiwi fruit, thinly sliced for garnish
Place kiwi fruit in a blender with lemon-lime soda and puree until finely blended. Transfer to a large shallow plastic container with a tight fitting lid and place in the freezer. Set a timer to stir the mixture with a fork every half hour, until it became slushy. Leave sorbet in the freezer until serving time. To serve, pour sake over the sorbet and stir until it becomes slushy again. Serve in parfait glasses and garnish with slices of fresh kiwi. Serves 4 to 6.
---