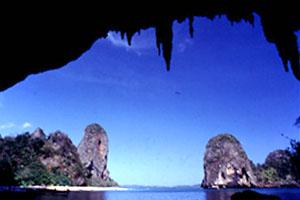 With Krabi Airport now firmly established, eastern Phangna Bay has become a little more enticing for short stay trippers from the capital. It is, in fact, an ideal short-break beach destination.
Without any longer being compelled to travel via Phuket or Surat Thani, accessibility to the spectacular scenery of the southern islands has never been easier. An extensive range of accommodations suits all budgets and a full range of leisure activities beckons those in search of the laid-back and relaxed atmosphere that is Krabi's attraction.
Still well-forested and with many islands, inlets and mangrove swamps there is much to see in the area either by boat or road or on foot. There are several small National Parks giving a feel of conservation in what is surely one of the Kingdom's top natural attractions. White sand beaches abound and there are seemingly endless offshore islands and limestone crags with reefs and caves to explore.
Ao Nang is the real center of activity, although Krabi Town itself, a little way inland on the river, acts as the main transfer point. About 15 km from town, Ao Nang adjoins Hat Noppharat to create a clean stretch of mainland beach which runs for several kilometers. The hub of Ao Nang now offers a good variety of international cuisine for sunset dining as well as the ubiquitous internet cafes and boat hire outlets. That's the real way to get around: by boat. To discover your own gem of a beach or snorkeling spot, take one of the many longtails moored at Ao Nang and just head out into the bay. Only a few kilometers away, but cut from road access and Railei and Phranang beaches where again there is an accommodation range for all budgets. The latter is home to the luxurious self-reliant Premier Rayavadee Resort. Pampering ranges from bht 16,000-25,000 per night and for Europeans it is marketed as a top class package facility. For those on a lesser budget, Sand Sea Bungalows or Railei Resort at bht 900-3500, depending on the season, offer a suitable alternative that still has immediate beach access.
Railei is popular with rock climbers as it is one of the cheapest and best locations for climbing - lots of choices with all those pinnacles and crags around.
From Phranang beach one only has to wade out into the clear waters to snorkel amongst a myriad of colorful tropical fish. It's that easy, but for further intensity of color and some serious diving hire a boat to Ko Hong or just float offshore. The waters here are turquoise in color and there is a noticeable difference in the water quality and an abundance of fish in comparison to sister resort Phuket.
Phi Phi Island is equidistant from Krabi and Phuket and so within easy reach by local boat for those wishing to visit the world famous paradise island, but there are many more far less frequented spots.
Krabi has one of the few fossil beaches in the world, known locally as the shell cemetery. Layers of fossilized shells up to 40 million years old can be found at Ban Laem Pho en route from Krabi Town to Ao Nang and Had Noppharat.
Of the up-and-coming soft adventure activities, sea canoeing is becoming by far the most popular. Not requiring a particularly peak level of fitness and certainly no previous paddling skills, the seagoing kayaks provide an excellent day activity, or for those with a real sense of adventure, overnight camping trips to outer islands. Day activities take in the mangrove swamps of Sa Kaeo and generally a visit to Ko Hong or a similar outcrop, along with some real seafaring canoeing. The marine life is plentiful and although not continually visible, one would be unlucky not to see crab-eating macaques and at least one Giant Water Monitor. They are big! Sea Canoe is a Phuket-based company, but the smaller Krabi operation is recommended with, again, less clients and more choice of activity.
Prices in the area have not yet caught the international standardization of neighboring Phuket and it's pleasant to pay value-for-money prices for local transport, accommodation and food. Minibuses regularly ply the Krabi Town to Ao Nang route as well as the ever-present motorcycles. Boat transfers around the region are competitive enough to barter for low rates and departures are virtually on demand during daylight hours.
There are not only beach but also inland attractions for sightseers. Both Phanom Beach and Tung Teao National Parks have multistep waterfalls and limestone caves. The latter is virgin forest with a 2.7 km nature trail taking in natural ponds and rare flora. Nam Tok Ron, as the name suggests, is a thermal waterfall located in Khlong Nom Tua forest.
Further afield and for those wanting a more extended stay in the south, is Koh Lanta. Certainly without the range of facilities offered by Krabi, Lanta is laid-back and sparse with good diving and is home to the Chao Le Sea Gypsies. Boat departures from Krabi to Koh Lanta are daily with a journey time of two hours.
Budget Car Rental now has an outlet at Krabi Airport making it convenient for those wanting their own wheels. Along with Budget's three-day rental/no one-way drop off fee, it's also easy to pick or drop off at Krabi too.
Krabi is slowly developing into a main center with visitors taking side trips to Phuket and Phi Phi, in a similar way to Hua Hin's rise as a destination in its own right with visitors taking side trips to Bangkok and Kanchanaburi.
Krabi is not saturated with tourists in the off-season, June to December, so that's the best time to visit, although any time you go to this tropical paradise you'll wish you had more time to stay.
* * * * *
---