Ranau Rhapsody Sumatran Sojourn
---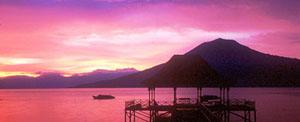 Secreted within the Marching Mountains of southern Sumatra, the serene volcanic Lake Ranau remains all but undiscovered by foreign visitors and accessible only by an epic journey overland.
Huddled under a dripping canvas, sheltering from an equatorial thunderstorm and eating half-cooked goat-meat satay kebabs and cold rice at a crossroads town in southern Sumatra. Why do I do this to myself, I ask the smirking youth beside me who is petting a blackbird, swaddled in a rag. Rainwater streams everywhere.
Twenty-four hours on. Across the sunlit waters comes the slip-slap of water against gently-moving dugouts and the soft plop as the fishermen cast their weighted nets. This is why.
The Indonesian economy may be in crisis but at Lake Ranau the only disturbance to the afternoon torpor is a monkey crashing through the shrubbery. Secreted within Sumatra's Bukit Barisan or Marching Mountains, this idyll is a rare treat for persistent travelers.
I had climbed down off the bus at Bukit Kemuning after almost four hours of stop-start travel on a crowded two-lane highway, constantly weaving, accelerating, braking. My bed for the night would be a cot within a cement-floored cell, with a tub full of cold water somewhere down a steep flight of stairs. The only decorations in these austere lodgings were a photograph of a police officer and a calendar displaying a different mosque for each month.
A bright, clear morning. Fried egg, chilli and rice for breakfast. With the weekly market under way, minibuses disgorge dozens of villagers and their bundles. Petai runner beans, each a yard long, are piled in mounds. I squeeze aboard the first of three diminutive buses to journey into the foothills of the Bukit Barisan. Coffee bushes and banana palms cover the hillsides and the gullies in between are stepped to enclose level rice paddies.
Now the road snakes downwards, each bend inching closer to a distant expanse of silvery water. Somewhere on the shores of this lake awaits a hideaway whose serenity will reward my perseverance; or so I hope.
Kotabatu, end of the line. Everyone spills out. Habis, mister. Finished. But there has to be more than this... Char-tair, mister. Chartering the three-wheeler and paying now to call the shots, I continue on around a narrow blacktop strip. Glimpses of glinting water through the banana palms.
A cluster of thatch-roofed cabins clings to the shoreline below the road. The Danau Ranau Cottages were built to lure domestic tourists from Palembang, the economic hub of southern Sumatra. But guests are conspicuously absent and every conversation turns to that same kri-sis monet-air.
Banding Agung really is the end of the line, a settlement of half-a-dozen streets and three or four cafés, each offering the same stacked-up plates of cold congealed curries and dried beef à la Padang. In the smartest pension the guestbook spans four years in a few short pages.
At the lakeshore jetty, blue-and-white launches slowly fill with passengers for villages across the waters. The squat cone of Gunung (Mount) Seminung looms through the haze, stretching lazily to reach 1880 metres (6100 feet).
Around the lakeshore, provincial authorities have set up faux-Chinese arches and a series of terrazzo viewing pavilions. Fortunately the emerald of the rice paddies tumbling down to the shore overpowers these discordant structures. People soap their bodies and their laundry in the shallows.
It's mid-afternoon on a sleepy Sunday and many of the storefront shutters have been closed. Elementary school principal Ali and his mates slap down their chunky plastic dominoes. As evening falls, the group re-convenes at the brightest of the cafés.
Armando, a darkly handsome Minangkabau from western Sumatra, rose to sergeant-major in the police force before taking an early retirement. With their fragmentary English, self-taught from Radio Australia broadcasts, and my pidgin Indonesian we discuss my marital status and the krisis moneter. This latter is such a burning issue that my companions discard the customary reluctance to discuss politics with foreigners.
Back to the lakeshore, I decide, in search of a little more ambience... The Danau Ranau Cottages have all those delightful Indonesian touches - haphazard wiring strung up under highly-combustible thatch; yowling marmalade cats, groundsmen spitting noisily below your balcony, tear-jerker pop music and cocks crowing at six-thirty a.m. and of course inquisitive young men who take a seat at your table, uninvited.
Sendirian? they cry. Indonesians are nonplussed by solo travelers. The setting does invite couples to gently latch their doors - secluded and spacious, furnished in passable style, the cabins with their high-pitched roofs are even equipped with porcelain toilet bowls rather than the usual squat variety. Balconies project out over the private jetty, the luminous waters and the eternal presence of Seminung, a smoking giant. The cost of this indulgence is less than ten US dollars.
Restive by late afternoon, I investigate a path towards the waterfall at Air Terjun. As rain buckets down, a farmer beckons me to shelter in his earthen-floored cabin amongst the banana palms.
The family 'transmigrated' from crowded East Java several years ago. We open a bottle of potent black rice wine whilst the thunderstorm runs its course. Four of his seven kids crowd onto a cot bed to stare at me. The walls above their heads are pasted over with pictures cut from magazines.
Kotabatu draws me back for a morning. This archetypical Sumatran village is defined by a single main road, a muddy stream and a pair of mosques distinguished by onion domes of pressed tin and minarets like model lighthouses. Just a few traditional dwellings remain, often with a gap-toothed householder peering down from a balcony enclosed by carved and fretted panels. Along the main road, many homes double as tiny general stores. Occasionally an exuberant bougainvillea relieves the austerity of unpainted wood and faded aquamarine paint. Chilli peppers are spread out to dry in a blaze of scarlet; women stitch and sew.
Down to the lakefront runs a potholed lane. Muslim schoolgirls, faces encased in lacy starched cowls, take seats on the passenger launches. Three uniformed teachers walk home for lunch, kids in faded red and white tugging at their skirts.
Bathed in the soft, clear light of early morning, Gunung Seminung looms over the lake as I trudge up to the main road to flag a lift. Another long day ahead on the road...
Fact File
Visas not required when entering Indonesia at a major gateway.
Until the Lake Ranau airstrip re-opens, the nearest domestic airports are Bandar Lampung, to the south, and Palembang 195 km (117) miles east, each serviced several times daily from Jakarta. Direct flights may operate from Singapore to Palembang. Three trains run daily between Palembang and Tanjung Karang, near Bandar Lampung. From Baturaja, local buses make the 130 km (78 mile), three-hour, journey via Muaradua to Banding Agung.
Danau Ranau Cottages and the adjoining Wisma Pusri guesthouse are at Desa Sukamarga, Banding Agung (no phone). Tariff is roughly $8 single. Restaurant on site.
Lonely Planet and Moon Publications guidebooks make brief mention of Lake Ranau but the Periplus Editions Sumatra guide provides a fuller description.
District tourism office (Dinas Pariwisata) is at Jalan BLL Kulon no. 51, Baturaja, Sumatra Selatan, tel +62 735 21097. Little, if any, English is spoken. http://www.dipardass.go.id/oku.htm
---