River Gorge and good food at Sagano Arashiyama in Kyoto
---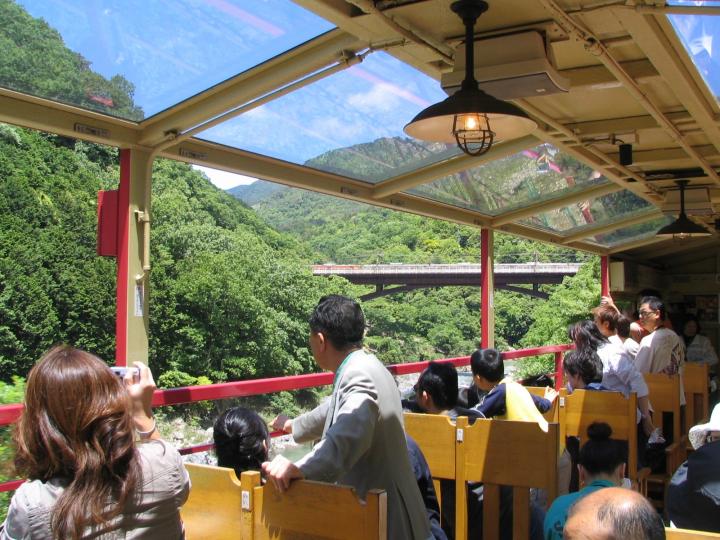 Kyoto was not all quiet and classical.  It could be fun.  I boarded the rapid train from JR Kyoto Station towards Sonobe on Saga Arashiyama Line.  There were many scenic spots to take in and I could combine them into various courses.  Originally, I wanted to take the boat ride down Hozu River admiring the river gorge.  But this past week had seen little rain in Kyoto.  As a result of the low water volume, the boat ride would be slower, clocked in to almost 3 hours, compared to the usual thrilling boat ride catching the splashes of clear water in less than 2 hours (JR Kyoto Station to JR Kameoka Station, walk 10 minutes to Kameoka boat-boarding pier fro Hozu River boat ride, www.hozugawakudari.jp 9 AM to 2 PM one every hour, last one at 3:30 PM closed Dec 29 to Jan 4, to Arashiyama boat-landing site near Saga Torokko Station on the shore of Hozu River upstream from Togetsukyo Bridge).
        Considered this, I took the second course to JR Umahori Station, en route, it stopped at JR Hozukyo Station briefly to let me admire the beautiful river gorge and breathe in the mountain fresh air.  Then I walked 10 minutes to Kameoka Torokko Station to board the train on Sagano Sight-seeing Line (25 minutes) (www.sagano-kanko.co.jp to check schedule first, as trains are 1 hour in between).  I planned to finish my day touring Tenryoji and the streets around Togetsukyo Bridge. 
        Equally interesting but more affordable compared to the boat ride (3900 yen), the Torokko Train (600 yen) traversed through the mountains and river gorges on a 7.3 kilometre route for 25 minutes of breathtaking scenery.  Designed with totally open-air windows on both sides of the cabins, one could truly enjoy the seasonal landscape.  Springtime cherry blossoms or autumn maple leaves will fly into the red cabins.  I went in summer, so the strong wind blew through the cabins when the train moved at top speed.  In winter the train ride has a beautiful mood too.  Relatively with less passengers, one can thoroughly relish the Hozukyo scenery in snow (Torokko Train March 1 to Dec 29, 9:28 AM to 4:28 PM, one every hour, closed Wed, except the followings March 25- April 7, April 29- May 5, July 21- Aug 31, Oct 15- Nov 30, 600 yen).  From the train, you can see the occasional boat moving down Hozu River.  Wave at the boat passengers and they will equally wave back.  Both parties are tourists who will not miss this rare photographic opportunity.  Although in the height of summer, I still shivered from the chilling wind.  A wind-breaker could really help.  Japanese old ladies all had their gloves and masks on with hats and jackets.  We all enjoyed this impressionistic ride.  Very soon, we arrived at the Arashiyama Torokko Station.  I got off the train to walk in the bamboo forest while other passengers continue to Saga Torokko Station where the old station was transformed into a tropical glasshouse. 
        Located near the bamboo forest were several temples and shrines such as Tenryoji, Jojyakukouji, and Nonomiya Jinjya, with Hirozawa no ike, Henjouji, Seiryoji, Daikakuji, Hourinji and Matsuo Taisya further away.
        I was wondering how I could take in all the sights without tiring myself to death.  Bt it was important to have a relaxing mind and good walking shoes to complete the task.  An empty stomach would not help.  So I went to Tenryoji's Shigetsu Restaurant to enjoy a vegetarian meal "Shojinryori" first (11 AM to 2 PM).
        I sat down on the tatami in the long dining hall decorated sparingly with a red carpet.  "Shojinryori", not only vegetarian, is a cuisine that combined the spirit of Zen training and natural ingredients to a perfect harmony.  Special care was given and with the heart of goodness, Shojinryori selects fresh ingredients following the seasons.  It treats rare and common ingredients on equal grounds.  I equally appreciated the well balanced dishes.  The menu "Yuki" (snow, 3500 yen) was a soup with 5 courses and rice.  "Getsu" (moon, 5500 yen) was with 6 courses and "Hana" (Flower, 7500 yen) was with 7 courses.  My "Yuki" courses included a soy soup with yuba, sesame tofu, vegetable tofu salad, cold bean curd with ginger flower, daigon, plum and pickles, steamed bean curd with dried mushroom and an eggplant motoyaki.  The dishes were made according to the Zen rules of "5 tastes" (sweetness, sourness, spiciness, saltiness and bitterness), "5 colours" (red, green, yellow, white and black), and "5 methods" (raw, stew, deep-fried, bake and steam).  It avoided ingredients such as garlic and green onions for they distracted from meditation.  There was a special etiquette to follow when eating.  Normally one would hold the rice bowl and pick up food from the other dishes with chopsticks.  Here, I picked up and held each red dish only one at a time and use chopsticks to eat.  The golden rule was to be thankful and finish everything.
        The lunch was more than enough food for me.  So after clearing all the dishes, I was extremely full and in need of a good exercise in Tenryoji (500 yen entrance fee).  I visited the exquisite garden on a higher ground which afforded a panorama of Sagano Arashiyama area.  The ceiling mural of a flying dragon in the lecture hall was the main attraction for this World Heritage site.  Closed by, Nonomiya Shrine www.nonomiya.com was situated within the bamboo forest, shaded and quiet, away from the busy streets.  During the Heian period, unmarried court ladies who were given the task of going to Ise Shrine to carry out Shinto ceremony had to stop here at Nonomiya Shrine to cleanse and purify body and soul.  At present time, the shrine became a place for wishing a good match for marriage.
        Next to Nonomiya Shrine, Giouji had a sad story about the transient nature of happiness.  Giou, who is mentioned in the Tale of Heike, was a dancer and mistress of Kiyomari Taira.  Giou's favourable position was superceded by Hotoke Gozen, another dancer.  Disappointed, Giou, with her mother and sister decided to be a nun at this remote cottage.  A while later, fell out of favour, Hotoke Gozen joined her in this small thatched nunnery on the foothills of Ogurayama.  www.giouji.or.jp
        I was determined to shake this sadness by walking in the busy streets near Togetsukyo, "Moon-Crossing Bridge".  A symbol of Arashiyama area, the beautiful sight of this bridge has been taken up by many a poet.  In days of antiquity, boating here was an eloquent past-time for the aristocracy.  First, I visited the Arashiyama Chirimen Fine Artisan Studio.  Using colourful kimono cloth called chirimen; all kinds of cute souvenirs were created.  There were frogs, rabbits, gold fishes, cats, weather-wishing dolls, morning glories, hydrangeas, sushi and vegetables all made of cloth.  Boxes, bags and money pouches were put side by side with fashion accessories such as scarves, ear-rings, combs and hair-bends.  Each item was only a few hundred yens (10 AM to 6 PM).  Kurisho was a yuzen studio on the side street.  I paid 300 yen to visit the private studio.  It specialized in hand-painted yuzen, dyed with natural plants.  Here you can make a t-shirt with your own design (3000 yen) or decorate a handkerchief (1000 yen).  I quietly observed yuzen masters in the residential studio working on their gorgeously coloured kimono and obi.
        If you are hungry or thirsty after walking, casually have a green tea ice-cream or go to one of the Japanese style tea houses to sample the bitter green tea and delicious sweets (kyogashi) perhaps at Kotokikichaya.
        All in all, my Sagano Arashiyama trip took a more unflustered approach and the view of Oi River with no high-rise retained certain rural charm.
---