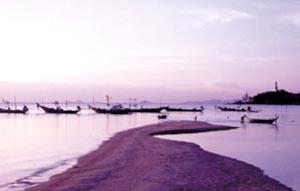 Surprisingly to some, Samui has a high season in July and August. This precedes the September/October monsoon period and can be seen as an Indian summer for the tourist retreat that opposes Phuket both seasonally and for tourist facilities. Samui has no golf and really is cut off from the mainland. Far smaller and more of the paradisiacal island than its sister resort island in the Andaman, this is where people come to kick back rather than play.
Part of the laid-back routine now sees thousands flock to the monthly Koh Phangan full moon parties.
However, there is an alternative Samui away from Chaweng and full moons. Even allowing for its rise in popularity since the opening of Bangkok Airway's own airport over a decade ago, there is still plenty to find in Samui away from the madding crowd.
For so long the backpacker hippie style retreat, the island now caters to the more up market clientele as well, with such properties as The Baan Taling Ngam and the Dusit Santiburi.
The new spa trend has also spread to the Gulf Island with two noticeable establishments leading the way. The laid-back Axolotl is situated at Ban Tai beach and offers accommodation from baht 500-2000 as well as Tibetan meditation, kundalini, tarot reading, Chakra reading and Yoga classes. Holistic massage and flower and herb remedies add to the sense of well being experienced through the small resort's activities.
With excellent snorkeling and swimming right off the beach at Axlotl it's hard to leave once you have checked in, especially with the adjoining La Luna restaurant serving perhaps the island's best vegetarian food.
The Tamarind Springs Retreat is very successful yet not spoiled by its surge forward since it's opening in 1998. Situated at the entrance to Lamai, its acreage now encompasses small short-stay cottages as well as the original massage and therapy center. The central attraction is the herbal spa located between two huge boulders on the hillside. Here is a plunge pool and relaxation area connected to the main open-roofed massage rooms. Entrepreneur Shelley Poplak has added 10 self-catering cottages. Rates are around baht 3500 in low season and up to baht 6000 in high season. The management are linked with the alternative cuisine restaurant, Beetlenut, at Chaweng and its vision for health and sanity is virtually second to none.
A full-day relaxation session with 90 minute massage and herbal steam bath with lots of other goodies still costs baht 1000 and it's natural setting on the slopes of Tamarind Hill lend a lot to the sense of well being one can experience from a visit here.
Looking at other areas, Bophut remains somewhat secluded although its stature as the boarding point for the full moon transfer boat has seen its popularity grow. However it is mostly pass-through traffic and evenings are quiet. Only problem here is the shallow waters, not so great for the avid swimmer.
MaeNam, Thong Yang and Cheong Mon still offer simple seclusion for those requiring no-frills beachcombing. Sandy Resort is one of many properties with excellent facilities at budget rates.
Central Butterfly Resort should appeal to the "veg out with comfort" punter and its location away from the relative hustle and bustle of Chaweng/Lamai guarantees that.
Long-established Laem Set Inn caters to the upper market clientele with a "basic" in comfort theme, similar to Pattaya's Sugar Hut. Rates here start at baht 2900 and the architecture and landscaping are worth a one-night stay in themselves.
As well as the recent catering to up market clientele, Samui is also establishing itself as a stop off point for visitors to the outlying islands, particular Phangan and Ko Tao. Ko Phangan has Haad Rin of course, but if prepared to take the high road, as it were, the more secluded Bottle Beach and others are excellent retreats for peace and tranquility.
On to Khao Tao is perhaps now the jaunt to make as full moon extensions take over at Phangan. Diving is the order of the day here and as yet facilities are not overpowering the delicate balance of the island's ecosystem.
Koh NangNguan is perhaps one of the prettiest beaches around and may well remain so; as to reach there one has to travel via Koh Phangan and Koh Tao. It's worth the effort and rivals any white sand beach in Southeast Asia.
These islands are what Samui was 10 years ago and have yet to reach out for the up market client. Beach huts and Robinson Crusoe-style living are seen as the expectation of most visitors. Direct boats now operate direct to Phangan from the mainland.
Back on base (Samui), Budget Rent A Car is now firmly established at Samui Airport and Caribians are the order of the day. This is an excellent way to see the island or one may prefer off-road scooter vehicles as promoted by several off-road companies now plying the interior with excursions to Na Muang and Hin Lat waterfalls. These falls provide a good alternative to sea swimming with their cool deep fresh pools and Angthong Marine Park, a National Park in its own right, has visits leaving daily with snorkeling available from the boat. Blue Star, amongst other sea kayaking companies rivals Phuket's Sea Canoe and takes in sea caves and offshore sandbars and islands. Most longer stay visitors should attempt at least one marine excursion and the latter's day excursions are great for soft adventurers.
Nathon is the port town of Samui and beaches south of here are often deserted with small bungalow properties on the water's edge. Being on the leeward side of the island they offer very good swimming and a certain seclusion not found on the eastern side.
If you don't arrive by boat, it has to be by air. And, there is a noticeable difference in fare from Utapao for those living on the east side of the capital, especially with the quicker road routes to the eastern seaboard.
From Utapao, current rates start at baht 3800 with the round trip fare from Bangkok being baht 6300.
* * * * *
---