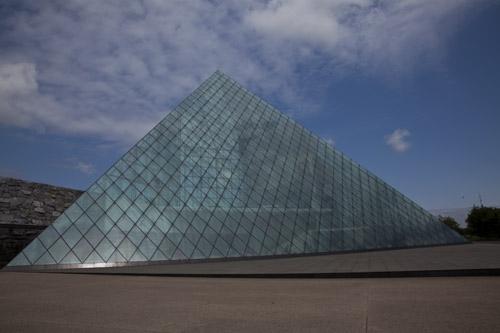 Image ©
2009 Asian Images John Lander
Sapporo is Japan's newest city, as development only began in the 19th century.  Consequently it is laid out in a grid pattern with plenty of wide open spaces.  Thankfully lots of space was retained for parks, including expansive Odori Park that cuts a wide green swath through downtown Sapporo that.  This is the venue for the Sapporo Snow Festival where massive chunks of ice and snow are sculpted into new, yet temporary, shapes.  
Elsewhere in town, Sapporo Art Park is sheltered in a forest with more than 50 sculptures, objets and structures are festooned around the park.  As you hike through the forested trails, you encounter curious objects along with nature while you're at it.  Art works were contributed by Japanese artists and creators from Sapporo's sister cities around the world and thoughtfully laid out according to the topography and features of the landscape.  
Without a doubt Moerenuma Park is Sapporo's masterpiece. What was once a garbage dump, Japanese-American designer and artist Isamu  Noguchi designed the park from the ground up, so to speak.  The Park was recreated with hills, valleys, fountains, playgrounds and buildings.  Nogochi's concept of buildings extends to sculptured public toilets, hills made of landfill resembling Mt Fuji, and childrens' playgrounds that give new meaning to play.  
---