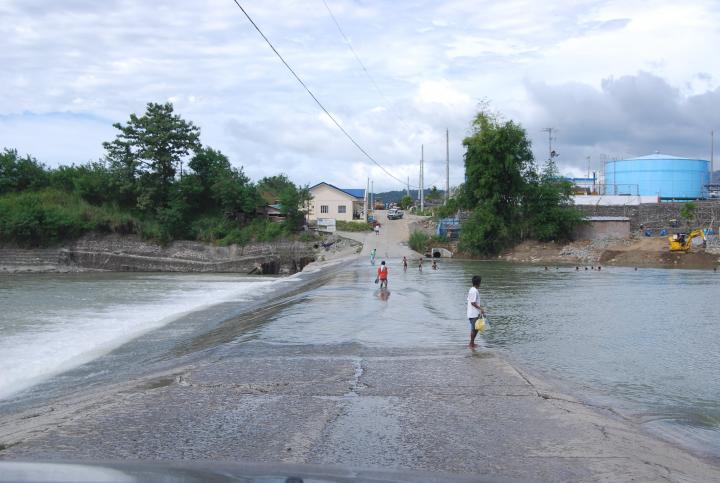 I have visited many zoological parks, mainly because of my children. My husband and I believe that our children should be exposed to the animal world and thus, each time we travel, we ask around if there is a zoo nearby and we take the kids to view the animals and learn about them in the process. As most of us are quite aware of, keeping up and maintaining a zoo requires funds and sometimes, due to inadequate funds, the zoo is dirty and the animals don't look healthy.
We heard about Avilon Montalban Zoological Park from a friend and thought it would be a grand idea to take the children there, especially since we heard that it is situated in a picturesque valley of Barrio San Isidro and is in fact the largest zoological park in the Philippines. It took us about two hours to get there. Very close to the zoo, we had to actually cross a river. It was a bit weird because there was a dirt road right in the middle of the river, almost like where the river parts and we could drive across. And the roads heading to the zoo were filled with potholes, giving us a taste of a very bumpy ride indeed. But finally when we did arrive there, we were filled with excitement, especially the children.
Entrance ticket to the place was 208 Pesos per person. I didn't think it too pricy because correct me if I'm wrong, the entrance ticket to the Zoobic Safari (I will write on that later) and the Ocean Adventure, both in Subic, are more expensive. Plus, after you have completed your tour of the Avilon Zoo, you will immediately feel that you are getting value for your money, trust me. You can actually opt to have a guided tour and pay a little extra for that. Otherwise, you will be just walking and looking at the animals aimlessly. I thought it best for the children to have a guide informing them of the many animals in the zoo.
Believe or not, the guided tour lasted two hours. I'm not sure if our guide was tired at the end of the day, but we sure were tired from all the walking. There were so many animals to see in the 7.5-hectare land area – except for bigger animals such as elephants and giraffes. The animals were all looking healthy and happy to be where they were. The place was clean and spacious with lots of greenery, making it all the more comfortable to walk around. Best for the kids I think since they enjoyed running around looking at one animal to another. They even had a snack bar and restaurants, in case you got hungry from all the walking.
I would definitely recommend this zoo to anyone who wants to see a well maintained zoo, with the animals taken good care of. This is definitely the place to visit. And I heard from my guide that the entire place is owned by one man - Mr. Jake Gaw, who had initially bought this place, which was raw rice land, to house his full-grown male pet lion. Now, this place exhibits 3,000 specimens of exotic and endemic animals represented by more than 600 species of birds, mammals, reptiles, fishes and invertebrates, and close to 400 species of plants. Amazing how he has converted this place into such a nature's wonderland.
Indeed one can understand why the zoo adopted the motto 'Celebrating Life!' to symbolize its philosophy. If you are planning to take a trip there, you can check out the website  http://www.avilonzoo.com.ph
Information about the whole area, its history, along with the contact details are provided in the website. It also has a map on how to get there, which I'm sure is very useful to us first timers to the place.
---