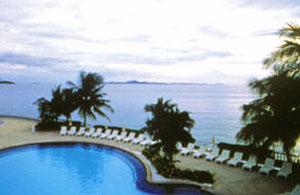 What do you do after a few days in Bangkok to get away from the traffic, pollution, noise and crowds of people? Head for one of the many resorts of Thailand. They provide a haven for you to completely relax in and forget the troubles of the outside world.
In Pattaya, there are a number of resorts that probably do that, but one that we're sure about is the Dusit Resort on North Pattaya Road. Its large grounds provide wooded areas, a private beach and various recreational facilities so that there are plenty of options available for any visitor to relax and enjoy themselves. The site is large enough so that sounds from the outside world never make it inside the resort to distract one from the pursuit of peace and relaxation.
Our own stay, on a recent weekend, left us rejuvenated and ready to face the world again after indulging in as many of the resort's facilities as we could. After settling into our luxurious room on the main level of the hotel (which included a beautiful ocean view looking south down the beach) we first started with a workout in the fitness club.
This well-equipped club had everything we needed, including treadmills, exercise bikes, free weights and machines to get a good workout. This was followed by a visit to the steam room for some further cleansing of the body before we left the club. This is a great way to relieve tension and get in the frame of mind to enjoy the weekend and we heartily recommend it. We visited the health club each day we were at the resort so that our regular weekly exercise schedule didn't suffer a bit even though we weren't in the city. And, if you'd like to learn something new during your stay you can try one of the classes that are offered on a regular basis.
First, there's a special self-defense class that's taught every Monday morning called Martial Chi Goong, which is the self-defense side of Tai Chi, the ancient Chinese martial healing art. The techniques taught in the class are the same as those developed and made famous by Hong Kong star Bruce Lee. There's an in-house instructor, Patrick Stahl, who has studied the art's original form. Also, traditional Tai Chi classes are offered on Sundays and Tuesdays.
There are also aerobics classes for a good cardiovascular workout and these are available on a regular basis as are sessions for massage. The massage offered is traditional Siamese massage and it's administered in 10 private rooms that are decorated in traditional Thai design. There is a Thai herbal steam bath for additional relaxation. If you're in the mood for tennis there are three very nice courts that are also lit for night play.
After a workout there's nothing better than a refreshing swim since there are two pools at the Dusit and both are well-maintained with nicely landscaped surroundings. The Chaba Pool is right off the health club and quite nice but if you want beautiful views then head over to the Lagoon Pool located on the small peninsula jutting out into the ocean that's part of the property. This is the place to be for sunsets as well as swimming and there's a children's pool here as there is at the Chaba Pool. Since the Lagoon Pool is located about 10 meters above the ocean it provides great views and only a short walk down to the sand puts you onto a secluded private beach for the use of hotel guests. Here is where you can also meet up with the sailing, diving, motor boats and parasailing people if you're interested in any of these activities.
Of course, after a day of working out and swimming next to the clean ocean air of Pattaya, you'll develop a healthy appetite and you're in the right place for being hungry. There are three different dining outlets in the resort that offer three distinct dining experiences. For a more relaxed, casual type of meal try the Cascade Cafe which has recently been remodeled along with the main lobby. Here you'll find a great buffet breakfast along with an international, Thai and Chinese ala carte menu.
Then there's The Bay Italian restaurant which offers both Continental and Italian cuisine as well as several specialties. First, there's the Antipasto Buffet which is served every day except Saturday and includes over 20 varieties of Italian appetizers to go along with the regular ala carte menu.
Saturdays are a different story as a sumptuous BBQ Buffet is then on offer featuring international dishes including European and Asian main dishes and a delicious selection of barbecued items. From the barbecue we tried the prawns, pork, lobster, steak, lamb and possibly a few others which don't immediately come to mind and all were delicious. Equally good were some of the interesting collection of dishes that were included from the buffet like fennel in cream sauce and flambed tenderloins with different sauces. There's a huge selection here and no way to taste everything but it's certainly worth a try. Adding to the dining experience here is the beautiful atmosphere created by the gentle ocean breeze and the wonderful views of the city lights and the beach. If you stay at this resort, definitely have dinner here on a Saturday night.
The third dining spot is an elegant Chinese restaurant called The Empress and it is aptly named because it serves food fit for royalty. The menu is mostly Cantonese but there are also hard to find Szechwan items as well. Szechwan cuisine, from the southwestern Chinese province, tends to have spicy and flavorful sauces, not unlike Thai cuisine. But if you're a fan of Cantonese food, October is an interesting month here as there are a number of specialty dishes available including stewed Cherry stone clams with garlic, chili and spring onions, braised sea snails in oyster sauce and crispy eel with plum sauce. These sound great so check them out sometime during the month if you're in the area.
You can, of course, expect all of the rest of the facilities and features of this resort to be of a five-star caliber and they certainly are. Our room was luxurious and the beautiful ocean view only added to the overall ambience. There's something about an ocean view that seems to make any room more enjoyable. All of the little amenities that make a hotel stay more convenient are available here also such as in-room safes and hair dryers, direct dial telephones, a well-stocked minibar and satellite TV. There are also baby-sitting services if you need it as well as a beauty and barber shop, money exchanging, laundry/valet service, a business center and an executive boardroom for business activities.
In fact, if you have a very large business function, the Dusit can accommodate you with its Napalai Convention Hall and 10 other smaller meeting rooms. The main hall is 2,400 square meters in size and can be used for conventions, meetings, banquets or any other functions. The meeting rooms range in size from 40 to 165 square meters.
You probably won't want to think about business anytime you visit this resort, however, given the serenity of the surroundings and the opportunity it offers for relaxation. If you did have to mix some business with pleasure, though, this would certainly be the place. The next time you're in the mood for a weekend getaway, give the Dusit Resort your consideration. It's not that far from Bangkok and you can even call the head office here for reservations at 636-3600, so it's really easy to arrange. After all, everyone needs some time to rest and relax before they take on the world again.
---