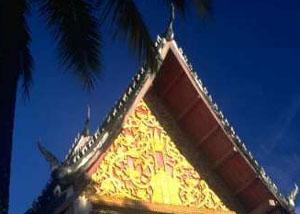 "The Mother of all Rivers" is what Lao people call this wide and torpid stream that meanders for 1,800 kilometres along the country's western edge. It's easy to see why. For the millennium or so since Thais first migrated here from Yunnan, Southern China, the Mekong has provided essential wetlands for their rice, strategic protection from their foes, and their main communications link with the world outside their rugged landlocked land.
"Country" is a relatively new term for Lao, applicable only after the French coercively annexed the land from Thailand in 1893 and finally recognised its independence in 1953.
Vientiane (more correctly, "Wieng Chan"), has seen its status as capital come and go as often, it seems, as have invasions into Lao from its neighbours - Vietnam, Siam, Myanmar, Khmer and to a lesser extent China - and then from the French and Japanese. The city was razed by the Thais in 1828 in response to King Anou of Lao's ambitious and failed assault on the then Thai capital, Ayutthaya. The hapless Lao king found himself suspended in a basket above the Chao Phrya River where he died.
It was the French, keen to establish a buffer zone between their prized Vietnam and the English advancing into Burma, who saw fit to resurrect the largely forgotten but strategically located "capital". They decked it out French style with villas, monuments, palaces and even bakeries. These would complement, with a touch of incongruity, the few remaining temples and pagodas of the town. Luang Phabang to the north would retain its position as the royal capital, with King Oun Kham ruling in name if not in fact.
Like most Lao muongs, Vientiane straddles the Mekong, clinging to the back of one of the myriad curves the river describes through the country's lowland plains. Thanon Fa Ngum is the boulevard that hugs the river's banks. Named after the country's greatest and longest serving king, it is the nearest thing in Vientiane to what the French would call a promenade.
As capitals go, Vientiane is small. The official population of some 500,000 would have to include the outlying districts. With so much decimation in its past, the soul of Vientiane seems at first an elusive one to find. It abides surely in the great surviving temples, like Wat Si Saket and Haw Pha Kaew (one time home of the venerated emerald Buddha), and in the great emblematic stupa of Pha That Luang. It is nowadays, by dint of recent history, residing in those crumbling villas too, and reluctantly perhaps, in the drab shop houses that inflict themselves on Vientiane as they do on nearly every Asian town. Mostly, though, the soul of Vientiane is the great Mekong. Thanon Fa Ngum follows this along, passing temples, villas and shop-houses as it does. Of all of the city's wide and tree-lined boulevards, it is Fa Ngum that brings you as close as you can get to the soul of Vientiane.
It was no surprise to me, then, to find myself again and again strolling by the river. As Ian, a fellow traveller from San Francisco put it, "it's such a laid-back kind of place, you just don't want to leave." He had ensconced himself, permanently it seemed, at a sidewalk table at one of the nan wan (jelly water) bars along the strip. I joined him there to watch the street parade - rickshaws, fruit vendors, brightly painted "jumbos" (Lao tuk-tuks) and most of all the ladies. Clad in their traditional pha sins - black wrap-arounds with a wide loop of embroidery above the hem - they were ever cycling or strolling leisurely by, seeming in their placid style to embody the old world, half-pace feeling of the town.
The more hours I spent down by the river, the fewer reasons I could find for venturing elsewhere. For one thing, you are always in the shade. Fa Ngum is lined from end to end with big handsome trees - teak, cotton, castor and causarina, and down past the Lane Xang Hotel, stately eucalyptus. Here and there are the venerated bhodis, the banyan tree under which the Lord Buddha is said to have gained enlightenment.
Locals divide the waterfront into three precincts - Xiengieun, Chan and Kounta. They seem to equate with the three times of the day. Xiengieun is a morning kind of place. Drawing its name from the brand new looking monastery on the Thanon's city side, Xiengieun has a nicely manicured municipal park to complement its avenue of giant eucalyptus. You are not at all surprised to see early morning joggers whisking sweatily by. If they make it past the Presidential Palace their endeavours will be rewarded with the sight of open cultivated fields, these on the broad river banks. Families in not quite traditional garb might be turning the soil, planting sweet potatoes or picking morning glory for their market stalls in town. There is a small hawker market hereabouts as well (isn't there always?), where you can stop to join the early birds for their first of maybe five plates of noodles they will have in the day.
Central is named after Wat Chan that seems to be the busiest temple in the town. Around Thanons Nakeo Khumman and Manthatulat, that run north off Fa Ngum, are any number of hawker stalls and wokeries. Here taste buds can be tantalised by the best and most authentic Lao and Thai cuisine. For an instant lunch time "hit" - Lao style - try the green papaya salad. It will make your serve of laap (a traditional spicy Lao salad dish) seem positively bland when compared. A cooling serve of nan wan - sweet jelly in coconut milk - at Ian's favourite hangout may just be the thing to soothe that scorching tongue.
At Koulta, at the strip's north west end, the river laps much closer to the road. Here is where you while away those steamy afternoons at one of the stilt bamboo bars that are all along the bank. "Beer Lao?" suggests the coy smiling waitress as you enter. With the sticky heat of afternoon still not quite abated, how could so refreshing an offer be refused?
At the strip's most western point is the famous Sala Kounta, known to all as the Sunset Bar. Here, amidst a decorative tangle of twisted roots and foliage, gourds and wooden wot-nots, is where locals and ex-pats come to watch the big fiery ball get nicely quashed, along with their thirst, as it dips into the waters of "The Mother of all Rivers". The soul of Vientiane, you tell yourself as another ice cold Beer Lao somehow finds its way onto yo ur table, is not so elusive after all.
* * * * *
Fact File
Getting There: Thai Airways International fly from Bangkok to Vientiane daily.
When: The coolest driest months are from November through February.
Bring: Light cottons, sun block, repellent, comfortable sandals, slide film if required.
Visa: Required for all entrants US$60 approx.
Read: Lonely Planet - Travel Survival Kit: Laos. Laos - A Portrait, by Stephen Mansfield (Elsworth Books, Hong Kong)
* * * * *
---