Vietnam traditional festival
---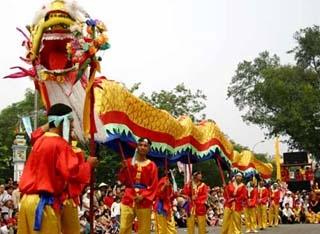 Formation and meaning of traditional festivals
Traditional festivals constitute a form of cultural activities, a spiritual product which the people have created and developed during the course of history. From generation to generation, the Vietnamese people preserve the fine tradition of Re-remembering the source while drinking water. Festivals are events which represent this tradition of the community as well as honour the holy figures named as Gods the real persons in national history or legendary persons. The images of gods converge the noble characteristics of mankind. They are national heroes who fought against foreign invaders, reclaimed new lands, treated people, fought against natural calamities, or those legendary characters who affect the earthly life. Festivals are events when people pay tribute to divinities that rendered merits to the community and the nation.
Festivals are occasions when people come back to either their natural or national roots, which form a sacred part in their mind.
Festivals represent the strength of the commune or village, the local region or even the whole nation. Worshipping the same god, the people unite in solidarity to overcome difficulties, striving for a happy and wealthy life.
Festivals display the demand for creativity and enjoyment of spiritual and material cultural values of all social strata. Festivals become a form of education under which fine traditional moral values can be handed from one generation to the next in a unique way of combining spiritual characters with competition and entertainment games.
Festivals are also the time people can express their sadness and worries in a wish that gods might bestow favour on them to help them strive for a better life.
Process of festivals
Generally speaking, every festival will include the following three steps:
Preparation: The preparation work is divided into two phases: prior to the coming festive season and in the immediate time before the festive day. The preparation work for the coming festive season starts right after the previous festival comes to an end. When it is coming to the festive day, people need to check the worshipping objects, attires, decoration, and cleaning of the worshipping place and statues.
The festive day: Many activities take place, including rituals of procession, incense offering, and rejoicing games, among others. They form the most important and significant part of any festival. These activities also play a decisive role in attracting tourists and deciding the timing of the festival itself.
The ending of the festival: The organization board expresses their thanks to all festival goers and closes the worshipping place.
Time for festivals
In Vietnam festivals often take place during the three months in spring and in autumn when people have a lot of leisure time. In addition, the climate in spring and autumn is especially suitable for holding festivals and for festivals goers to enjoy.
Some typical festival
Lunar New Year (Tet Nguyen Dan)
Tet falls on a time when the old year is over and the New Year comes by lunar calendar. This is also the time when the cycle of the universe finishes: winter ends and spring, the season of birth of all living things, comes.
Tet is an occasion for pilgrims and family reunions. It is a time when one pays respect to his/her ancestors and grandparents who have brought up him/her. It is an occasion when everyone sends each other best wishes for a new year, stops thinking about unhappy things and says good things about each other.
Lim Festival
Quan Ho" is a special folk song of Kinh Bac Province, now called Bac Ninh Province. The festival takes place on Lim Hill where the Lim Pagoda is located. The Lim Festival takes place every year on 13th day of the first lunar month. Visitors come to enjoy the festival and see the performances of "lien anh" and "lien chi". These are male and female farmers who sing different types of songs in the pagodas, on the hills, and in the boats.
Chu Dong Tu Festival
Chu Dong Tu is one of four immortal gods in the Vietnamese pantheon. The festival annually takes place from the 10th to the 12th day of the second lunar month at two temples, Da Hoa and Da Trach, in Khoai Chau District, Hung Yen Province.
Starting from Ha Noi, visitors can travel downstream on the Red River by boat or canoe, or go by motorbike along the dyke of the Red River for 20 km. During the festival, pilgrims in colourful dress converge on the two temples, Da Hoa and Da Trach.
Huong Pagoda Festival
Approximately 70 kilometers southwest of Ha Noi, Huong Son boasts quite a few pagodas built in the Posterior Le Dynasty. Until the beginning of the 20th century, there have over 100 pagodas. Visitors can go to Huong Son via the Ha Dong - Van Dinh route.
Vietnamese or foreigners alike wish to come to Huong Son in springtime. Heading there tourists come to a magnificent land, a famous beauty spot in Vietnam.
Going boating in Yen Stream, visitors get a stunning view of the landscape in springtime. Here lies Ngu Nhac Mountain, there stand Hoi Bridge, Dun and Voi Phuc (Prostrating Elephant) mountains. Then come Thuyen Rong (Dragon Boat) and Con Phuong (Phoenix) mountains, not to mention various other mountains named after their shape like Ong Su (Buddhist Monk), Ba Vai (Buddhist nun), Mam Xoi (Tray of Sticky Rice), Trong (Drum), or Chieng (Gong).
There are many interesting pagodas, caves and grottoes in Huong Son. Among them include Long Van, Tuyet Son, Hinh Bong, and so forth. The Ong Bay (Sung Sam) Cave, 2km from Long Van Pagoda, still retains traces of ancient people some tens of thousands of years ago.
Unlike any other places, Huong Pagoda harmonizes the characters of a Buddhist architectural complex with the impressive natural beauty. Coming here, tourists have chances to live in a boisterous atmosphere of a spring festival amidst beautiful landscape. They seem to be free from all tiredness and sorrow and come to pay respect to the compassionate Buddha.
Mid-Autumn Festival
Tet Trung Thu is formerly autumn festival, and then becomes "Tet Trong Trang" (moon looking festival) of children. On this day, the moon is the brightest and roundest in the year, cool weather. The festival involves the custom of "Trong Trang", procession of lights (parading with lanterns shaped as moon and stars), lion dance and eating pasties and fruits.
Chol Chnam Thmay Festival
Khmer people's New Year festival lasts three days and four days in leap years. Each of these days has its own name. Apart from worshiping the Buddha, Khmer people believe that every year the heaven sends a god called Tevoda to the earth to look after human beings and their life. At the end of the year, the god returns to heaven and another one will replace him. Therefore, in the New Year's Eve, every family prepares a party, burns incense and lights up lamps in a ceremony to see off the old Tedova and greet the new one. They also pray to this god for good luck.
Khmer people always prepare for the new year ceremony very carefully. They clean and redecorate their house and buy necessary food for the holidays. They stop all farm work, relax and set free their cattle. The three official festival days are held in a joyful and exciting way.
Each festival shows specialties about Vietnamese people, culture and custom, wishes of a better life with cozy and prosperity.
Come and join in exiting atmosphere of Vietnam typical festival, you will have impressive feeling on this beautiful country.
Further information, you can visit:
http://www.activetravelvietnam.com
http://www.activetravelshop.com
---